By Les Brinsfield
Back-to-back facile wins in major preps coupled with a special pedigree point the way to favoritism in Eskendereya's next race: The Kentucky Derby Presented by Yum! Brands (gr. I). By Giant's Causeway out of the Seattle Slew mare Aldebaran Light, this horse has a 4x4 cross of Northern Dancer via a son, Storm Bird, and a daughter, Stellar Odyssey, netting a double Natalma. Beyond that, things start coming thick and fast. First, half siblings Halo and Queen Sucree are 5x4 and thus double Cosmah, she a half to Natalma from Almahmoud, she by Mahmoud. Mahmoud sired Cohoes in Rahy (the broodmare sire of Giant's Causeway), which gives a very important male line of Mahmoud. This alone would be reason enough to do the mating.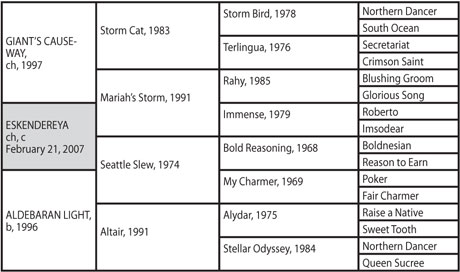 Cohoes brings the only La Troienne in the sire and surely welcomes sisters Striking/Busher in Seattle Slew from Baby League, she a daughter of La Troienne. Mahmoud, as well as Nasrullah and his three-quarters brother Royal Charger by Nearco, all carry Martagon through Blenheim II. Martagon is present 15 times, spread over sire and dam of Eskendereya. Regular readers of these blurbs will recognize Martagon as one of the many full, three-quarters, and close kin to the Ormonde/Ornament sibling cross in La Troienne. Seven more lines of Ornament are here as well as other representatives of the Agnes family Herbager and Kendal, and 10 lines of Man o' War. The latter has opposite sex lines of Bend Or, Macaroni, and The Cure found in Ormonde and his crowd. Look no further than Striking/Busher in Seattle Slew to assess the impact of Man o' War (through his son War Admiral) on the Ormonde/Ornament mix. Now there are 12 lines of Nearco, and only two aspects of his influence will be discussed. When Nearco is crossed with Bull Dog and Sir Gallahad III, this pair crosses with Nogara and they cross Spearmint's two best, Catnip and Plucky Liege plus a son and daughter of Ajax, him with a line of St. Simon's sister, Angelica, and a son and daughter of St. Simon. Nearco has two sons and two daughters of St. Simon along with Angelica.
I have not harped on it, but La Troienne, aside from siblings Ormonde/Ornament and the appeal of some 30 others from the family, has a daughter strain of St. Simon and two lines of his sister, Angelica. Now there can be little doubt that because the triple to La Troienne is busy genetically lining up both quantity and quality of iconic full sibling ancestors two at a time: Ormonde/Ornament and St. Simon/Angelica. The five lines of St. Simon/Angelica in Nearco are at work here as well—12 times. Just for a fiendish twist, all the Bull Dog/Sir Gallahad III are male Teddy balancing his daughter, La Troienne.
All above are major factors in the pedigree of Eskendereya. Given the many ways this pedigree ties in major horses and their sisters, I am reminded of a remark by New Zealand stud master Rick Williams: "What we are trying to do is breed a pure strain of a hybrid." While a literal impossibility, a pedigree like this at least moves the pendulum in that direction. One last parting shot is that when a pattern produces a good one, the elements of that pattern become prime objectives to return to the horse at stud. But I digress—let's get Eskendereya to win the Kentucky Derby first, even if it will be a chalky payoff.