Fanfreluche is rightly considered a Canadian legend. Not only was she Canada's Horse of the Year in 1970 (as well as champion 3-year-old filly in both Canada and the USA), but she was a broodmare of the highest class as well. The dam of five stakes winners – including three Canadian champions in L'Enjoleur, La Voyageuse, and Medaille d'Or – Fanfreluche also left a thriving international family which includes the top Australian sires Encosta de Lago and Flying Spur (both group I winners on the race course) and multiple European group I winner Holy Roman Emperor. The former two horses are descendants of Grand Luxe (Sir Ivor–Fanfreluche), while Holy Roman Emperor is out of Fanfreluche's daughter L'On Vite (by Secretariat).
Exhi has a way to go before he proves himself the equal of any of the above-named horses as either a racer or a sire. But the promising colt certainly looked good in last Saturday's win in the Coolmore Lexington Stakes (gr. II) (VIDEO) , which followed up a score in the listed Rushaway Stakes in March. At this point, it does not seem likely that Exhi will contest the Kentucky Derby Presented by Yum! Brands (gr. I), given that he would need at least five defections from colts ahead of him on the graded earnings list to get into the field, but he may be a possibility for the Preakness Stakes (gr. I) or for other important races later in the season.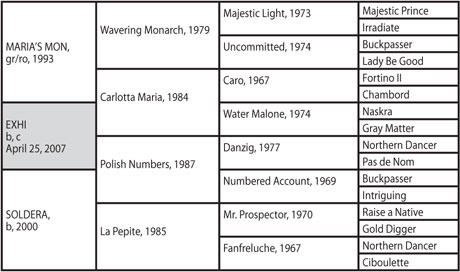 Exhi, who races as a homebred for Wertheimer et Frere, descends from Fanfreluche through La Pepite, a 1985 daughter of Mr. Prospector. Unable to win in six starts, La Pepite fared better as a broodmare but was not outstanding in that area, her only stakes winner being the Polish Numbers mare Soldera. A listed stakes winner and group-placed in England, Soldera produced Exhi as her second foal, following the winning Perfectionism (by Pleasantly Perfect). She produced a full sister to Exhi, Soldata, in 2008, and has a yearling filly by Smart Strike who has been registered as La Polonaise.
Exhi is a son of Maria's Mon, the champion juvenile male of 1995. Injury prevented Maria's Mon from getting the chance to show his ability over longer distances after his juvenile campaign, but he was bred to go further. His sire, Wavering Monarch, was a two-time grade I winner over nine furlongs and was by the staying Majestic Light (by 1969 Kentucky Derby and Preakness winner Majestic Prince) out of Uncommitted, a daughter of 1966 Horse of the Year Buckpasser. The dam of Maria's Mon, Carlotta Maria, never won but was by Caro, a French group I winner at 2100 meters (approximately 10.5 furlongs), out of Water Malone, a 10-furlong graded stakes-winning daughter of 1970 Belmont Stakes-placed Naskra.
Maria's Mon sired 2001 Kentucky Derby winner Monarchos in his first crop and 2002 Selene Stakes (gr. I) winner See How She Runs in his second but then cooled off. His fortunes rebounded with the emergence of 2006 champion 3-year-old filly Wait a While and 2006 Malibu Stakes (gr. I) winner Latent Heat, but just as his stud career was taking on new life, the stallion had to be humanely destroyed due to illness in September 2007. Since then, Maria's Mon has added two more grade I winners in Monba (2008 Toyota Blue Grass Stakes) and Monzante (2008 Eddie Read Handicap), as well as Venezuelan group I winner Cheiron. From 883 foals of aged 3 and up, Maria's Mon has so far sired 490 winners and 50 stakes winners, including 2010 Triple Crown candidate Super Saver , winner of the 2009 Kentucky Jockey Club Stakes (gr. II) and runner-up in the 2010 Arkansas Derby (gr. I).
Like Monba, Wait a While, and Latent Heat – and like Super Saver – Exhi is inbred to Buckpasser. (In his case, the inbreeding is 4x4, as Buckpasser appears as the broodmare sire of both Wavering Monarch and Polish Numbers.) This inbreeding accounts for eight of Maria's Mon's 23 graded winners.
The $64 question for the future may be just how much distance Exhi really wants, particularly if he cannot get the uncontested lead that he exploited to good effect in the Lexington. Although Maria's Mon had a fairly stamina-oriented background and has a Derby winner to his credit, Soldera showed her best form at a mile, while her sire, Polish Numbers, was most effective at sprint distances – not uncommon results for the descendants of the brilliant Danzig. It is also possible that, given his aptitude for synthetics, Exhi may be better suited for the turf than the dirt. But whether his destiny is that of a classic contender or a turf miler, this is one colt with both a star-studded past and – just possibly – a bright future.