By Alan Porter
The weekend following the second leg of the 2010 Triple Crown was quiet for U.S. racing, but in Japan history was made in the Yushun Himba (gr. I), where Apapane and Saint Emilion contrived to run the first group I dead heat in Japanese racing history.
Both horses came into the "Japanese Oaks" with excellent credentials. Apapane was last year's Japanese champion 2-year-old filly, having won three of four juvenile starts. In her previous outing this year she'd added the Oka Sho (Jpn-I). Saint Emilion didn't race until this year, but she took three of her four previous starts and had prepped for the classic with a win over the subsequent Oaks third, Agnes Waltz, in the Sankei Sports Sho Flora Stakes (Jpn-II).
While the finish no doubt thrilled race fans, what is more exciting for the Japanese breeding industry is that Apapane and Saint Emilion are both by young sires that are living up to their classic pedigrees and race-records.
Apapane is a daughter of the U.S.-conceived King Kamehameha. His mating came about when that very shrewd procurer of talent, Barry Irwin, acquired English-raced juvenile The Deputy for Team Valor. Well aware of The Deputy's potential as a runner, Irwin also snapped up his dam, the Last Tycoon mare Manfath. The pedigree of Manfath virtually came with a label saying "breed to Kingmambo" and that is where she was sent. This was one of those times where a plan came together, and after The Deputy proved himself one of the season's top 3-year-olds with wins in the Santa Anita Derby (gr. I) and Santa Catalina Stakes (gr. II), Manfath – in foal to Kingmambo – was consigned to the 2000 Keeneland November sale, where she was knocked down to Katsumi Yoshida for $650,000.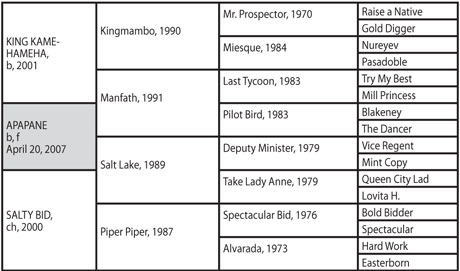 The foal that Manfath was carrying was named King Kamehameha, and he proved to be both versatile and talented, taking the Tokyo Yushun (JpnI) over 1½ miles and the NHK Mile Cup (Jpn-I) over eight furlongs. King Kamehameha's first crop produced only one black-type winner, but his second crop, now 3, has already achieved far more. In addition to Apapane, it also includes the Arlington Cup (Jpn-III) winner Cosmo Sensor; Shoryu Moon, who took the Tulip Sho (gr. III); listed winners Rose Kingdom and Rulership; and Oka Sho third A Shin Returns.
Apapane's dam, the Salt Lake daughter Salty Bid, was also bred in the U.S. She sold twice as a yearling, for $13,000 at the Keeneland January auction in 2001 and for $65,000 at the same year's Fasig-Tipton Kentucky July yearling sale. The following spring she was consigned to the Fasig-Tipton February 2-year-olds in training auction and was purchashed by Katsumi Yoshida for $200,000. Racing in Japan, Salty Bid won three times, and gained black type with a second in the Fairy Stakes (Jpn-III).
Salty Bid's dam, the Spectacular Bid mare Piper Piper, never won a stakes, but did run third in the Ashland Stakes (gr. I). Piper Piper was half sister to the Kentahten Stakes winner November Tender, and to three other mares that produced stakes winners. This is a family that had otherwise been in the doldrums for several generations, although it does eventually trace to Ulalume, a sister to the famous tap-root mare Bourtai, ancestress of Shuvee, Nalee, Dike, Slew o'Gold, Coastal, Talking Picture, Trusted Partner, Dress to Thrill, Silver Ending, Siberian Summer, Ali-Royal, Sleepytime, and Taipan, just to name a few.
Apapane, who is TrueNicks-rated A++, is quite an outcross, other than having Northern Dancer 5x5x5. However, we can note that another Kingmambo son, Lemon Drop Kid, has two stakes winners from two starters out of Salt Lake mares, a very similar cross to this. He also has two stakes winners out of 18 starters by Salt Lake's sire, Deputy Minister, and overall is four-for-23 (stakes winners to starters) with mares by Deputy Minister and his sons.
It's hard to keep the Sunday Silence line out of the picture in any major race in Japan, and Zenno Rob Roy, whose daughters took two of the top three places in the Japanese Oaks, is a son of that horse. Out of the the Ballerina Handicap (gr. I) victress Roamin Rachel (by Mining), Zenno Rob Roy was one of the best of his generation. At 3, he took a pair of Japanese group II events and ran second to another Sunday Silence son, Neo Universe, in the classic Tokyo Yushun. He really came good, however, in the fall of his 4-year-old season, when he took in succession the Tenno Sho – Autumn, the Japan Cup, and Arima Kinen (all Jpn-I). He remained in training at 5, and although he did add another major prize, took second in the Juddmonte International (Eng-I) on a trip to England, second in the Tenno Sho-Autumn, and third in the Japan Cup.
Zenno Rob Roy is off to a promising start to his stud career, and with his first crop now 3, he has been represented by four stakes winners, Saint Emilion being joined as graded scorers by Pelusa and Cosmo Nemo Shin.
Saint Emilion's dam, Moteck, won the Prix de Flore (Fr-III) over 10 1/2 furlongs while racing in France. She is by King Kamehameha's broodmare sire, Last Tycoon. Her dam, Sudaka, who took the Prix Cleopatre (Fr-III) is by Garde Royale, a son of Mill Reef, and so Motek is inbred 3x3 to that horse, who also appears as broodmare sire of Last Tycoon. Sudaka is half sister to Clodion, a black type winner in the UAE, and to La Favorita, who was a stakes winner and group-placed in France, and a stakes winner in the U.S., and subsequently produced Man Among Men, one of the few black type winners sired by Argentine import Gentlemen. The third dam, Didia Clara, by Sea-Bird II's son Sea Break, was stakes-placed and is a sister to the French black type winner Riehmann.
The pedigree is notable for duplications of Buckpasser through the dams of Mining and of Last Tycoon's sire, Try My Best, who both have a double of La Troienne, through Buckpasser's dam, Busanda, and through the similarly bred Better Self (in Mining) and Mr. Busher (in Try My Best) . Mill Reef, who is closely duplicated in the dam of Saint Emilion, also has La Troienne through her son, Bimelech, and he appears in two of Zenno Rob Roy's first three graded winners.