Nothing looks better on a stallion prospect's resume than a grade I win. But not all grade I races have the same impact: some are considered major positives, while others do little to further a stallion's chances of success in the breeding shed.
Such prophecies can be self-fulfilling, of course. A grade I win may prove racing ability, but if it does not attract many quality mares to a stallion's court, his chances of competing successfully against more fashionable peers will be compromised. Grade I winners on turf have historically had a tough time in North America, and stallions that have scored their major wins over synthetics may well be subject to the same bias until they have proven themselves.
But even among grade I contests on dirt, not all races appear to be created equal. And if there is one stakes that, more than any other, has a reputation of being a "sire making" race, it is the Metropolitan Handicap. A grade I event since the North American grading system began in 1973, it has been won by some very good stallions, among them Tentam, Cox's Ridge, and Fappiano. And collectively, the Met Mile winners have a good record. Twenty-nine stallions with at least one crop 3 years old or older have won the Met since 1973, and collectively they have begotten 74.0% starters, 51.6% winners, and 4.8% stakes winners from foals of racing age with an average AEI of 1.48.
While these are good figures compared to the breed norms, they are not tops for grade I races. In an October 2009 study published in The Blood-Horse MarketWatch, winners of all three Triple Crown events, as well as the Breeders Cup Classic, did better by percentage of stakes winners and combined AEI, and both the Preakness and the Breeders' Cup Classic winners had higher collective percentages of winners as well. This suggests that while speed is certainly desirable in the American marketplace, so is the ability to stay more than nine furlongs in top company. Another consideration may be class; although the Metropolitan usually draws a quality field, it is a handicap, giving lesser horses perhaps a better chance at an upset, and it is not usually a race considered crucial to winning a championship. Not only is the competition usually the very best available in the Triple Crown events and the Breeders' Cup Classic, but the races are run at level weights or weight for age, with higher weights than are routinely assigned in handicaps nowadays. For what it is worth, no Metropolitan Handicap winner has carried 126 pounds or more (the required weight for the Triple Crown events and for older males in the Breeders' Cup Classic) since Czaravich in 1980.
A Met Mile win is no guarantee of success, either. Generally speaking, those winners that were consistently good horses throughout their racing careers have fared better as sires than those that popped up under light weights and never showed a similar level of form before or since. Those that won grade I contests at younger ages (3 and 4) have tended to do better than stallions whose signature victories came at 5 or older. Pedigree matters, too; horses from less fashionable sire lines, especially those with relatively weak female families, have had a more difficult time making headway.
That being said, this year's winner, Quality Road , looks to be the kind of horse likely to add to the Met Mile's reputation as a "stallion maker." A handsome 4-year-old son of 2004 leading sire Elusive Quality, he now has three grade I wins to his credit and is without question his sire's best runner since 2004 champion 3-year-old male Smarty Jones ; on his present form, his one weakness -- troublesome feet -- may be more likely to derail his march to an Eclipse Award than his rivals in the older male division. And Quality Road's family is as solid as his performance. His dam, the Strawberry Road mare Kobla, is a full sister to 1997 champion 3-year-old filly Ajina and a half sister to two-time grade III winner Rob's Spirit (by Theatrical), while his second dam, the grade II-winning Alydar mare Winglet, is a half sister to two Irish group III winners and to Wasnah, dam of the brilliant European miler Bahri. The only thing lacking in Quality Road's credentials as a potential sire is a good proven stallion close up in his family, but further back he does trace to Myrtlewood (his seventh dam), also the ancestress of Mr. Prospector and Seattle Slew.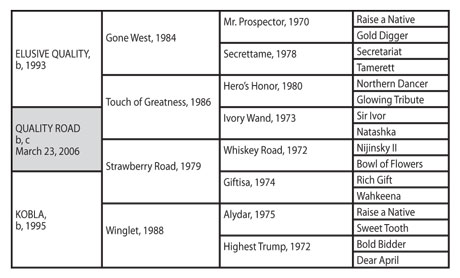 Whether or not Quality Road makes an impact in a likely second career as a sire, the Metropolitan Handicap will probably continue its reputation as a "stallion maker" for some time to come. Whether it deserves its popular reputation as the preeminent "stallion making" race is open to debate, but so long as miler speed on dirt remains one of the most highly prized commodities in the commercial market, the Met will continue to be one of the more hotly contested events on the racing calendar.
Avalyn Hunter authored "The Races That Make Stallions" in the October 2009 edition of
The Blood-Horse MarketWatch
professional newsletter. Subscribers may access the issue archive at
http://marketwatch.bloodhorse.com/
.