By Les Brinsfield
Drosselmeyer continues the trend of recent classic winners being sired by horses known for speed from mares with a pronounced aptitude for stamina. His sire, Distorted Humor won twice at the grade II level going seven furlongs, once in track-record time of 1:21 at Churchill Downs.
Drosselmeyer's dam, Golden Ballet, won two grade Is and has Nijinsky II and Slew o' Gold, both sterling performers over a route, close up in her pedigree.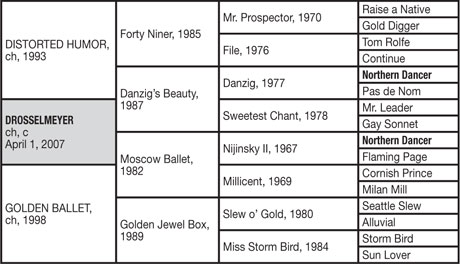 Distorted Humor achieved some closure of sorts as Drosselmeyer won the Belmont Stakes (gr. I), which his first-crop classic-winning son Funny Cide missed while winning the 2003 Kentucky Derby (gr. I) and Preakness Stakes (gr. I). Funny Cide was produced by a Slewacide mare while the second dam of Drosselmeyer is by Slew o' Gold. Neither of these sons of Seattle Slew was consistently a top sire, but they were both out of mares by Buckpasser. Dam of Seattle Slew, My Charmer is 3X3 to Striking and Busher—the first a Broodmare of the Year and the latter a Horse of the Year. Buckpasser was produced by Busanda. All three fine distaffers were sired by Triple Crown winner War Admiral and are out of daughters of the immortal La Troienne.
For good measure, Drosselmeyer's fourth dam, Sun Lover, is by Nasomo, he out of Blue Eyed Momo, she a full sister in blood to Busanda, both being by War Admiral out of full sisters by Blue Larkspur out of La Troienne. Make it 8X10X10X8 to the remarkable La Troienne.
Also remarkable is that the newest and ninth grade I winner by Distorted Humor extends his streak of never siring a graded stakes winner in the Northern Hemisphere from a mare lacking La Troienne. He works so well with La Troienne as she is 5X5 to full siblings to Ormonde and Ornament. Ormonde was a Triple Crown winner in the United Kingdom and Ornament was dam of the immortal Sceptre, she a winner of 4 British classics, missing a sweep by a damnable third in the Epsom Derby. While void of La Troienne himself, Distorted Humor has a plethora of Ormonde and Ornament as well as many of the 17 instances of full and three-parts brothers and sisters to this pair. The strains of Ormonde and Ornament in La Troienne provide refreshing hybrid vigor in all foals by Distorted Humor.