By Alan Porter
While the quality of the U.S. 3-year-old crop has yet to be firmly established, it appears that European classic males are a notably strong group. In the Stanjames.com Two Thousand Guineas (Eng-I), French-trained Makfi retained his unbeaten record with a decisive win, and third-placed Canford Cliffs went on to capture the Abu Dhabi Irish Two Thousand Guineas (Ire-I) in an impressive effort. In European action the weekend of June 5-6, Workforce produced a dominating display to win the Investec Epsom Derby (Eng-I) by seven lengths in a new course record, while in France, Lope de Vega added the Prix du Jockey-Club to his earlier triumph in the Poule d'Essai des Poulains (both Fr-I).
Makfi's and Lope de Vega's wins were also a promising sign for the future of European breeding industry is concerned, as both colts are from the first crops of their sires. Although Dubawi and Shamardal were European classic winners from the same crop, they never met on the racetrack. They have, however, been slugging it out for leadership of the second-season sires. Dubawi, the best runner sired from the only crop by Seeking the Gold's outstanding son Dubai Millennium, has five northern hemisphere first-crop stakes winners, all group winners, Mafki being joined as a classic performer by the Derby Italiano Better (Ity-II) winner Worthadd and Anna Salai, winner of the Prix de la Grotte (Fr-III).
Like Dubawi, Shamardal was from the first (although happily in this case not the only) crop of his sire. He was rated top 2-year-old in Europe after going undefeated in three starts including the Darley Dewhurst Stakes (Eng-I). Unplaced in the Saeed and Mohammed Al Naboodah U.A.E. Derby (UAE-II) on his debut at 3, Shamardal rebounded to lead throughout in the French group I Gainsborough Poule d'Essai des Poulains. The same running style saw him successful in the Prix du Jockey Club (Fr-I). His two classic victories notwithstanding, Shamardal ended his career with the performance of his life. Dropping back to a mile for the St. James's Palace Stakes (Eng-I) – in a Royal Ascot meeting run at York rather than its customary home, due to renovations to the Ascot facility – he was again in front from the off, and quickened clear three furlongs out for an impressive three-lengths victory.
By Giant's Causeway , the leading son of Storm Cat as both a runner and a sire, out of Helen Street, a sister to Street Cry, Shamardal owned the pedigree to match his racecourse performance. While those elements don't necessarily guarantee success as a sire, the signs are that they have come to bear in Shamardal. His first European crop has produced six stakes winners, and in addition to Lope de Vega, they include group winners Shakespearean and Arctic; Zazou, a German group black type winner who also took third in the Criterium de Saint-Cloud (Fr-I), and the Gulf News U.A.E. One Thousand Guineas victress Siyaadah. He has also made a promising start with his first shuttle crop in Australia, which includes Faint Perfume, heroine of the Crown VRC Oaks (Aus-I), and group winner Shamoline Warrior.
Lope de Vega couldn't quite emulate his sire's undefeated juvenile season, ending his 2-year-old campaign with a fourth, as favorite, in the Prix Jean-Luc Lagardere (Fr-I). He was also beaten into third in the Prix de Fontainebleu (Fr-III) on his 2010 debut. His Poulains triumph was also gained in rather different style to Shamardal's, as he was held up in the rear in the early stages, but in the Prix du Jockey Club, he did follow his sire's example, leading throughout. He may now take another step in his sire's footsteps by reverting to a mile.
Lope de Vega also has classic breeding on his distaff side. His dam, Lady Vettori, is a daughter of the 1995 Poulains victor Vettori, subsequently sire of group winners in Europe and group I winners in Australia and South America. Lady Vettori was one of her sire's better European runners, winning the Prix du Calvados (Fr-III) and taking third in the Prix Marcel Boussa—Criterium des Pouliches (Fr-I), all at 2. The 13-year-old mare has previously produced Bal de la Rose, winner of the Prix Andre Baboin--Grand Prix des Provinces (Fr-III).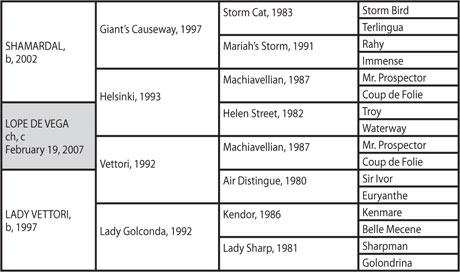 Lope de Vega has an intriguing pedigree pattern, as both Shamardal's dam and Vettori are by Machiavellian, who consequently appears 3x3 in the pedigree. Machiavellian is out of a mare by Halo (who also appears in Sharmardal through Rahy) and the pedigree also features that horse's genetic relative, Sir Ivor. Halo and Sir Ivor often feature together in the pedigrees of good winners (and Shamardal also has Secretariat, a half brother to Sir Ivor's sire, Sir Gaylord), and the pair are already combined in the pedigrees of six of Shamardal's first 12 stakes winners, four graded, including his top two in either hemisphere, Lope de Vega and Faint Perfume. We can also note that Shamardal combines Machiavellian with Storm Bird, and Vettori combines Machiavellian with Storm Bird's genetic relative Nijinsky II.