By Alan Porter
With a view to the future, it's possible that the most significant race of the final weekend of springtime in the U.S. was the Pegasus Stakes (gr. III) June 19 at Monmouth. This is the time to look for potential "second season" stars, and with a decisive 1¾-lengths win here Afleet Express placed himself firmly among their number, the Haskell Invitational (gr. I) now being an obvious target. The Pegasus was the first try in stakes company for Afleet Express, who had broken his maiden at Aqueduct in December in his only 2-year-old start. After a second and a fifth in Gulfstream Park allowance races, the 3-year-old delivered a breakout performance May 22 in a seven-furlong allowance at Belmont Park, scoring by 7¾ lengths.
Afleet Express is a member of the first crop of Afleet Alex and in the Pegasus he was chased home by another son of that sire, the Withers Stakes (gr. III) captor Afleet Again. With last year's Three Chimneys Hopeful Stakes (gr. I) victor Dublin – also grade I-placed this year – Afleet Alex now has three U.S. graded winners among his seven first-crop stakes winners. It also appears that members of his second crop are already shaping up well, as he was represented by sharp-looking Belmont Park maiden winner Commonwealth Rush on the 18th, and his son Avatar Day was second in the Premio Primi Passi (Ity-III) two days later.
The early signs are that Afleet Alex's stud career is reflecting his own racecourse performances, as he was precocious, and yet still improved with age. As a runner, he is always likely to be best remembered for his remarkable effort in the Preakness Stakes (gr. I), when he was virtually knocked to his knees at the head of the stretch yet recovered to score by 4¾ lengths. By that stage, Afleet Alex had long been established as one of the best of his crop. At 2, he won the Sanford Stakes (gr. II) and Hopeful Stakes (gr. I), and took second in the Bessemer Trust Breeders' Cup Juvenile and Champagne Stakes (both gr. I). At 3, prior to his Preakness triumph, he had taken the Mountain Valley Stakes and Arkansas Derby (gr. II) and run third to Giacomo and Closing Argument in the Kentucky Derby (gr. I). He started just once more after the Preakness, winning the Belmont Stakes (gr. I) by seven lengths. Afleet Alex ended 2009 in seventh place among the freshman sires, but the weekend's activity has propelled him into leadership of the second-crop division.
Afleet Express is the second stakes winner produced by his dam, the stakes-placed Distant View mare Expanse. The first, Reporting For Duty (by Deputy Commander), has earned more than $470,000, winning the Zia Park Derby Stakes and Maxxam Gold Cup Handicap and earning places in several graded events, including when second in the Illinois Derby (gr. II). Afleet Express's granddam, Dial a Trick, a daughter of Phone Trick, also bred a pair of stakes winners. Her best runner was the versatile American Chance horse Eye of the Tiger, winner of the Washington Park Handicap (gr. II) and Affirmed Handicap (gr. III) and fifth in the Kentucky Derby. The third dam, Ice Fantasy (by It's Freezing), won the Debutante Stakes and produced the multiple graded stakes-winning Fighting Fantasy.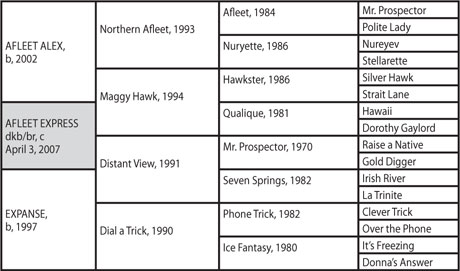 Afleet Alex's sire, Northern Afleet (by Afleet), is a grandson of Mr. Prospector, and Afleet Express's broodmare sire Distant View is a son of that stallion, meaning Afleet Alex (TrueNicks A++) is a product of the Mr. Prospector/Mr. Prospector cross. As regular readers of our writings will know, in general, crossing a stallion back over a mare from his own immediate male line tends to give below opportunity results. Afleet Express' sire, Northern Afleet, is a prime example, with only one stakes winner from 53 starters out of mares by Mr. Prospector, his sons and grandsons (this out of a mare by Quiet American, who in turn is by Fappiano, an atypical Mr. Prospector-line representative). However, Afleet Alex, who supplies Mr. Prospector in the fourth generation of his foals, now has two stakes winners from 12 starters out of Mr. Prospector-line mares, and two from six out of mares by sons of Mr. Prospector, suggesting that, on initial evidence at least, he can be considered for mares from this line.
In fact, we'd have to consider that Afleet Alex -- who doesn't come from a distinctive male line (for all their merits, neither Northern Afleet nor Afleet have much other representation of note in male line descent) and has a distaff pedigree that is a relative outcross in the first few generations (he's out of a mare by the Silver Hawk son Hawkster, with second and third dams by South African-bred Hawaii and Argentine-pedigreed Sensitivo) -- may be a horse who becomes "his own man" as a sire, his characteristics being more distinct from his sire line than is generally the case.
An obvious observation of Afleet Alex's pedigree is the strain of Roberto (in his broodmare sire line), Roberto's dam being a genetic relative to the dam of Mr. Prospector. Afleet Express also has two crosses of Northern Dancer and one of his genetic relative Icecapade, both reverse Nearco/Native Dancer crosses to Mr. Prospector. We can also note that Northern Afleet's dam, Nuryette, is inbred 3x4 to Nearctic, with the second cross through her third dam, Nangela (herself 1x4 to Nearctic and the closely-related mare Sybil's Sister).
Nearctic appears in the distaff side of all seven of Afleet Alex's first-crop stakes winners, six times through Northern Dancer and twice through Icecapade (Afleet Again having both). Three of the stakes winners have a Mr. Prospector duplication (two of them in combination with Nureyev, as is found in Afleet Alex's sire, Northern Afleet), and another has Jig Time, a close relative to Mr. Prospector's sire, Raise a Native. So overall – and while admitting they are among the most commonly found strains in the North American Thoroughbred – it appears that reinforcing Mr. Prospector/Raise a Native and Northern Dancer/Nearctic, particularly in combination, is proving beneficial here.