By Les Brinsfield
The grade I-winning Bluegrass Cat is off and running with his first crop of 2-year-olds in 2010. He is the leading first-crop sire with more than $220,000 in progeny earnings and seven winners so far (through July 11). He is the product of crossing a sire and damsire that have a common broodmare sire as both Storm Cat and A.P. Indy are out of Secretariat mares.
The WinStar Farm stallion is also doubled to Northern Dancer, grandsire of Storm Cat and sire of Dance Number. Dance Number is the third dam of Bluegrass Cat. Doubling both Northern Dancer and Secretariat is enough to do well. Indeed, the pair nick together very well, and if one cross is good, two crosses are better. Bluegrass Cat is from a scorching hot branch of the best family on earth. His dam, She's a Winner, is a sister to Supercharger, dam of 2010 Kentucky Derby Presented by Yum! Brands (gr. I) winner Super Saver . The next three dams are all graded winners and graded producers.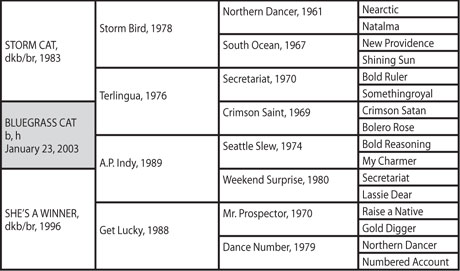 Bluegrass Cat's fourth dam is the brilliant runner and producer Numbered Account whose fifth dam is the immortal La Troienne. Sired by Buckpasser, whose third dam is La Troienne, Numbered Account is thus 4X5 La Troienne. Fact is, She's a Winner is 4X4 to Buckpasser, who is also the sire of Lassie Dear, the second dam of A.P. Indy. My Charmer, the dam of Seattle Slew (sire of A.P. Indy) is 3X3 to the dams Striking and Busher, who are full sisters out of Baby League—a daughter of La Troienne. Her highness is thus present five times in She's a Winner and in Supercharger. They have 2-year-olds by Distorted Humor named Cal Nation and Brethren, who are a pair worth noting in future book action and stable mail lists as Distorted Humor has bagged Any Given Saturday, Endorsement, and Z Humor from mares by A.P. Indy.
You will have no trouble believing all of the 2-year-old winners to date by Bluegrass Cat are linebred to La Troienne.