Calder's 2010 Summit of Speed turned out to be a showcase for the home team, with Florida-breds sweeping all four of the event's graded stakes as well as both the juvenile stakes events earlier on the day's card. The unexpected star of the show turned out to be Farnsworth Stables' 6-year-old mare Jessica Is Back. A $50,000 claim for Farnsworth in April 2009, Jessica Is Back has won three stakes and placed in five more in 2009 and 2010, capping off her rise in class with an upset win July 10 in the Princess Rooney Handicap (gr. I).
Jessica Is Back is a descendant of Lady Blessington, an 1861 daughter of Eclipse whose family played a prominent role in American racing in the period between the Civil War and World War II. Among its more noted scions are the Belmont Stakes winners Masterman (1902) and Mad Play (1924); Preakness Stakes winners Margrave (1896) and Watervale (1911); and champion handicap males Clifford (1894), Mad Hatter (1921), and Sun Beau (1929-1931). However, the branch of this family descended from 1935 Clipsetta Stakes winner Mary Terry, a seventh-generation descendant of Lady Blessington, has not boasted a horse capable of winning the equivalent of a grade I race since Inside Tract (Ace Admiral–Mary Terry) captured the 1958 Jockey Club Gold Cup for the only stakes victory of his career.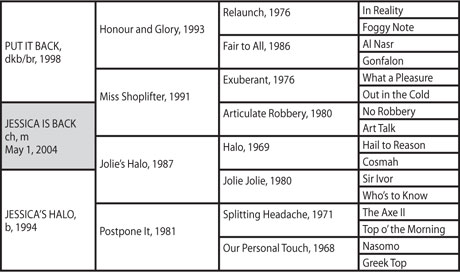 Through her daughter Ethel Terry (by Reaping Reward), Mary Terry is the great-granddam of 1962 Lawrence Realization winner Battle Joined (Armageddon–Ethel Walker, by Revoked), whose primary contribution to the breed was his son Ack Ack. The 1971 Horse of the Year, Ack Ack proved a good stallion and kept the Domino male line alive by siring Broad Brush, the leading sire of 1994. Mary Terry's other important daughter, I Tops (by Brookfield), had less of an immediate impact, with her only foal of much account being the minor stakes winner Greek Top (by Greek Song). Greek Top, in turn, produced another minor stakes winner in Jenell Marie (by Young Emperor), winner of the 1976 Jean Lafitte Futurity.
Jenell Marie did not produce any stakes winners, but her half sister Our Personal Touch (by Nasomo) produced a trio of minor stakes winners in Moment of Touch (by Timeless Moment), Paititi Gold (by No Robbery), and Miss Lillie J. (by Our Michael). She also produced the cleverly named Postpone It (by Splitting Headache, a graded stakes-winning son of The Axe II), whose top runner was the listed stakes winner Island Delay (by Island Whirl).
By this time, the family was taking on a distinctly regional flavor, with Moment of Touch, Miss Lillie J., and Postpone It all having been bred in Louisiana. Postpone It, in turn, spent her broodmare career passing through the hands of several Florida breeders. Among them was Gary J. Mesnick, who sent Postpone it to multiple grade I winner Jolie's Halo. The result was Jessica's Halo, a winner of two of 10 starts before being acquired by Larry Parker.
Put It Back was only in his second season at stud when Parker sent Jessica's Halo to him in 2003, so Parker clearly had no way of knowing what to expect, though he certainly had reason to hope for a speedy runner. Jessica's Halo's wins were both over sprint distances, and Jolie's Halo, though his grade I wins had all been over routes, had been a confirmed front runner and a very quick horse from the gate. As for Put It Back, he had put together five sharp sprint wins at 3, culminating in a victory in the seven-furlong Riva Ridge Stakes (gr. II), before injury ended his career. Given that his sire, Honour and Glory, still holds the stakes record for the historic grade I Metropolitan Handicap (he scorched the distance in 1:32.80), it would seem that Put It Back came by his speed quite honestly.
Whatever Parker's expectations were, they probably would have been a lot higher had he been able to see just a few years into the future. Jessica Is Back is one of just eight foals of racing age produced from Jolie's Halo mares to the cover of Put It Back. All eight have started; six are winners; four are stakes winners, and two are now graded stakes winners. (The other graded stakes winner from this cross is Smokey Stover, who captured the grade II Potrero Grande Breeders' Cup Handicap and the grade III Bay Meadows Breeders' Cup Sprint Handicap, both in 2007.) While this is a mere handful of foals – probably too few to prove the presence of a nick reliably – there is no doubt that the results to date have been very encouraging and are worth following up on. Propinquity is probably a factor, as Put It Back and Jolie's Halo both stand/stood at Bridlewood Farm, making some of Jolie's Halo's better daughters readily available to Put It Back. The two sires are probably complementary to one another in conformation as well, with Jolie's Halo having been a rugged, strongly made horse with good scope and plenty of bone, while Put It Back is muscular, especially through the quarters, but a bit more refined in type.
Wherever Jessica Is Back's talent comes from, it is there and it is genuine, even if it has taken some time developing. And the soundness and toughness she has displayed up to now is a refreshing sight in an industry in which too many nice horses leave the track without a quarter of the starts she has made under their belts. Whatever the future holds for this mare, one can certainly hope it includes opportunities to pass on her own admirable qualities to the next generation.