By Alan Porter
The closing years of the 20th century boasted few horses more popular than the gallant gray Skip Away. Trained by Sonny Hine for his wife, Carolyn, Skip Away was a champion at 3, 4, and 5, and Horse of the Year at 5. For all his charisma, however, Skip Away was always going to have an uphill struggle to make it as a stallion.
His race-record, which saw him win or place in 34 of 38 starts, left nothing to cavil about, and Skip Away earned nearly $10 million wihle winning such events as the Breeders' Cup Classic, Woodbine Million, Buick Haskell Invitational, Jockey Club Gold Cup (twice), Hollywood Gold Cup, Pimlico Special, Woodward Stakes, Donn Handicap, and Gulfstream Park Handicap (all gr. I). Against that, however, was his pedigree. His sire, Skip Trial, had won the Haskell and Gulfstream Park handicaps, but Skip Away was his only grade I winner, just as Skip Trial had been the only scorer at that level for his own sire, the Saranac Stakes and Dwyer Handicap (both gr. II) victor Bailjumper (by Damascus). Skip Away's female line told a similar story, with some useful runners but nothing top-class since Boat, his fifth dam. Boat produced the Metropolitan Handicap and Gold Cup victor Greek Ship (Heliopolis) and Sky Ship (Teddy's Comet), who took the Florida Derby and Swift Stakes.
Skip Away had an action that to the eye appeared uneconomical and breeders wondered if he might pass on his biomechanics without also transmitting what must have been a remarkable constitution, and presumably an equally impressive cardio-vascular system.
So, when Skip Away died in mid-May, it's no surprise that he was lauded more for the memories he created on the track than for his influence on the breed. At the time of his death he had sired 22 stakes winners from his first eight crops (rather strangely, 10 of them came from his second crop, which briefly represented some kind of false dawn). None of these had one a grade I or II event to his name, but Skipaslew, Sister Swank, and Skip Code all won at grade III level.
Of course, it's become a truism that a stallion only has to die or be exported and he will soon be represented by his best winner, and so it is with Skip Away. His unheralded 3-year-old Skipshot collared favorite Sidney's Candy in the dying strides of the Swaps Stakes (gr. II) (VIDEO) to become Skip Away's first grade II winner. This was the first stakes win and fourth victory of a 10-race career for Skipshot. He had one third to show for three outings as a juvenile but kicked off this year with a hat trick, taking a maiden and two allowance contests at Golden Gate, the first two at six furlongs and the third at a mile. Tried against better company, he was fifth to Sydney's Candy in the Santa Anita Derby (gr. I), fifth again in the Lazaro Barrera Memorial Stakes (gr. III); and then second, missing by just a half-length, in the Affirmed Handicap (gr. III). He was receiving six pounds. from Sydney's Candy in the Swaps, but he's clearly an improving colt and more progress can't be ruled out.
Skipshot's dam, Heavenly Note, is by the Halo stallion Sunny's Halo, who took the Kentucky Derby (gr. I), one of the few races in which Skip Away failed to make the frame. She won two stakes events, both at Albuquerque. To a previous mating with Skip Away she produced Skip Code, winner of the Grey Breeders' Cup Stakes (Can-III) at Woodbine at 2. She is also granddam of Shopton Lane, a multiple black-type winner whose victories include, appropriately, the Skip Away Stakes at Monmouth Park. The second dam, Muted Music (by the Tudor Minstrel grandson Golden Ruler), produced other stakes winners Mr. T.'S Tune (Al Hattab) and Contrefaire (Sham), and is second and third dam of several other stakes winners, the most notable of which is the Secretariat Stakes (gr. IT) winner Jackie Wackie. The third dam, Hushaby (Intent), won the Modesty Handicap and is out of a half sister to Mommy Dear, winner of the Sorority Stakes and ancestress of grade I winners Cotton Blossom and Dontstop Themusic.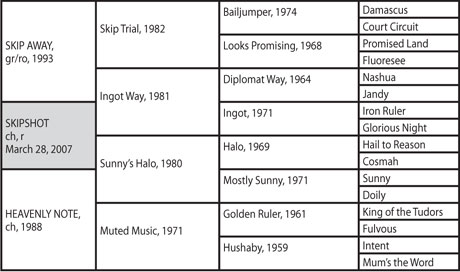 Skipshot is an extended version of a cross that looks on paper that it might work well, but generally proved disappointing in reality, that of Damascus and Halo. Damascus was inbred to the close relatives By Jimminy (by Pharamond II out of a mare by Blue Larkspur) and Blade of Time (by Pharamond II's full brother Sickle out of a mare by Blue Larkspur), and his dam was by My Babu. Halo was a grandson of Turn-to (whose dam was a half sister to the dam of My Babu), out of a mare by Cosmic Bomb (by Pharamond II out of a Blue Larkspur mare, therefore on the same cross as By Jimminy and Blade of Time).
To date, the Damascus line has produced 260 starters out of Halo-line mares (with the two protagonists in the fourth generation or closer). Only nine of these runners have won stakes events, and only four of them are graded stakes winners. Three of the graded winners are Skipshot and Skip Code (by Skip Away) and Skip to the Stone (by Skip Away's sire, Skip Trial).
Notably, Skip Away has sired only 11 starters out of mares by Halo and his sons, for three graded stakes winners (27% graded winners to runners), Skipshot and Skip Code out of Heavenly Note, and Sanky Panky out of a mare by Halo. With Heavenly Note, there is an extra twist. Damascus goes back in male line to Sun Again (his great-grandsire). Heavenly Note's sire, Sunny's Halo, is out of a mare by the Princequillo stallion Sunny. His dam, Sunshine Nell (winner of several major races, including the Top Flight and Step Lightly handicaps), is also by Sun Again, and also goes back to Sun Again's own female line, with Sun Again's dam, Hug Again, and Nellie Morse, the granddam of Sunshine Nell, being bred on very similar lines.