A crippled ex-jockey spots a cheap 2-year-old colt running at a minor track. Something about the animal catches his eye. Following up on his intuition, he persuades friends to help him buy the youngster, then persuades a good trainer to take the colt on for a crack at the big time. Setbacks occur and the drama builds. And, at long last, the colt rewards the former jockey's faith by winning a major race.
Sounds like a script that Hollywood wouldn't touch? It's actually the real-life story of Golden Moka, an $8,000 yearling purchase who was racing in Panama when spotted by Rene Douglas. Now paralyzed from the waist down as the result of a May 2009 spill at Arlington Park, Douglas was in Panama for medical treatment when he saw the chestnut youngster and realized that he was seeing a real racehorse, one that he thought could compete at the major North American tracks. With five friends, now known as Good Friends Stable, Douglas bought the colt and turned him over to Brian Lynch, formerly the private trainer for Frank Stronach. A virus kept Golden Moka out of the Queen's Plate, but July 25, after eight months away from the races, the former bargain-basement yearling swept home an impressive winner of the Prince of Wales Stakes, second jewel of the Canadian Triple Crown.
Ironically, given Lynch's previous connections, Golden Moka was bred in Canada by Stronach's Adena Springs and was sired by Golden Missile, who was standing at Adena Springs' Kentucky farm when Golden Moka was conceived. A member of A.P. Indy's second crop, Golden Missile was an exception to most of A.P. Indy's best get in that his dam, multiple grade III winner Santa Catalina (by Cure the Blues), has a pedigree completely free of Mr. Prospector, Buckpasser, and Northern Dancer, all lines that A.P. Indy has crossed well with. With the mating that produced Golden Missile, however, breeder Bruce Lunsford was trying a different tack, bringing together A.P. Indy's great damsire Secretariat (Bold Ruler–Somethingroyal, by Princequillo–Imperatrice) with his close relative Speedwell (Bold Ruler–Imperatrice), a good stakes winner and second dam of Cure the Blues.
At the time that Golden Missile was conceived, the Secretariat/Speedwell cross had not produced a single graded or listed stakes winner, though in truth it had not been tried much either. The reason is simply the time frame; the major source of Speedwell in stakes pedigrees is Cure the Blues, a good but not great sire who was active in 1982-1998, while Secretariat's most common sources, his top maternal grandsons, did not begin entering stud until the late 1980s.
Golden Missile set a successful precedent, eventually winning five stakes races including the 2000 Pimlico Special Handicap (gr. I). (He has since been followed by eight other graded/group stakes winners whose pedigrees contain the Secretariat/Speedwell cross, headed by grade/group I winners Cajun Beat and Grand Zulu.) Yet while Golden Missile was undoubtedly talented, he took until age 5 to reach his best form, and his only black type at a mile or less was a second in the eight-furlong Westchester Handicap (gr. III). That being the case, it should not be surprising that he has generally gotten his best runners from mares whose pedigrees brought in speed, early maturity, or both. Unfortunately, those good runners have been few and far between, as statistics kept by The Jockey Club indicate that Golden Missile has sired only 13 stakes winners from 534 foals of racing age.
Sunset Seeker, the dam of Golden Moka, had already produced one foal by Golden Missile, the unraced gelding Sun Ridge. Since Sun Ridge was already a 5-year-old by the time Golden Moka came up for bid at the 2008 Keeneland September yearling sale, it is understandable why Stronach was willing to let the colt go so cheaply. Yet there was sound reasoning behind the mating of Sunset Seeker to Golden Missile. Not only does Sunset Seeker, a daughter of Seeking the Gold, combine Mr. Prospector, Buckpasser, and Northern Dancer within her three-generation pedigree, but she hails from a top-class family with a strong reputation for miler speed, that of Dinner Partner.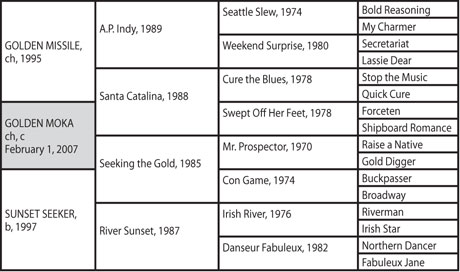 A stakes-winning daughter of the speedy Tom Fool, Dinner Partner threw five stakes winners including the tough and talented Jim French (by Graustark) and the good filly Native Partner (Raise a Native). Both took after their respective sires; while Jim French won the Santa Anita Derby and stayed well enough to place in all three Triple Crown races, Native Partner was a speedier sort whose biggest win came in the 1970 Maskette Handicap over a mile. Native Partner, in turn, threw two high-class speedsters: Ajdal (by Northern Dancer), champion sprinter in England in 1987, and Formidable (by Forli), a winner of the 1977 William Hill Middle Park Stakes (Eng-I).
Native Partner also threw Fabuleux Jane (by Le Fabuleux), winner of the 1978 Prix de Pomone (Fr-III). A better stayer than most of her immediate relatives, she also finished third in the 1977 Prix de Diane de Revlon and Prix Vermeille (both Fr-I). Her best runner, the Nureyev colt Joyeux Danseur, stayed out nine furlongs to win the 1998 Early Times Turf Classic (gr. IT), but Fabuleux Jane is perhaps better known as the dam of Danseur Fabuleux (by Northern Dancer, and so closely related to Ajdal), who produced the brilliant Arazi (by Blushing Groom), a champion juvenile in both France and the United States. In addition, Danseur Fabuleux produced Noverre (by Rahy), winner of the 2001 Champagne Lanson Sussex Stakes (Eng-I).
River Sunset, Danseur Fabuleux's daughter by Irish River, was bred to be a good miler but never quite got there, winning just one of her 13 starts. But the family heritage of speed that she passed down to her daughter Sunset Seeker may well have been the spark that made Golden Moka what he is – an undefeated colt whose story is a reminder that dreams can come true.