In his June 28 column Beware of the Second Wave, Steve Haskin put Concord Point at the head of his list of 16 sophomore colts that would bear watching during the remainder of 2010. On August 7, Concord Point made Haskin look like a pretty good prophet. Digging down against a determined chase by Exhi (another colt on Haskin's list), the Kaleem Shah colorbearer held his game rival safe to win the West Virginia Derby (gr. II) by a length, with Swaps Stakes (gr. II) winner Skipshot (yet another Haskell pick) checking in over 10 lengths back in fourth. It was Concord Point's second Derby win of the season, joining the Iowa Derby (gr. III) in his trophy case, and if it was not as easy as his Iowa Derby romp, it was impressive enough in other ways.
The striking gray colt is a son of Tapit , whose four other stakes winners this year include Comely Stakes (gr. III) winner Touching Beauty and the highly regarded Trappe Shot , runner-up to pro tem leading 3-year-old male Lookin at Lucky in the Izod Haskell Invitational Stakes (gr. I). The leading freshman sire of 2008 and third on the second-crop sire list in 2009, Tapit is currently third on the third-crop sire list for 2010 and is within easy striking distance of leader Medaglia d'Oro and second-place Speightstown .
From the immediate family of the very good sire Relaunch and 1992 champion sprinter Rubiano (himself a useful sire, if nowhere close to Relaunch), Tapit commanded $15,000 in his first year at Gainesway – a decent fee for a well-bred young grade I winner by a popular sire (Pulpit), but kept from rising any higher by his own brief racing career (he retired after just six starts, winning three) and Pulpit's then-unknown status as a sire of sires. Tapit has since rewarded his early backers by getting 107 winners (61.5%) and 18 stakes winners (10.3%) from the 174 foals in his first two crops. Results like these are why Tapit has been one of the few stallions whose stud fee has seen a substantial increase in spite of the recession; his asking price for 2010 was $50,000.
Tapit's first crop was headed by 2008 champion juvenile filly Stardom Bound, 2008 Hollywood Starlet Stakes (gr. I) winner Laragh, and 2009 Alabama Stakes (gr. I) winner Careless Jewel, making some people wonder if he would be mostly a sire of outstanding fillies. However, he also had Spanish champion juvenile male As de Trebol and 2009 Japan Dirt Derby winner Testa Matta among his foals of 2006, and Concord Point and Trappe Shot appear to be on their way to showing American breeders that Tapit can get a pretty nice colt as well as top fillies.
Bred in Kentucky by Lee McMillin and Ed Rudley, Concord Point is the second foal and second winner from the winning Boston Harbor mare Harve de Grace, whose first foal is the winning Tapit filly Grey Harbor. (She has since produced Spin Zone, an as yet unraced 2008 colt by Candy Ride; a 2009 colt by Van Nistelrooy; and a 2010 colt by Political Force.). A half sister to two-time grade III winner Tasha's Miracle (by Harlan's Holiday), Harve de Grace is out of Ms. Cuvee Napa, a winning daughter of Relaunch and 1990 Molly Pitcher Handicap (gr. II) winner A Penny Is a Penny (by Temperence Hill).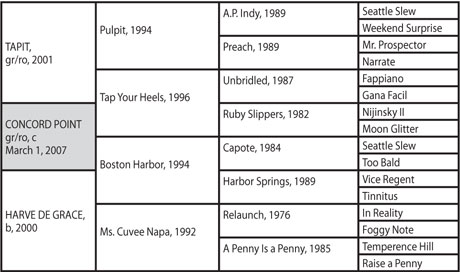 Concord Point is inbred 4x4 to Seattle Slew, the paternal great-grandsire of both Tapit (via Pulpit and his sire A.P. Indy) and Harve de Grace (via Boston Harbor and his sire Capote). There are some other interesting pedigree factors at play, however. Besides a 5x5 cross to the ubiquitous Northern Dancer, there is Raise a Penny, dam of A Penny Is a Penny. By Raise a Native out of the stakes-winning Nashua mare Owe Everything, Raise a Penny just happens to be bred on the same cross as Mr. Prospector, who appears 3x4 in Tapit's pedigree. Another intriguing pairing is the 4x3 cross of the full sister and brother Moon Glitter (third dam of Tapit) and Relaunch (second damsire of Concord Point), giving inbreeding of 5x4 to In Reality and Foggy Note.
Rather surprisingly, given that both Relaunch and Moon Glitter were pretty nice racehorses, Concord Point is the first graded stakes winner to carry both of these siblings in his pedigree. Neither, however, is that far back in time or equine generations, and Tapit is the first descendant of Moon Glitter to show the makings of a truly first-rate stallion, so limited opportunities may well be the issue. According to statistics provided by Alan Porter of TrueNicks, Tapit has 10 foals of racing age by mares carrying Relaunch in their pedigrees; of these, five have started (all winners) and two are stakes winners: Concord Point and Redreamit, winner of the 2009 Twin Lights Stakes at Monmouth. While those results aren't overwhelming proof of an extended nick between Tapit and Relaunch, they aren't at all bad either and would seem to warrant further exploration of this cross, especially with careful selection of the mares to avoid the back-at-the-knee conformation that has sometimes been an issue with In Reality blood. In the meantime, it seems safe to say that in Concord Point, the best in an interesting genetic mix has come to the fore; whether it can be repeated is a question that only time can answer.