If ever a jockey had a dream weekend, it was William Buick. On August 21, he brought Princess Haya's 4-year-old colt Debussy through on the inside to score an upset win over defending champion Gio Ponti in the Arlington Million (gr. IT). Then he flew back to France, where he piloted Khalifa Dasmal's Dream Ahead to a comfortable win August 22 in Deauville's top race for juveniles, the Darley Prix Morny (Fr-I).
Both colts were bred by Darley, which makes Dream Ahead's victory rather ironic, as Darley disposed of the colt for just $11,000 at the 2009 Keeneland September yearling sale. 2009 was a tough year for foreign-based sires in the American yearling market, and Dream Ahead's appeal to buyers was probably even further diminished by the declining reputation of his sire, Diktat. Based in England when Dream Ahead was conceived in 2007, Diktat was sent off to Japan for 2008 and ended up moving to Spain for 2010. To date, Diktat has sired just 19 stakes winners from 722 foals of racing age according to statistics kept by The Jockey Club.
Diktat's performance as a sire can only be classed as disappointing given his quality as a racehorse. The top sprinter in England and France in 1999, Diktat won three group stakes that year, topped by victories in the Prix Maurice du Gheest (Fr-I) and the Stanley Leisure Sprint Cup (Eng-I). His blistering turn of foot came from his sire Warning, a multiple champion in England and France and a good sire before his death in Japan at age 15. A son of 1980 Two Thousand Guineas (Eng-I) winner Known Fact, in turn a son of In Reality, Warning's sons and grandsons form Europe's primary remaining link to the Man o' War male line, replacing an earlier branch descending from Man o' War's grandson Relic.
Nonetheless, Diktat is a fine racehorse whose ability might be passed on at any time, and Dream Ahead is bred on the same cross as Diktat's other group I winner, 2006 U.A.E. Equestrian and Racing Federation Falmouth Stakes victress Rajeem (Eng-I), both being out of mares by multiple champion sprinter Cadeaux Genereux. But while Rajeem's dam Magic Sister was an indifferent runner, Dream Ahead's dam Land of Dreams was anything but, winning the all-aged Polypipe PLC Flying Childers Stakes (Eng-II) as a juvenile in 1997. She was produced from 1991 Philip Cornes Molecomb Stakes (Eng-III) winner Sahara Star, herself the daughter of another crack sprinter in Green Desert. The female line is one that showed speed even before the crosses with Cadeaux Genereux and Green Desert; Sahara Star's dam Vaigly Star (by Star Appeal) placed in several group sprint events, while the next dam in the lineage, Dervaig (by Derring-Do) was a champion sprinter in Trinidad.
Taken as a whole, Dream Ahead's pedigree is speed-oriented and somewhat off the beaten track for modern European fashion, though he does carry a 4x5 cross to Northern Dancer through Sadler's Wells (broodmare sire of Diktat) and Danzig (sire of Green Desert). (He is also inbred 5x4 to the high-class sprinter Balidar, a much less common strain). Debussy, on the other hand, is more classically bred, which one would expect for a horse capable of going 10 furlongs in top company.
Debussy is from the last full crop sired by 1982 English champion juvenile male Diesis, who was pensioned due to arthritis in 2006 after serving only six mares. (Diesis' final crop consists of three foals of 2007, of which one, Diescentric, has won.) By Sharpen Up out of Doubly Sure and so a full brother to the two-time English champion miler and good sire Kris, Diesis did very well while standing in Kentucky. To date, The Jockey Club credits him with 533 winners, 90 of them stakes winners, from 1,069 foals of racing age. His best include champions Halling, Magistretti, Docksider, Ramruma, Diminuendo, Elmaamul, Three Valleys, Knifebox, and Look Daggers.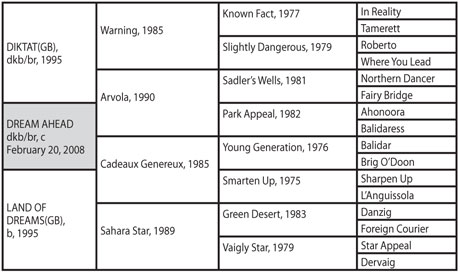 Unfortunately, one thing Diesis has not done is to beget a truly worthy successor at stud, though Halling has been quite useful and may yet continue the line through 2009 Juddmonte Grand Prix de Paris (Fr-I) winner Cavalryman. Whether Debussy can provide Diesis with another good sire son when he retires is open to question, as his female family has not been noted for producing great stallions. It has produced some fine runners, however, beginning with Pearl Cap (by Le Capucin), arguably the best French 3-year-old of either sex in 1931 and a half sister to the Prix du Jockey Club winner Pearlweed (by Hotweed) but a disappointing producer until the arrival of Pearl Diver (by Vatellor), winner of the 1947 Epsom Derby.
Like his "uncle" Pearlweed, Pearl Diver made no mark at stud in Europe and was exported, in his case to Japan, leaving it to his half sisters Cora Pearl (by Coronach) and Seed Pearl (by Tourment) to establish Pearl Cap's legacy. While Cora Pearl founded a branch of the family that eventually led to the 1961 Futurity Stakes winner and useful sire Cyane, Seed Pearl produced Fine Pearl (by Fine Top), winner of the 1966 Prix de Diane, and Pearly Queen (by Fast Fox), whose daughter Val de Grace (by Val de Loir) produced two important daughters in Gracefully (by Lyphard) and Grace Note (by Top Ville). The former produced Lypharita (by Lightning), winner of the 1985 Prix de Diane Hermes (Fr-I), while the latter produced Belmez, winner of the 1990 King George VI and Queen Elizabeth Diamond Stakes (Eng-I) but an indifferent sire, and group III-placed Opera Comique (by Singspiel), dam of Debussy.
Regardless of his eventual success at stud, Debussy appears to be closing out the stud record of Diesis on a high note. As for Dream Ahead, he still has many dreams ahead of him on the race course for his connections as he continues his rise in the European juvenile division. On pedigree, he does not seem likely to want anything beyond sprint distances, but if he lives up to the form he showed in the Prix Morny, look for him to be a factor in next year's sprint division as so many of his ancestors were.