Although the Hopeful Stakes is officially a grade I race, this year's field drew just four colts, not one of which had done more than break his maiden–albeit on the tough New York circuit and with varying degrees of ease. None had broken out of the maiden ranks more easily than Jay Em Ess Stable's highly regarded Boys At Tosconova , who had demolished a Belmont maiden special weight field by 12 lengths while earning the highest Beyer speed figure of the year (102) for a juvenile. Already graded stakes-placed at that time, Boys At Tosconova had the best resume of any of the Hopeful entrants, and he added the Hopeful to that list of accomplishments by nearly two lengths under a hand ride. In the absence of the now-retired Kantharos , Boys At Tosconova will now be one of the likely favorites for the Grey Goose Breeders' Cup Juvenile (gr. I).
Bred by Hertrich/McCarthy Livestock, Boys At Tosconova is the first grade I winner for Officer, who was probably the best American-based juvenile of 2001. A smooth-running son of 1993 champion older male Bertrando and the stakes-winning Septieme Ciel mare St. Helens Shadow, the colt won four consecutive stakes races, ending the streak with a facile win under wraps in the Champagne Stakes (gr. I). But a speed duel with Came Home while battling into a stiff headwind cooked his chances in the Bessemer Trust Breeders' Cup Juvenile (gr. I), and he finished fifth behind U.S. and European champion juvenile male Johannesburg. Wheeled back for the California Cup Juvenile Stakes just a week later, he was upset by Yougottawanna, and was probably over the top when third in the Hollywood Futurity (gr. I) six weeks later. At 3, he made only one start, winning the restricted Zany Tactics Stakes, before being retired to Gainesway due to injury.
Officer started very well, getting 10 stakes winners from the 85 named foals of his first crop including graded winners Elite Squadron and Officer Rocket. But he has only sired 10 more stakes winners since then, though he has three in 2010; besides Boys At Tosconova, he is represented by 3-year-old stakes winners Cuff Me and Deputy Daney. Now standing at Taylor Made Stallions, Officer has been a good source of 2-year-old winners–he has sired 75 juvenile winners from the 329 foals of his first four crops, an impressive strike rate of 23%–but has thrown more speed than stamina; his progeny's average winning distance is only 6.25 furlongs. Nor have his progeny proven either particularly durable or highly likely to improve with age. In this, Officer mirrors his immediate female family; his dam and two of her half siblings were all juvenile stakes winners, but not one of the three won at 3 or beyond, and they averaged just eight starts each.
If Boys At Tosconova is to stay more than a mile, it will probably be due to the influence of his dam, Little Bonnet. Stakes-placed herself over nine furlongs, she is by Coronado's Quest, winner of the 1998 Buick Haskell Invitational Handicap and Travers Stakes (both gr. I). Coronado's Quest was certainly bred to get 10 furlongs, being by the Haskell and Travers winner Forty Niner out of Laughing Look, by 1967 Horse of the Year Damascus and from the family of the great Ruffian. He was not a particularly successful sire prior to being exported to Japan in 2003 but did get 2004 Alabama Stakes (gr. I) winner Society Selection, a three-time grade I winner, among his 17 stakes winners.
Little Bonnet was produced from multiple grade III winner Valid Bonnet, whose sire Valid Appeal won the 1975 Dwyer Handicap (gr. II) before becoming a perennial leading sire in Florida. Though Valid Appeal became known mostly as a sire of sprinters, he himself stayed nine furlongs, and many of his better offspring, like Valid Bonnet, could get a mile or more in good company. Further, Valid Appeal was a full brother to two-time champion filly Desert Vixen, a grade I winner at up to 10 furlongs.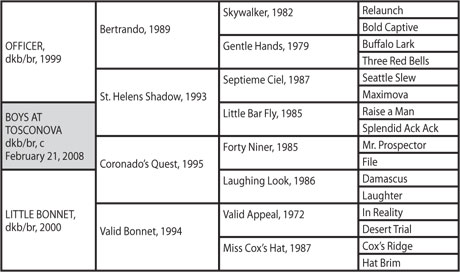 Boys At Tosconova descends from a female line that has been a fairly reliable source of nice winners for years but had its glory days in the first part of the 20th century, producing Hall of Famer Grey Lag and 1938 Futurity Stakes winner Porter's Mite, who set a new world record for 6.5 furlongs while winning the Champagne Stakes that same year. On the sire's side, he hails from the Relaunch branch of the In Reality line, which also includes Tiznow and Honour and Glory. To date, there have been just two Relaunch-line graded stakes winners from mares with Valid Appeal (In Reality's other important sire son) in their pedigrees; the other is this year's Illinois Derby winner (gr. III), American Lion. For good measure, Boys At Tosconova gets another cross of In Reality as the sire of his fourth dam, Hat Brim. (In addition, Boys At Tosconova carries a more commonplace 5x5 cross to Raise a Native.)
Just how good this year's Hopeful Stakes field really was remains to be seen as the contestants go their separate ways. But while what Boys At Tosconova beat is still a question mark, how he beat it says that he has the makings of a very good racehorse. Time will tell whether or not he is just another flash in the pan or a star in the making.