By Alan Porter
By the time the Haskell Invitational and Travers Stakes (both gr. I) have been contested, we've usually got a fair idea of the identity of the potential stars of the "second season" for 3-year-olds. This year, however, the total of $1.5 million on offer for two "eve of fall" grade II events, the Pennsylvania Derby and Super Derby, revealed a pair of potential new players.
In the September 25 Pennsylvania Derby, Morning Line got the better of a thrilling battle to score by a head and a nose from two solid yardsticks in First Dude and A Little Warm. A $700,000 purchase, and carrying the colors of Thoroughbred Legends Racing Stable, Morning Line was making his stakes debut, but was coming off an 11-length victory in an August 21 Saratoga allowance event.
Morning Line is a son of Tiznow , and Morning Line's trainer, Nick Zito, suggested that the colt may now head to the Breeders' Cup Classic (gr. I), noting that Tiznow had also begun to bloom at the same stage in his 3-year-old season before going on to claim the first of two classics. (In fact, Tiznow won the Super Derby (gr. II) on the last weekend in September, then also added the Goodwood Handicap (gr. II) before going on to the 2000 Classic). Of course Tiznow has gone to establish himself as one the premier classic distance sires in the country, his best including champion 2-year-old filly Folklore–a somewhat atypical representative of her sire; Canadian champion older mare Bear Now; Dubai World Cup Sponsored by Emirates Airline (UAE-I) victor and UAE highweight Well Armed; Travers Stakes and Santa Anita Derby (both gr. I) captor Colonel John; the Belmont Stakes (gr. I) winner Da Tara, another Zito trainee; and other grade I winners Tough Tiz's Sis and Bullsbay . His current 3-year-old crop–his fifth–includes, in addition to Morning Line, graded winners Tizahit, American Lion , and Gold Itiz.
Morning Line's dam, Indian Snow, is a well-bred mare but had been something of an under-achiever prior to producing Morning Line: she never ran, and the only one of her five earlier starters to win a race was the Gone West colt Brady Baby, who has four wins and two minor stakes placings to his credit. Indian Snow is by A.P. Indy out of the Alabama and Test Stakes (both gr. I) heroine November Snow, a mare from Storm Cat's first crop. November Snow never produced a stakes winner, her best being the Sorrento Stakes (gr. II) second November Slew (by A.P. Indy's sire, Seattle Slew), but she is granddam of the Australian group stakes-winning juvenile Believe'N'Succeed.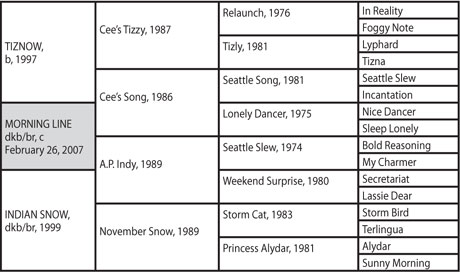 November Snow is a sister to the Sport Page Handicap (gr. III) winner Scatmandua, and to the dam of the good Japanese runner Grass World, and half sister to stakes winner Lady Sorolla (by Pancho Villa, a brother to Storm Cat's dam). She is out of the Alydar mare Princess Alydar, and in tail-female line the family goes back to Blue Denim, also ancestress of Grey Dawn II, Green Dancer, and this year's European mile ace Makfi, to name but a few.
Morning Line has a noteworthy pedigree pattern. Tiznow's dam is by Seattle Song, a son of Seattle Slew, and Tiznow has already sired three stakes winners–Morning Line and the brothers Slew's Tizzy and Slew's Tiznow–from only 19 starters out of Seattle Slew-line mares. Tiznow also has five stakes winners out of mares carrying Storm Cat, sire of Morning Line's second dam, and a horse who has some pedigree similarities to the granddam of Tiznow. If we consider the overall structure of the pedigree of Morning Line, we can note that both the dam of Tiznow and the dam of Morning Line himself are Seattle Slew/Northern Dancer crosses, with the Northern Dancer through Lonely Dancer/Storm Cat, two horses with some background similarities. It's also worth mentioning that Morning Line's dam is inbred 3x4 to Secretariat, a horse who appears in at least eight of Tiznow's 27 stakes winners (almost 30%).
The Super Derby (gr. II) winner, Apart, is likely to be less ambitiously-placed than Morning Line, at least in the near term. Now successful three times in six starts, he's likely to tread the path set by his stable companion Blame , who took the Fayette Stakes and Clark Handicap (both gr. II) after finishing second in last year's Super Derby (and has returned with wins in the grade I Stephen Foster and Whitney Handicaps in 2010).
A.P. Indy, who we have mentioned as broodmare sire of Morning Line, is also in the second generation of the pedigree of Apart. Flatter , the sire of Apart, is by A.P. Indy out of a mare by Mr. Prospector, and therefore bred on the same cross as A.P. Indy's sire sons Pulpit, Mineshaft , and Malibu Moon . Flatter is also a brother to current leading freshman sire Congrats .
Flatter never won a stakes event, but he did take four of his six starts, and run third to Perfect Drift in the Washington Park Handicap (gr. II). Retired to Claiborne Farm, he has always stood at a very modest fee – he was advertised at $5,000 live foal for 2010 – but has made the most of his opportunities, siring 13 stakes winners, and four U.S. graded winners, Apart being joined at that level by the Hollywood Prevue Stakes (gr. III) victor Jack o' Lantern; Single Solution, winner of the Pin Oak Valley View Stakes (gr. IIIT) at Keeneland; and Tar Heel Mom, who was successful in this year's renewal of the Distaff Handicap (gr. II).
A homebred for Adele B. Dilschneider, Apart is out of the Unbridled mare Detach. She is an unraced half sister to the minor stakes winner Chetten County. The second dam, Lovat's Lady, a daughter of Lord At War, won the Regret Stakes at Churchill Downs, and is a half sister to the dam of the stakes-winning and grade I-placed More Than Ready filly Grace and Power. Thie third dam, Lady Lady, by Little Current, is out of Lady Winborne, a group-placed Secretariat mare who was a half sister to the great French mare Allez France (by Sea-Bird, the sire of Little Current). Lady Winborne was an extremely successful broodmare, producing grade I winners Al Mamoon (by Believe It) and La Gueriere (by Lord At War, and so closely related to Lovat's Lady, the granddam of Apart), group winner Lost Soldier (by Danzig), and stakes winners Born Wild (by Wild Again) and Lord of Warriors (also by Lord At War). Another Lord At War daughter of Lady Winborne, Lady Lochinvar, produced multiple graded-winning millionaire Master Command to Apart's grandsire, A.P. Indy, and graded winner Aurora Lights to A.P. Indy's son Pulpit. Lady Winborne is also granddam of grade I winner Icon Project and grade II victor Lasting Approval, and third dam of grade I winner Honor in War (another by Lord At War) and multiple graded stakes winner Munnings .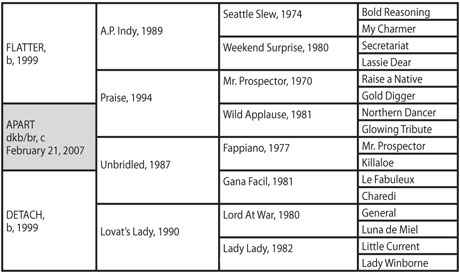 Apart is the second stakes winner (from 12 starters) for Flatter out of a mare by a son of Fappiano. The other is the very rapid multiple stakes winner Pashito the Che, whose dam is by Pentelicus, a close relative to Apart's broodmare sire, Unbridled. In female line both Flatter and Apart go back to La Troienne through the sisters Admiring (fourth dam of Flatter) and Priceless Gem (fifth dam of Apart).