Runnymede Farm is one of the country's oldest Thoroughbred nurseries, and may well be the oldest to remain in the same family throughout its history. Founded by Colonel Ezekiel Clay in 1867 on land purchased for him by his father, Brutus Clay, near Paris, Ky., the farm has been owned by four generations of Clays. It is the birthplace of Kentucky Derby winners Ben Brush (1896), Agile (1905), and Count Turf (1951) (though the last-named was bred while the farm was under lease to Dr. Porter Miller). It is also the birthplace of four members of the National Museum of Racing and Hall of Fame: the aforementioned Ben Brush, Hanover, Miss Woodford, and Roamer.
Current owner Catesby W. Clay is one of the grand old men of Kentucky racing and breeding, having been born in 1923. He has kept up the family tradition of breeding fine horses quite honorably, being responsible (alone or in partnership) for 2001 Japanese champion older male Agnes Digital and grade/group I winners Marylebone, Palace Episode, and Divine Park. But he has never bred a Kentucky Derby winner or a horse considered worthy of the Hall of Fame.
Whether Runnymede-bred Jaycito will get so far is anyone's guess, but after his win October 2 in the Norfolk Stakes (gr. I), he will certainly get a shot at further glory. The runner-up in his first two starts, the Zayat Stables color bearer broke both his maiden and Del Mar Futurity (gr. I) winner J P's Gusto's four-race winning streak at the same time, outdueling his rival in the manner of a colt with both heart and stamina.
As a son of 1998 Belmont Stakes (gr. I) winner Victory Gallop, Jaycito comes by staying power quite honestly. Not only was Victory Gallop also runner-up to Real Quiet in both the Kentucky Derby and the Preakness Stakes (both gr. I), but he earned a title as champion older male the following year with wins in the Whitney Handicap (gr. I) and Stephen Foster Handicap (gr. II) and a third in the Dubai World Cup (UAE-I).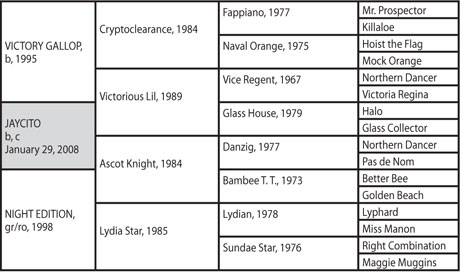 Although Victory Gallop is well enough bred, being by Cryptoclearance out of the stakes-winning Vice Regent mare Victorious Lil, he was never a particularly fashionable stallion and ended up being sent to Turkey in 2008. His eight American-born crops have so far yielded 39 stakes winners from 550 foals aged 3 or older, including graded stakes winners Anak Nakal, Kettleoneup, Rendezvous, Texas Fever, and Victory U. S. A.
Jaycito is the second foal and second winner from his dam Night Edition, who was bred by Maria Ann Sansalone in partnership with Canada's venerable Windfields Farm. Her sire, Ascot Knight (Danzig–Bambee T. T., by Better Bee), was a decent but not outstanding racer, winning the Mecca Bookmakers' Scottish Derby at 3 and placing in several English group events. His racing ability plus his status as a full brother to 1994 Gran Premio di Milano winner (Ity-I) and multiple Spanish champion Petit Loup and a half brother to 1984 Canadian champion turf horse Bounding Away (by Vice Regent) was enough to earn him a reasonable shot at stud in Ontario. There, he enjoyed a stud career more or less on a par with his racing career until his pensioning in 2008, siring 33 stakes winners so far from 698 foals aged 3-plus according to The Jockey Club. His best runners are 1994 Canadian champion older female Pennyhill Park, Caesars International Handicap and Man o'War Stakes (both gr. IT) winner Influent, and Derby Italiano (Ity-I) winner Bahamian Knight.
A half sister to Canadian restricted stakes winner G S T Blues (by the Hold Your Peace stallion Pax Nobiscum), Night Edition is out of Lydia Star, an unraced daughter of the Lyphard horse Lydian. Winner of the 1981 Gran Premio di Milano (Ity-I) and Grosser Preis von Berlin (Ger-I), Lydian was the best of five stakes winners produced from Miss Manon, by 1966 Prix de l'Arc de Triomphe winner Bon Mot. He was not a particularly successful sire, getting 11 stakes winners from 199 foals according to The Jockey Club, and has been if anything less effective as a broodmare sire, his daughters so far having produced just 10 stakes winners from 268 foals born in 2007 or earlier.
Jaycito's family traces back to 1925 champion juvenile filly Friar's Carse through her stakes-winning daughter Speed Boat (by Man o' War), a full sister to War Relic. The dam of 1940 champion juvenile filly Level Best, winner of the 1941 Coaching Club American Oaks, Speed Boat heads a family that includes 1953 Jockey Club Gold Cup winner Level Lea, 1959 Belmont Stakes winner and Horse of the Year Sword Dancer, 1965 Belmont Stakes winner Hail to All, and 1975 Kentucky Oaks winner Sun and Snow.
With multiple stamina sources on the top and bottom, Jaycito appears unlikely to have any trouble getting longer distances. A more immediate question may be how well he handles the transition to the dirt at Churchill Downs, which will host not only this year's Breeders' Cup but the colt's probable long-term target, the 2011 Kentucky Derby Presented by Yum! Brands (gr. I). But on pedigree, at least, Jaycito will be one to watch as this crop continues to mature.