When Boys At Tosconova crossed the finish line of the Three Chimneys Hopeful Stakes (gr. I) under wraps September 6, he secured a place for himself among the favorites for the Grey Goose Breeders' Cup Juvenile (gr. I). He also became Officer's first grade I winner as a sire, supporting the tongue-in-cheek prescription for getting a stallion's career to heat up: export him. (Officer's sale to Korea was announced September 29.) But just two weeks later, another 2-year-old colt by Officer won a group I stakes and earned a shot at the Juvenile. His name is Murjan, and he seems set to play the role of this year's mystery horse at the Breeders' Cup.
Undefeated in three starts, Murjan came to the attention of current owners Tommy and Bonnie Hamilton (who race their horses under the name of Silverton Hill) after defeating South American 3-year-olds in the Clasico Polla de Potrillos (Per-I) in the silks of Stud Ehden. Not only did the colt handily defeat multiple stakes winner Fahed Jr.in the 1600-meter race, but he did so while giving away roughly six months in age and development to his rivals. (Foaled March 21, 2008, in Kentucky, where he was bred by JMJ Racing Stables, Murjan is a 3-year-old according to the South American racing calendar, which kicks off its new year July 1.) Fahed Jr. later franked Murjan's form by winning the second leg of the Peruvian Quadruple Crown series, the Clasico Ricardo Ortiz de Zevallos (Per-I), run October 17.
While Lima's Hipodromo de Monterrico sits near sea level and did not give Murjan the same high-altitude training that Canonero II enjoyed when he went into the 1971 Kentucky Derby from racing at Venezuela's La Rinconada racetrack, like La Rinconada, Hipodromo de Monterrico has a deep, sandy surface that favors stamina.
The primary source of stamina in Murjan's pedigree is his broodmare sire, dual classic winner Tabasco Cat, who is also the broodmare sire of 2010 grade I winners Tell a Kelly (Darley Debutante Stakes) and Ice Box (Florida Derby) as well as grade I-placed Jackson Bend. A son of Storm Cat, Tabasco Cat appears to have drawn his own stamina from a stout South American family that traces back to the Argentine matriarch Albilla, dam of Gran Premio Nacional winner Saint Emilion and ancestress of such major stakes winners as Macon, Cote d'Or, La Mission, Parral, Napoles, Dimbokro, Duero, Fontemar, and Litigado, all of which won Argentine group I races or the equivalent prior to the inauguration of Group racing.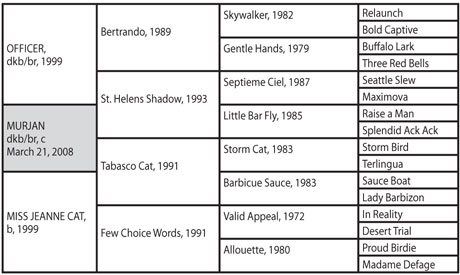 Unfortunately, Murjan's dam, the listed stakes winner Miss Jeanne Cat, ended her racing career after only five starts and never raced beyond sprint distances, leaving her own distance capacity open to question. Her dam, Few Choice Words (by Valid Appeal) is also the dam of Silent Valor (by Lion Heart), winner of the 2008 Sapling Stakes (gr. III), and is a winning full sister to multiple grade II winner Nannerl (dam, in turn, of grade II winners Magicalmysterycat and Burmilla to the cover of Storm Cat), essentially a sprinter-miler. Most of Few Choice Words' foals were winners over distances of a mile or more, however, and she herself was a winner in her only start over a route.
Few Choice Words, in turn, was produced from Allouette, a Proud Birdie half sister to multiple turf grade I winner Fact Finder (by Staff Writer). While Allouette was a good bit less classy than Fact Finder, she did share her half sister's liking for some distance, taking two of her three victories over distances longer than a mile. Her aptitude for distance was probably partly thanks to her sire, who won the Marlboro Gold Cup (gr. I) over 10 furlongs before settling down to a useful career as a regional sire in Florida. The female line of Allouette traces back to the excellent foundation mare Frizette through one of Frizette's lesser-known daughters, the French-bred Lespedeza II.
Murjan is the third graded or group stakes winner to bring together the major branches of the In Reality sire line–Relaunch and Valid Appeal–in his pedigree. Perhaps coincidentally, one of the others is Boys At Tosconova, who, like Murjan, is by Officer out of a maternal granddaughter of Valid Appeal.
Exactly how Murjan's Peruvian form will translate to Churchill Downs is anyone's guess. Two years ago, Tomcito won two Peruvian Classics as a 2-year-old before coming to the United States, where he ran third in Big Brown's Florida Derby (gr. I) but showed no form in five other races at 3 and 4 before returning to Peru. (In fairness to Tomcito, his North American form may have been compromised by a breathing issue that required throat surgery.) Yet another Kentucky-bred but South American-based mystery horse–Canonero II, of course–did very well beneath the Twin Spires. Will Murjan follow in his hoof prints, or will he fade away from view as Tomcito did? The Breeders' Cup holds the answer.