By Alan Porter
The excitement generated by Congrats ' brilliant first season and his subsequent move to Kentucky made it was easy to overlook that Florida had another freshman making a promising beginning last year. This was Pomeroy, who ended 2010 with 25 individual 2-year-old winners–tied with Congrats and Sharp Humor as leading freshman sire in that category, despite having significantly fewer starters than either. The season wasn't just a success in numerical terms, however, as Pomeroy's first 2-year-olds included the Gold Rush Stakes winner Positive Response, as well as stakes-placed Rough'n Royal. This year the good work has continued. Positive Response began his 3-year-old campaign with a decisive win in the California Derby, the Pomeroy colt Flashpoint debuted with a very impressive win at Aqueduct, and the filly Pomeroys Pistol followed up a second in the Old Hat Stakes (gr. III) with a win January 30 in the Forward Gal Stakes (gr. II) (VIDEO).
Pomeroy is a son of the Danzig stallion Boundary. A fast, but not entirely sound, sprint specialist, Boundary sired 26 stakes winners, and is most likely to be recalled by posterity as the sire of Big Brown , although he did get two other group/grade I winners: Pomeroy and Minardi, winner of the Middle Park (Eng-I) and Independent Heinz 57 Phoenix Stakes (Ire-I) and highweight in England and Ireland at 2. Pomeroy's dam, Questress, is a daughter of Seeking the Gold, and from a French branch of a tap-root family that also produced Khaled, Mill Reef, and Blushing Groom.
A $45,000 Keeneland September yearling and pinhooked as a $300,000 Fasig-Tipton Florida select 2-year-old in training, Pomeroy was quick to make a splash, quite literally in fact. Racing on sloppy tracks, he took a five-furlong maiden at Belmont Park by six lengths, and followed up with an 11½-length win in an allowance race at Monmouth Park. Favored for the Saratoga Special (gr. II), again run in the slop, he couldn't cope with Cuvee–arguably the fastest juvenile of the crop–and went down by 7¼ lengths, with Limehouse back in third. Pomeroy's only other outing at 2 came in the Kentucky Cup Juvenile (gr. III) over 8½ furlongs. There he led most of the way and held on by a nose from Mr. Jester. However, he'd swerved out at the three-sixteenths pole, impeding his rivals, and was subsequently placed third behind Mr. Jester and The Cliff's Edge.
If the Kentucky Cup Juvenile had given rise to the notion that Pomeroy might be a classic candidate for the coming year, that idea was dismissed by his first two starts at 3. Second in the one mile Gotham Stakes (gr. III), he clearly didn't get the trip when fourth in the Coolmore Lexington Stakes (gr. II) over 8½ furlongs. Thereafter, Pomeroy's activities were restricted to sprints, and in that sphere he was among the best of his division for three straight seasons. In three other outings at 3, he took the Jersey Shore Breeders' Cup Sakes (gr. III), finished second in the Amsterdam Stakes (gr. II), and won the King's Bishop Stakes (gr. I). At 4 he annexed the Alfred G. Vanderbilt Stakes (gr. II) by four lengths, and although he started only three times at 5, one of those outings brought him a victory in the Forego Stakes (gr. I), giving him a record of having captured a graded stakes at Saratoga in three straight seasons.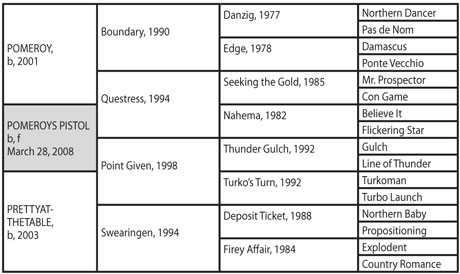 Pomeroys Pistol is the second foal and second winner for her dam, the unraced Prettyatthetable. That mare is a member of the first crop of Horse of the Year Point Given, and is his first daughter to produce a stakes winner. The second dam, Swearingen (by Deposit Ticket, a juvenile grade I-winning son of Northern Baby), was a tough and smart racemare who won listed stakes at Calder, Hawthorne, Remington Park, and Retama, and took runner-up spot in the Pucker Up Stakes (gr. II) among other graded placings. Three of Swearingen's four other foals to run are winners, and include the Tapit filly Triple Cream, twice graded stakes-placed at 3 last year. Swearingen is out of Firey Affair, a minor winning daughter of Explodent. Firey Affair had a 100% strike rate with her 14 starters, and although only Swearingen was a stakes winner, she has also been represented by the Bay Shore Stakes (gr. III) third Firey Jennifer, the Tremont Stakes (gr. III) runner-up Adage, and black type-placed Other. The fourth dam, the Halo mare Country Romance, plied her trade in Western Canada, winning six of 21 starts and gaining five black-type wins in events at Northlands Park and Stampede. At stud, Country Romance became producer of some consequence as dam of the short-lived Vosburgh Stakes (gr. I) winner Harlan (sire of Menifee and Harlan's Holiday), and granddam of the Spinaway (gr. I) victress Things Change. Country Romance was out of Sweet Romance, a daughter of Kelso's great rival Gun Bow, but behind that the female line has been an Argentine one back well into the 19th century.
Pomeroys Pistol is the best of the four stakes winners so far produced by the cross of Danzig-line stallions with mares by Thunder Gulch and his sons, although the cross of a Danzig grandson over a mare by Thunder Gulch's sire, Gulch, did produce Prix du Jockey Club (Fr-I) winner Lawman (FR), the only group or grade I winner from the larger Danzig/Gulch cross.
Although the broad Danzig/Gulch cross has not been particularly potent, there are some compensatory factors here, or to be more accurate, a repetition of one compensatory factor. Pomeroy is a Northern Dancer/Mr. Prospector cross (which itself combines Nearco/Polynesian–in Northern Dancer–and Polynesian/Nearco–in Mr. Prospector–crosses). Prettyatthetable's paternal grandsire, Thunder Gulch, is a Mr. Prospector/Northern Dancer cross; her maternal grandsire, Deposit Ticket, is a Northern Dancer/Mr. Prospector cross; and Prettyatthetable herself is a Mr. Prospector/Northern Dancer cross.