PORTER ON PEDIGREES, by Alan Porter

In the 135 year history of the Kentucky Derby (gr. I) there has never been two winners produced by a single mare, let alone two winners in consecutive years. However, judging by the performance of Brethren , the half brother to 2010 Derby hero Super Saver , in the Sam F. Davis Stakes (gr. III) Feb. 12, it is at least a possibility the feat could be achieved this year. Of course, Brethren is going to have to overcome some considerably tougher opposition, and run significantly faster that he did in the Sam Davis, if he is to gain classic laurels. It was, however, hard not to be taken with the ease in which he attained his four-length triumph.
It should also be remembered that Brethren was making only the third start of his career, and the first of this year, having won a six-furlong maiden at Belmont Park last October, and a mile allowance at Churchill Downs in November. In addition, it shouldn't be overlooked that Brethren is a son of Distorted Humor , a horse whose offspring frequently begin to make more than average progress around this time of year. It was just over 12 months ago we featured a group of lightly-raced Distorted Humor prospects we thought had a bright future. One of these, Drosselmeyer, who runs in the same colors as Brethren, subsequently captured the Belmont Stakes (gr. I); two more, Colizeo and Endorsement(another in the same ownership as Brethren) won graded stakes; and Age of Humor, Funny Feeling and Bank the Eight all took black-type events.
Of course, Distorted Humor has been one of the great stallion success stories of the last decade or so, starting at a modest initial stud fee, but siring Kentucky Derby (gr. I) winner Funny Cide in his first crop, with his other stars including Flower Alley, Hystericalady, Commentator, Awesome Humor, Fourty Niners Son, Bit of Whimsy, Pathfork (a European classic hopeful for 2011), and Regal Ransom.
If it falls to Supercharger, the dam of Super Saver and Brethren, to become a history making mare, pedigree aficionados will be able to find plenty of satisfaction in both the quality of the bloodlines, and the pattern in which they are arranged. Bred by Ogden Mills Phipps, Supersaver won three times, and produced three foals in seven years, before being consigned to the 2006 Keeneland November Sales, where she was purchased by WinStar for $160,000, carrying Super Saver. Ironically, for all it's long history of success, the Phipps family has never been represented by a Kentucky Derby (gr. I) winner, and the horse they bred named Hedge Fund, by Super Saver's sire, Maria's Mon out of Supercharger, proved to be no better than a hard-knocking runner grinding out $160,699 with five wins from 57 starts between the ages of 4 and 7.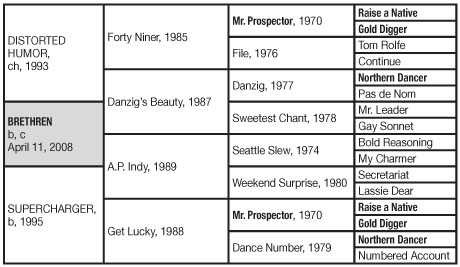 A daughter of A.P. Indy, Supercharger is a sister to the 2010 Vosburgh Stakes (gr. I) victor, Girolamo, and to the graded scorers Daydreaming and Accelerator, both of whom were also grade I-placed. More significantly as far as the Triple Crown is concerned, Supercharger is also a sister to She's A Winner, the dam of Bluegrass Cat . A son of Storm Cat, and like Super Saver and Brethren, bred by WinStar and trained by Todd Pletcher, Bluegrass Cat won the Nashua Stakes (gr. III) and Remsen Stakes (gr. II) at 2, and the Sam F. Davis and Haskell Invitational Stakes (gr. I) at 3, and was runner-up in the Kentucky Derby and Belmont Stakes. Now standing at WinStar, Bluegrass Cat has made a promising start to his career and was one of the leading freshman sires of 2010.
Supercharger's dam, Get Lucky, is a graded stakes winning daughter of Mr. Prospector, and is a sister to 1989 champion 2-year-old and Travers Stakes (gr. I) winner, Rhythm. She's also sister to stakes-placed Not For Love, subsequently an outstanding sire in Maryland, and half sister to Oscillate (by A.P. Indy's sire, Seattle Slew), the dam of group winner and useful sire, Mutakddim, and granddam of the Suburban Handicap (gr. I) scorer Frost Giant .
The second dam of Supercharger is the beautifully-bred Dance Number, a daughter of Northern Dancer and Buckpasser's 1971 champion 2-year-old filly, Numbered Account. As we've seen Dance Number was an excellent producer, and earlier she had lived up to her pedigree at the track winning the Beldame Stakes (gr. I), Shuvee Handicap (gr. II)—while equaling a track record for 8½ furlongs—the Dark Mirage Stakes, and the High Voltage Stakes, equaling a track-record for 6½ furlongs. Dance Number was also a half sister to Private Account, winner of the Gulfstream Park Handicap (gr. I) and Widener Handicap (gr. I), and an excellent sire, including of the undefeated champion Personal Ensign.
In direct female line, the family traces to the most perhaps revered of all modern tap-root mares, La Troienne. However, here the La Troienne influence goes significantly beyond the tail-female line. A look at the pedigree of Numbered Account shows the closely related Busanda (dam of Buckpasser) and Striking—both by War Admiral out of daughters of La Troienne—2 x 3. The next two sires in the female line, Northern Dancer and Mr. Prospector didn't add to the La Troienne background, but the mating with A.P. Indy certainly did, as he is by Seattle Slew (dam inbred to the sisters Busher and Striking, Striking also being the sixth dam of Supercharger) with a second dam by Buckpasser, and as a consequence Supercharger has War Admiral/La Troienne combinations through Busher, Striking and Busanda 6 x 6 x 5 x 5 x 6 in her pedigree.
It is doubtful it escaped the WinStar team that Maria's Mon (the sire of Super Saver, who as we have said was in utero at the time) was by Wavering Monarch, a horse whose dam is by Buckpasser and also inbred to La Troienne. Additionally, there is little doubt that the mare would also have struck as an ideal mate for WinStar's lead stallion, Distorted Humor. With Funny Cide (dam by Slewacide, by Seattle Slew out of a Buckpasser mare) in his first crop, Distorted Humor rapidly demonstrated a potential genetic affinity for the influence of Seattle Slew, and events have proved that that was not a false lead. Distorted Humor has sired four stakes winners from 17 starters (23.5%) out of mares by Seattle Slew himself, and nine stakes winners from 57 starters (15.8%) out of mares by sons of Seattle Slew.
At the time of Supercharger's purchase there had yet to be a stakes winner for the Distorted Humor/A.P. Indy cross, but the merits of the nick has been well advertised by one of the first runners on the cross,Any Given Saturday, who had recently run a very promising second in the Kentucky Jockey Club Stakes (gr. II). Any Given Saturday didn't win a classic, but after gaining his first stakes win in the Sam F Davis Stakes—a race that is becoming a recurring theme here—he did add the Dwyer Stakes (gr. II), Brooklyn Handicap (gr. II), and Haskell Invitational Handicap, over Hard Spun and Curlin . The Distorted Humor/A.P. Indy cross has now produced five stakes winners from 27 starters (18.5%), Any Given Saturday and Brethren being joined by Endorsement and Z Humor as graded winners on the cross.
In addition to being bred on a proven nick (it rates A+ on TrueNicks), Brethren also has some interesting inbreeding in his pedigree as Distorted Humor is by a son of Mr. Prospector out of a mare by a son of Northern Dancer, and his granddam, Get Lucky, is by Mr. Prospector out of a Northern Dancer mare.