The future of the Danzig line in the U.S. looked somewhat shaky not long ago, but has experienced a marked turn around recently. Danzig is now represented by second-season sires War Front , Pomeroy, and Bellamy Road , who all have graded winners in their first crops, as well as by Exchange Rate, whose first Kentucky crops are 2-year-olds of 2011; by grade I winner and Kentucky Derby Presented by Yum! Brands (gr. I)-placed Hard Spun , whose first crop are 2-year-olds in 2011; and by champion and dual classic winner Big Brown , whose first crop are now yearlings.
War Front and Pomeroy are currently duking it out at the top of the second-crop sires lists, both having graded stakes winning colts at the end of February. War Front took command with the victory of Soldat in the Fasig-Tipton Fountain of Youth Stakes (gr. II) (VIDEO), but Pomeroy kept things interesting with an impressive Hutcheson Stakes (gr. II) (VIDEO) triumph for Flashpoint.
Soldat is one of four stakes winners to represent War Front so far, the others being the lightning fast West Coast colt The Factor , who took the seven-furlong San Vicente Stakes (gr. II) and will attempt to stretch out and flash his classic credentials in the Sunland Park Derby (gr. III); the Louisiana Jewl Stakes victress Tensas Punch; and Warning Flag, who won the Irish Stallion Farms E.B.F. Star Appeal Stake, and took second in the JRA Killavullan Stakes (Ire-III) in Ireland last year.
Given that he has already sired a total of 25 individual first-crop winners, it seems clear that the War Fronts are developing faster than did their sire. Unplaced in his only outing at 2, War Front didn't gain his first victory until taking a six-furlong maiden at Saratoga (which he won by 11½ lengths) in his second start at 3. He continued to develop like a coming star as he added a six-length victory in a six-furlong Belmont allowance race, then took the 8½-furlong Princelet Stakes, an overnight restricted stakes, by eight lengths. Ending his sophomore season against tougher competition in the Discovery Handicap (gr. III)—run over the Princelet Stakes course and distance—War Front faded in the stretch to finish sixth, beaten just over six lengths. This performance appeared to convince War Front's connections that the horse was a sprinter, and at 4, his seven starts all came at distances between six and seven furlongs. War Front won just one of those starts, taking the Alfred G. Vanderbilt Breeders' Cup Handicap (gr. II), but did prove himself among the best and most consistent sprinters of the year, with seconds in five other graded contests.
As a sprinting son of Danzig out of a mare by champion Sprinter Rubiano, War Front was reasonably expected to be a dominant influence for speed. However, War Chant's dam, Starry Dreamer, was an atypical daughter of Rubiano, both in preferred distance and surface. She was capable on dirt–she ran second in the Gazelle Handicap (gr. I) on that surface–but was at her best going long on the turf, winning three stakes, including the Palisades Stakes at nine furlongs, and placing in several major events, including seconds in the Long Island and La Prevoyante Handicaps (both gr. II) at 12 furlongs. Turf and stamina is present not only in the distaff side of Rubiano's pedigree–his dam is by Nijinsky II out of a sister to Relaunch–but also through the sires of War Front's second and third damsires. Forli won South America's most important race, the Gran Premio Carlos Pellegrini, at 15 furlongs, and Round Table was equally at home on either dirt or turf and set a course record at 13 furlongs.
Soldat's distaff side also includes some stamina. His dam, Le Relais, was unraced, but is a daughter of Coronado's Quest. By the multiple grade I winner and Kentucky Derby runner-up Forty Niner, Coronado's Quest's difficult temperament led to his connections side-stepping the Derby, but he emulated his sire and proved his ability at 10 furlongs with a win in the Travers Stakes (gr. I). His other victories included the Buick Haskell Invitational Handicap (gr. I) and Wood Memorial Stakes (gr. II). Coronado's Quest was somewhat disappointing as a sire, but he's showing considerable promise as a broodmare sire, as with his first daughters only now 11 years old, he's already broodmare sire of nine stakes winners, including champion sprinter Kodiak Kowboy and grade one winners Mani Bhavan and Boys At Tosconova .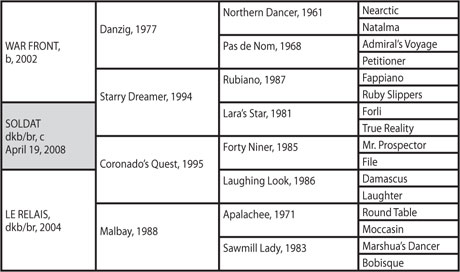 The rest of Soldat's family gives more of a mixed message concerning stamina. His dam is half sister to Mulrainy, a Star de Naskra filly who won up to 8½ furlongs in Canada, taking the Duchess Stakes (gr. III) and La Lorgnette Stakes, and also taking third in the Selene Stakes (gr. I). Malbay, the dam of Le Relais and Mulrainy, was by Apalachee, a champion 2-year-old in Europe by Round Table, and predominantly an influence for speed. Malbay scored her only win as a 2-year-old going 4½ furlongs, but she did take second in Canada's premier juvenile filly event, the Princess Elizabeth Stakes, at 8½ furlongs. Soldat's third dam, Sawmill Lady, is an unraced daughter of Marshua's Dancer, a Raise a Native son bred on the same cross as Mr. Prospector, and primarily an influence for speed. Apart from Malbay, she also produced the Bessarabian Handicap (gr. III) third Lightning Pace and listed-placed Stalled Engine, and is granddam of good Canadian sprint filly,Shilla (by Marquetry out of a sister to Malbay). Sawmill Lady–out of Bobisque, a daughter of John Henry's sire Ole Bob Bowers who also placed in the Princess Elizabeth Stakes, is half sister to Dancing Affair, dam of the American Derby (gr. IIT) and Pennsylvania Derby (gr. III) winner Pine Dance and granddam of the prolific stakes winner The Happy Hopper. The sixth dam, Risque Blue, is notable as also being ancestress of champions Fort Marcy and Key to the Mint.
Soldat, who is TrueNicks rated A++, is the product of the cross of War Front over a Mr. Prospector-line mare, as are War Front's other three stakes winners to date (The Factor is out of a mare by Miswaki; Tensas Punch out of a daughter of the Two Punch horse Pulling Punches; and Warning Flag from a mare by Unbridled's Song, and inbred to Fappiano). Here the Mr. Prospector appears 5x4, with Mr. Prospector's genetic relative Marshua's Dancer also in the fourth generation. With Danzig over Forty Niner, Soldat is also a reverse cross to Distorted Humor , a sprinter/miler who sired Kentucky Derby winner Funny Cide in his first crop, and has since added another classic winner, the Belmont Stakes (gr. I) victor Drosselmeyer.
Whether these elements will bless Soldat with sufficient stamina for the Derby trip remains to be seen. It is interesting that, to date, his development somewhat parallels that of his aforementioned fellow Danzig-line horse Big Brown: Both are by sprinting sons of Danzig (Big Brown was by Boundary); both impressed on turf at 2, Soldat winning the With Anticipation Stakes (gr. III) and taking seconds in the Pilgrim Stakes (gr. IIIT) and Breeders' Cup Juvenile Turf (gr. IIT); both made the switch to dirt to take wide-margin victories in the slop in Gulfstream Park allowance races; and both impressed with victories in Florida classic trials. Soldat has led throughout in both his dirt victories, but proved able to stalk in his turf contests, and should he show the same tactical versatility on dirt, then he can't be ruled out as a threat at 10 furlongs.