Those looking for a possible new factor in this year's Triple Crown hunt need look no further than The Factor . After the colt was seen hanging on to a three-quarter length win over Sway Away in the seven-furlong San Vicente Stakes (gr. II) run Feb. 20 (VIDEO)., many questioned whether The Factor could get a longer trip. On March 19, the brilliantly fast colt provided an emphatic answer, crushing the best-credentialed field seen so far on the Triple Crown trail by 6-1/4 lengths in the 8 ½-furlong Rebel Stakes (gr. II) (VIDEO).
Granted, The Factor had things his own way in the Rebel, leading comfortably at every call while carving out solid but unspectacular fractions. This was a much different pace scenario than the colt encountered in the San Vicente, in which he had to repel multiple challengers while setting wickedly fast fractions, so it is hard to say how much of the apparent ease of Saturday's victory was due to the easier early pace and how much can be attributed to increased fitness and maturity on The Factor's part.
The question is an important one because on paper, The Factor looks more like a miler than a colt likely to stay the 10 furlongs of the Kentucky Derby Presented by Yum! Brands (gr. I). Bred in Kentucky by H & W Thoroughbreds, the colt is from the first crop of Claiborne Farm stallion War Front , also the sire of impressive Fasig-Tipton Fountain of Youth Stakes (gr. II) winner Soldat and three other stakes winners to date. As a racehorse, War Front was very fast, winning the 2006 Alfred G. Vanderbilt Breeders' Cup Handicap (gr. II) and running second in five other graded sprints, though he did stay well enough to score easily in the restricted Princelet Stakes at 8 ½ furlongs.
War Front is by the great sire Danzig, whose line has generally tended towards sprinters and milers but has thrown a number of horses that could get longer distances, especially when bred to staying mares. This would suggest that War Front may have had more aptitude for distance than he had the opportunity to display, for his dam, Starry Dreamer, won the listed Palisades Stakes over nine furlongs and was grade II-placed at up to 12 furlongs. While her sire Rubiano (by Fappiano) was the champion sprinter of 1992, he was better at seven and eight furlongs than at six. He was also a maternal grandson of Nijinsky II, suggesting that Starry Dreamer's aptitude for turf and distance did not all come by way of her dam, the Forli mare Lara's Star, or her granddam, the Round Table mare True Reality.
In War Front's brief stud career, he has already shown an enviable versatility, siring stakes winners on turf and dirt and under fast and sloppy conditions. The question now is whether that versatility can stretch itself beyond the nine furlongs that Soldat conquered in his Fountain of Youth victory. While Soldat has a genuine 10-furlong horse as his broodmare sire in Coronado's Quest, The Factor's maternal grandsire is Miswaki, whose best win came in the 1,400-meter Prix de la Salamandre (Fr-I) as a juvenile. Miswaki, though, has been more than a pure speed influence–perhaps because his maternal grandsire is the great Buckpasser–and sired such horses as 1991 Horse of the Year Black Tie Affair and 1993 CIGA Prix de l'Arc de Triomphe (Fr-I) winner Urban Sea.
Of course, as is typical for sprinting sires whose backgrounds are a mix of speed and stamina, Miswaki has usually needed some help from his mates in order to sire animals capable of staying much more than a mile. Whether he got that help when he sired The Factor's dam, Greyciousness, is a bit questionable. A half sister to multiple grade I-placed Chief Seattle (by Seattle Slew), Greyciousness is out of Skatingonthinice (by Icecapade), a listed stakes winner over 8 ½ furlongs. Perhaps more importantly, Greyciousness is closely related to Skatingonthinice's half sister Showering (by Miswaki), a sprint stakes winner. Although Showering stayed well enough to be stakes-placed over 8 ½ furlongs and is the dam of the 12-furlong stakes winner Perfect Shower (by the Sadler's Wells horse Perfect Soul ), she is another of those horses with a mixed sprinting/staying background that appears to tend more towards speed than stamina.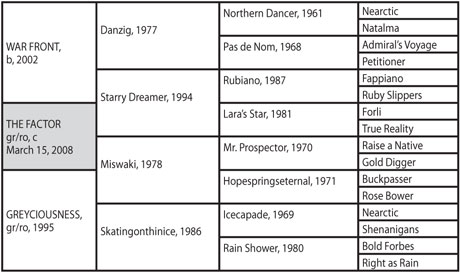 Icecapade, sire of Skatingonthinice, is another question mark. A brilliantly fast but volatile runner who was at his best over intermediate distances, he tended to throw speed but could sire horses that stayed better than he himself did–most notably, the inaugural Breeders' Cup Classic (gr. I) winner Wild Again and the ill-fated Canadian Triple Crown winner Izvestia, who suffered a fatal breakdown as a 4-year-old.
Rain Shower, the dam of Skatingonthinice, is by Bold Forbes, another horse whose influence for stamina is questionable despite wins in the 1976 Kentucky Derby and Belmont Stakes (gr. I). In truth, the latter race was a masterful piece of grand larceny on the part of Angel Cordero, who used Bold Forbes' speed to steal a long march on his rivals and had just enough horse left to get home in front of McKenzie Bridge and Great Contractor. Bold Forbes' best distance was probably nine furlongs rather than 10, and this was reflected by his best runners, champion 3-year-old filly Tiffany Lass and Wood Memorial (gr. I) winner Air Forbes Won.
In some ways, The Factor is reminiscent of Smarty Jones , another highly talented colt with unquestioned speed and a highly efficient way of going but a pedigree that at first glance did not promise staying ability. In Smarty's case, however, the second and third damsires were horses that were unquestionably genuine over 10 furlongs or more: Foolish Pleasure and Herbager. If The Factor is to stay 10 furlongs, he will also have to draw resources from ancestors further back in his pedigree, and will have to avoid getting sucked into a duel with other front-runners as well. Nonetheless, he is one of the most exciting colts to emerge on this spring's Triple Crown trail, and it will be very interesting indeed to see if he can take the next step toward Derby glory.