What's in a name? Well, if Joyful Victory lives up to hers, owner Rick Porter (who races in the name of Fox Hill Farms) will be accepting an armful of lilies on Friday. The likely favorite for the Kentucky Oaks (gr. I) following the withdrawal of R Heat Lightning, the Larry Jones trainee has done nothing wrong since adding blinkers for the Honeybee Stakes (gr. III) back in March. With dominating wins in the Honeybee and the Fantasy Stakes (gr. II) now under her belt, as well as an impressive work May 1 in the Churchill Downs slop, the filly looks as ready as she can be for the biggest test of her young life.
Bred by William D. Graham in Ontario, Joyful Victory is a daughter of 2004 Wood Memorial Stakes (gr. I) winner Tapit , the leading freshman sire of 2008. Third on the second-crop sire list in 2009 and on the third-crop sire list in 2010, the gray son of Pulpit–Tap Your Heels has sired 171 winners (56.6%) and 28 stakes winners (9.3%) from the 302 foals in his first three crops of racing age. In addition to Joyful Victory, Tapit is represented this year by the very quick Las Virgenes (gr. I) winner Zazu; by March Stakes (Jpn-III) winner Testa Matta; by Sham Stakes (gr. III) winner Tapizar, who looked like one of the year's more exciting Triple Crown prospects before being sidelined by injury; and by listed stakes winner Bandbox . Another Tapit youngster worth keeping an eye on is Rattlesnake Bridge, who looked like he had the makings of a nice runner when finishing second to Uncle Mo in the Timely Writer Stakes at Gulfstream. He has since followed up with a solid fourth-place effort in the Jerome Handicap (gr. II), in which he went wide on the turn but ran on well in the stretch.
On the distaff side, Joyful Victory is a fifth-generation descendant of 1945 Demoiselle Stakes winner War Kilt, a full sister to the good stakes winners War Relic and Speed Boat. While War Relic went on to become the son that carried on the male line of Man o' War and Speed Boat produced 1940 champion 2-year-old filly Level Best as well as founding a family that leads to Belmont Stakes winners Sword Dancer (1959) and Hail to All (1965), War Kilt suffered through a dismal broodmare career that saw her produce just one winner from seven foals by a collection of high-class sires.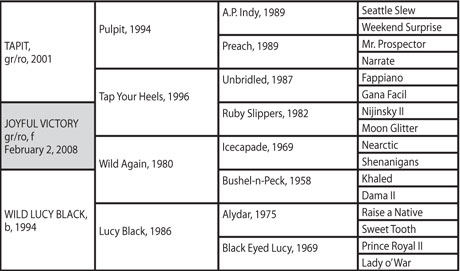 Providence, War Kilt's 1947 filly by Easton, brought some redemption to her dam by producing three French stakes winners, headed by Prudent (by My Babu), who was rated second to Abdos among the French juvenile males of 1961. Another War Kilt daughter, Way Out (by Alibhai), produced the 1968 Jersey Derby winner and Preakness Stakes runner-up Out of the Way (by Mamboreta). But it was Lady o' War, a 1956 daughter of Princequillo, who managed to continue the line even though she, like her dam, failed to produce a single black-type runner. She made up for that by leaving behind four stakes-producing broodmares from five daughters.
The most important of the group is Black Eyed Lucy, a daughter of 1964 Prix de l'Arc de Triomphe winner Prince Royal II (by Ribot). Although he also won the 1964 Gran Premio di Milano and a title as the Italian champion 3-year-old male of that year, Prince Royal II proved a stud failure in the United States and was exiled to Japan in 1974, having sired the high-class Unconscious and little else. As Black Eyed Lucy never even made it to the track, her talent, if any, remained undiscovered. But she made up for any deficiencies in her pedigree and performance by producing the ill-fated Roving Boy (by Olden Times), champion juvenile male in 1982 but the victim of a fatal breakdown as a 3-year-old. Black Eyed Lucy also produced Sally's Ride (by Inverness Drive), dam of multiple grade I winner A Wild Ride (by Wild Again).
Sadly, A Wild Ride suffered a similar fate to Roving Boy's as she was put down due to complications of career-ending injuries suffered in the 1991 John A. Morris Handicap (gr. I). Perhaps because of A Wild Ride's success on the track, however, Sally's Ride's half sister Lucy Black (by Alydar) was repeatedly bred to Wild Again, producing four fillies by that sire. Only one, stakes-placed Fine Impression, showed any ability to speak of, but her sister Wild Lucy Black has continued the family tradition of coming up with good runners from unlikely sources by producing Joyful Victory, her first stakes winner, as her sixth named foal.
On pedigree, Joyful Victory should have no trouble with the Oaks distance of nine furlongs, or with longer distances for that matter. Not only did her sire score his biggest win, the Wood Memorial, at the same distance, but her damline features crosses to Wild Again, Alydar, Prince Royal II, and Princequillo, all horses that could handle at least 10 furlongs with aplomb. The question now is simply whether she is as good as she looked when taking apart her opposition at Oaklawn Park this spring. If she is, she has as good a chance as one could ask for of living up to her name in the Run for the Lilies.