Peachtree Stable's Flashpoint may be the most intriguing of the new faces entering the 2011 Preakness Stakes (gr. I). A colt of great natural speed, he stepped up to win the Hutcheson Stakes (gr. II) in only his second lifetime start, then turned in a respectable effort in his first two-turn race, finishing fourth April 3 in the Florida Derby (gr. I) after a wide trip. His presence in the Preakness seems likely to ensure a swifter pace than the soft fractions that Shackleford was able to lay down in the Kentucky Derby Presented by Yum! Brands (gr. I). But it is where Flashpoint will find himself at the end of the race, not in the early stages, that is an open question.

Bred in Florida by Silverleaf Farms, Flashpoint is by Pomeroy, a swift son of the Danzig horse Boundary. Best at seven furlongs, Pomeroy had an affinity for Saratoga, where he won the King's Bishop Stakes (gr. I) as a 3-year-old, the Alfred G. Vanderbilt Handicap (grade II) as a 4-year-old, and the Forego Stakes (gr. I) as a 5-year-old. He retired to Cloverleaf Farms II in Florida having won seven of his 18 starts for earnings of $854,050.

Pomeroy, who now stands at Vinery Florida, did not get off to quite the quick start normally expected of a speedy stallion as none of his progeny won stakes races at 2. Since the beginning of 2011, however, four of his first crop of 97 named foals have won stakes, including graded winners Flashpoint and Pomeroys Pistol (Forward Gal Stakes, gr. II). His other two stakes winners, Positive Response and Golden Springs, both have stakes wins at eight or 8 ½ furlongs under their belts, and there is reason to think that Pomeroy can get horses that can go longer with help from more stamina-oriented mares. True, Boundary's forte was brilliance over six furlongs (a distance at which he won two graded events), but Pomeroy's dam, Questress, is a daughter of 1988 Super Derby (gr. I) winner Seeking the Gold and is inbred 3x4 to the great Buckpasser. Boundary himself, of course, sired 2008 Kentucky Derby and Preakness winner Big Brown , so he was capable of throwing horses that stayed better than he himself did—again, with some help from the right mare.

At a glance, however, Flashpoint's dam, Two Punch Lil, does not look like the kind of mare capable of helping Pomeroy out with distance capacity. Unplaced in her only attempt over a route, she was a confirmed sprinter who took down her biggest win in the listed Jacob France Stakes as a 5-year-old. Her sire, Two Punch (Mr. Prospector–Heavenly Cause), was a stakes winner over six furlongs and has been primarily a solid sire of sprinters and milers, though of his best sons, the gelded Taking Risks could stretch out to nine furlongs and Smoke Glacken was twice graded-placed at 8 ½ furlongs. Still active at Northview Stallion Station in Maryland, Two Punch, who is 28 in 2011, has been an indifferent broodmare sire so far, with just 31 stakes winners from 1,132 foals of racing age produced by his daughters.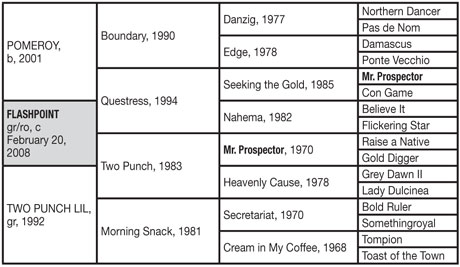 If Flashpoint has the wherewithal to stretch his speed around two turns, it will have to arise from further back in his pedigree. His second dam, Morning Snack, is a daughter of the great Secretariat out of Cream in My Coffee, by 1960 Travers Stakes winner Tompion (by Tom Fool). Cream in My Coffee, in turn, was produced from Toast of the Town, a full sister to the brilliant Raise a Native and a half sister to the good handicapper Kingmaker (by Princequillo).

Since neither Morning Snack nor Cream in My Coffee managed to win a race at any distance, their own distance capacities are a question mark. Toast of the Town never raced, and her brother Raise a Native was also pretty much an unknown as regards his true distance ability. There was no questioning his brilliance, but since he never started at a distance longer than six furlongs before breaking down, his ability to carry his speed was never tested. At stud, he sired horses all over the distance spectrum but is generally considered more an influence for speed than stamina.

With Flashpoint's pedigree showing a 4x3 cross to Raise a Native's best sire son Mr. Prospector—a brilliantly fast horse in his own right, and another who sired runners ranging from sprinters to classic horses—plus the cross to Raise a Native's full sister, there is certainly no shortage of speed in the colt's background. But what no one can tell until he is set down for the drive in the Preakness stretch is how much stamina he has inherited in his genetic mix. If he gets smooth sailing this time, the result will tell whether he is simply another promising speedster or whether he is a serious contender among this year's 3-year-olds.