In recent years, the Metropolitan Handicap (gr. I) at Belmont Park has held the reputation of being a "sire making" race. William Clifton, Jr., certainly has reason to hope this will be the case for his Tizway , who cruised to a professional-looking win in this year's edition after finishing third in 2010. Also the winner of the 2010 Kelso Handicap (gr. II), Tizway now has six wins from 19 lifetime starts.

Bred in Kentucky by Whisper Hill Farm, Tizway is a son of 2000 Horse of the Year Tiznow and is the second grade I winner this year for the stallion, the other being Carter Handicap (gr. I) winner Morning Line . Tiznow, who stands at WinStar Farm, has also been represented in 2011 by stakes winners Rush Now, It Tiz, Tiz Miz Sue, and Modern Cowboy.

A horse whose calling card was a high cruising speed, Tiznow has tended to pass that trait on to his progeny, most of which have turned in their best races in the 8-10 furlong range in which he himself excelled. Typically free-running types that prefer to race on or near the lead, the best also have inherited their sire's gritty determination, which was displayed in full measure during his two Breeders' Cup Classic (gr. I) wins in 2000 and 2001.

Although he raced only on dirt, Tiznow has been a versatile stallion with multiple graded winners to his credit on dirt, turf, and synthetic surfaces. Despite his having been the leading freshman sire of 2005 and the sire of that year's champion juvenile filly, Folklore, he has not been an outstanding sire of juveniles; among the 572 named foals of his first six crops of racing age, just 68 (11.9%) managed wins at 2, and only nine (1.6%) won stakes races at that age. But things get better as his runners mature, which is not surprising given that Tiznow himself did not start showing his best form until the second half of his sophomore season. From those same six crops, Tiznow has to date sired 254 winners (44.4%) and 35 stakes winners (6.1%), 19 of which have scored at the graded/group level (3.3%) and eight at the grade I level (1.4%). One would certainly like to see more consistency among his progeny, but there is no question that he gets his share of runners in the top echelons.

Tizway is the second stakes winner produced by Bethany, a daughter of 1990 English Horse of the Year Dayjur (by Danzig). Previously the dam of listed stakes winner Ticket to Seattle (by Capote), Bethany never raced but is a half sister to grade I winners Willa On the Move (by Assert) and Will's Way (by Easy Goer); to listed stakes winner Lady Reiko (by Sadler's Wells); and to the very fast grade I-placed Citidancer (by Dixieland Band), a successful regional sire in Maryland. She is also a half sister to stakes-placed Sweet Willa (by Assert), dam of grade III winner Undermine (by Miner's Mark) and English group III winner Holberg (by Halling); to Willa Joe (by El Gran Senor), dam of the confusingly named grade III winner Willa On the Move (by Two Punch); and to Ms. Teak Wood (by Woodman), dam of grade III winner Acceptable (by Capote) and listed stakes winner Military Major (by Rahy).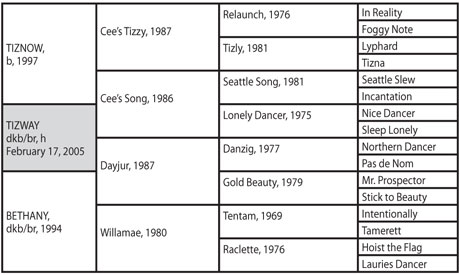 Bethany and her siblings were produced from Willamae (by Tentam), a stakes-winning half sister to grade III winner Tong Po (by Private Account). Willamae's dam Raclette never raced but was very well bred as she was sired by 1970 US champion juvenile male Hoist the Flag, an excellent sire, out of 1971 Canadian Horse of the Year Lauries Dancer.

A daughter of Northern Dancer, Lauries Dancer was notably unsuccessful as a broodmare; not only did she fail to produce a single black-type runner, but only two of her eleven foals even managed to win despite their having been sired by a collection of top stallions. She was the only stakes winner produced by her dam Its Ann (by Royal Gem II), a two-time stakes winner in Canada. The line is a branch of American Family #1, which descends from an unnamed daughter of Janus foaled in the mid-1700s, and so unites one of America's oldest female families with one of its oldest male lines, that of the immortal Man o' War, which entered the country via the importation of Australian in 1858.

Tizway is inbred 5x5x4x5 to Northern Dancer, who wields an inescapable influence in international breeding comparable to St. Simon's presence in European breeding by World War II.. In addition, Tizway is inbred 5x4 to 1959 champion sprinter Intentionally through that stallion's two best sire sons, In Reality and Tentam. While his overall pedigree tilts more towards speed than stamina, there is enough of the latter laced into it to suggest that Tizway may suit mares of a variety of distance aptitudes. But that is for the future. For now, there is still plenty of racing left in this season.