Among its many distinctions, the Saratoga meeting historically has been the debut party for many of the East's most promising juveniles. This year is no exception. And, as usual, it hasn't taken long for a Saratoga winner to turn heads and start speculation about bigger things to come. This year's early star is Mike Repole's Overdriven, who evoked inevitable comparisons to Repole's 2010 champion juvenile male Uncle Mo , as he powered to victory July 24 in the Sanford Stakes (gr. II) (VIDEO) .
Whether Overdriven is in that class remains to be seen, but he certainly has the pedigree credentials for a precocious colt with the potential to stretch out as far as American juveniles are usually asked to run. Bred in Kentucky by Mount Joy Stables, the handsome bay is the fifth 2011 stakes winner for Tale of the Cat , one of Storm Cat's more successful sons.
Given Storm Cat's reputation for siring precocity, it is a little surprising that Tale of the Cat both needed some time as a racehorse and has tended to sire offspring with the same requirement. Unraced as a juvenile, Tale of the Cat won five of his nine starts at 3 and 4, including the 1997 King's Bishop Stakes (gr. II), and placed in three grade I events. He retired to stud at Ashford for 1999 and was popular from the start, with 106 named foals in his first crop.
Part of the demand for his services stemmed from his pedigree. By the time Tale of the Cat retired to stud, Storm Cat had developed a strong reputation as a sire of sires. To his sire's prestige, Tale of the Cat added a strong female family descended from Round Table's stakes-winning full sister Monarchy, also the ancestress of multiple grade II winner and successful sire Pulpit.
As Pulpit entered stud only a year ahead of Tale of the Cat, he cannot be said to have provided any hints as to Tale of the Cat's stud potential. Nonetheless, Tale of the Cat's family had plenty of other credentials. His dam, Yarn (by Mr. Prospector) is a winning full sister to Frizette Stakes (gr. I) winner Preach, dam of Pulpit. Following Tale of the Cat, she produced restricted stakes winner Spunoutacontrol (by Wild Again) and 2000 English and Irish highweighted colt Minardi (by Boundary), while her daughter Myth (by Ogygian) produced 2001 European and American champion 2-year-old male Johannesburg (by Hennessy).
Yarn was produced from 1983 Falls City Handicap (gr. III) winner Narrate (by Honest Pleasure), one of five stakes winners produced from State (Nijinsky II—Monarchy), a half sister to successful sire Blade (by Bold Ruler) and stakes winners Title (by Bold Ruler) and Fabled Monarch (by Le Fabuleux). Through other daughters, State is also the ancestress of stakes winners Northcote Road, Classic Threat, Simmard, Le Carre, and Haint.
While not as consistent a sire as Blade or Pulpit, Tale of the Cat has sired more stakes winners than either with 78 to his credit so far (4.6% of named foals of facing age). He is most noted as the sire of 2009 champion older male and two-time champion turf male Gio Ponti , still in training as a 6-year-old. Another son, multiple grade I winner Lion Heart, was sent to Turkey in January 2010, but not before siring 2010 Emirates Airline Breeders' Cup Turf (gr. IT) winner Dangerous Midge, 2010 Arkansas Derby (gr. I) winner Line of David, and the brilliantly fast 2010 Saratoga Special Stakes (gr. II) winner Kantharos .
A half brother to multiple grade II winner Smooth Air (by Smooth Jazz), Overdriven is out of the winning French Deputy mare Air France. Winner of the 1995 Jerome Handicap (gr. II), French Deputy was sold to Japanese interests in December 2001 in what turned out to be a loss for the American breeding industry. Already the sire of two-time grade I winner Left Bank, who added a third grade I win in the 2002 Whitney Handicap after his sire's export, French Deputy was represented in 2003 by Prioress Stakes (gr. I) winner House Party and six other stakes winners; in 2004, his daughter Mayo On the Side won the Humana Distaff Handicap (gr. I). In addition, his Kentucky-sired crops included Japanese-raced Kurofune and Nobo Jack, both group I winners in their adopted country. As a broodmare sire, French Deputy has also been solid if a bit unappreciated, his daughters having so far produced 35 stakes winners (6.6%) from 528 foals of racing age per The Jockey Club.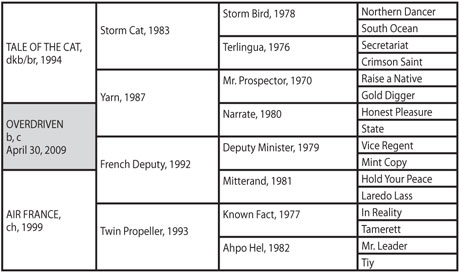 Air France is out of Twin Propeller (by Known Fact), a stakes-winning half sister to 1994 Prioress Stakes (gr. II) winner Penny's Reshoot (by Turkey Shoot) and to listed stakes winner Daimon (by Strike Gold). The siblings' dam, Ahpo Hel (by Mr. Leader) is a half sister to 1989 Bold Ruler Stakes (gr. II) winner Pok Ta Pok (by Full Pocket) and is from a rather speed-oriented branch of the family of modern foundation mare Bold Irish, also the ancestress of the great Ruffian, the important sire Icecapade, and classic winners Pine Bluff (1992 Preakness Stakes, gr. I) and Fusaichi Pegasus (2000 Kentucky Derby, gr. I), among other notables.
Overall, Overdriven's pedigree appears to tilt distinctly towards speed, although with enough stamina to suggest that a mile should be within his scope. This may not be enough to make him a contender for next year's classics, but it should be enough to make him an interesting player in this year's juvenile division.