After impressive wins in his maiden effort and the Best Pal Stakes (gr. II), 2-year-old Creative Cause lost very little stature with a troubled second to Drill in a roughly run edition of the Del Mar Futurity (gr. I). Many observers felt that the Heinz Steinmann colorbearer would turn the tables with a better run, and they were proved right when Creative Cause drew off October 1 in the Norfolk Stakes (gr. I) to easily defeat his erstwhile conqueror (VIDEO).
Bred in Kentucky by James Weigel, Creative Cause is the latest star for Giant's Causeway . The best son of Storm Cat on the race course, Giant's Causeway earned accolades for the toughness, soundness, and gameness he displayed as a 3-year-old, when he won five group I stakes in Europe before finishing second to Tiznow in the 2000 Breeders' Cup Classic (gr. I) in his first try on dirt. That effort gave Coolmore reason to think that Giant's Causeway would appeal to American breeders as well as to European horsemen, and so Giant's Causeway moved to Coolmore's Kentucky facility, Ashford Stud, for his second Northern Hemisphere breeding season.
Coolmore's judgment proved well founded, as Giant's Causeway sired 149 named foals in his first Northern Hemisphere crop—15 of them stakes winners. That crop contained European champion juvenile male Shamardal (an American-bred); Irish-foaled grade/group I winners Aragorn, My Typhoon, and Maids Causeway; and English-bred classic winner Footstepsinthesand, ensuring his continued popularity. Most of his early runners excelled on turf, but grade I winners First Samurai , Eskendereya, Swift Temper, and Frost Giant have since confirmed his ability to get top winners on dirt as well.
To date, Giant's Causeway has sired 108 stakes winners worldwide and amassed progeny earnings of $81.7 million , making him the leading sire in both categories among Storm Cat's sons. Indirectly, he is also partly responsible for the success of his stakes-placed full brother Freud , who got his chance at stud as much on the strength of his brother's record as on his own merits. A leading sire in New York for several years, Freud is enjoying an excellent year in 2011 as the sire of Vosburgh Invitational Stakes (gr. I) winner Giant Ryan, WinStar Kentucky Cup Stakes (gr. II) winner Future Prospect, and four other 2011 stakes winners.
Giant's Causeway and Freud are both out of multiple grade II winner Mariah's Storm, a daughter of the late Rahy from the grade III-winning Roberto mare Immense. The family descends from Harry Isaacs' foundation mare Itsabet, also the ancestress of champions or highweights Dearly Precious, Banks Hill, Intercontinental, Dansili, Champs Elysees, and Leroidesanimaux.
Creative Cause is out of Weigel's homebred Dream of Summer, whose late sire, Siberian Summer, won the 1993 Charles H. Strub Stakes (gr. I) over eventual champion older male Bertrando before retiring to stud in California. She proved the best of his 13 stakes winners, winning the 2005 Apple Blossom Handicap (gr. I) and five other stakes races in a consistent career that saw her win or place in 17 of 20 starts. Creative Cause is her third foal and second winner.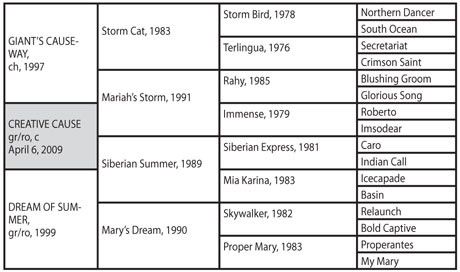 Dream of Summer represents the seventh generation of her family to be bred in California, beginning with Button Blue. A daughter of the Bull Lea son All Blue out of the Clock Tower mare Button Hole, Button Blue won one of five starts before producing 10 foals, six of them winners, the first four of them for her breeder, J. J. Elmore. She also produced the unplaced Solarium II mare Forsooth, who produced a good one for Elmore (in partnership with his wife) in the Windsor Ruler filly Opening Bid. A winner of six California stakes at ages 2 and 4, Opening Bid, in turn, produced stakes winner My Mary (by Rising Market, a stakes winner in California at ages 3 to 6) for the Elmores.
My Mary proved a good broodmare for Old English Rancho, producing 1991 Palomar Handicap (gr. IIT) winner Somethingmerry (by Somethingfabulous) and 1990 Wells Fargo Bank California Cup Classic Handicap winner My Sonny Boy (by the Tudor Music stallion To-Agori-Mou). She also produced multiple Cal-bred stakes winner Proper Mary, whose sire Properantes won the 1977 San Juan Capistrano Invitational Handicap (gr. IT). Proper Mary lived to produce only two foals, but one of them is the unraced Skywalker mare Mary's Dream, dam of Dream of Summer. (Skywalker, a leading sire in California before being sent to Kentucky for 1996, won the 1985 Santa Anita Derby and 1986 Breeders' Cup Classic, both gr. I.)
Dream of Summer illustrates two points: first, that a regional family can be built up to the top level by continued crosses to good racehorses, even if those racehorses were not themselves top sires; and second, that a good race mare is always a possibility to produce a top runner even if her own pedigree is less than fashionable. As for Creative Cause, he now heads for the Grey Goose Breeders' Cup Juvenile (gr. I) as a likely favorite, having proven himself over both the 8½-furlong distance and on dirt. Should he pass that test, he should be as likely a prospect for next year's classics as anyone could wish, and that is all anyone can ask at this stage in the game.