When the champions and potential champions parade to the post for the 2011 Breeders' Cup races, Robert Cole Jr.'s Rapid Redux will not be among them. He is strictly a blue collar hero, plying his trade at the bread-and-butter level that is the unheralded backbone of American racing. But while he may lack the class of a champion, he has won his own share of fans with a blend of consistency, heart, and toughness that is the equal of any horse out there. When he makes his next start, he will be trying to do what no North American-based runner has done since 1900 by winning his 20th straight race.
That Rapid Redux has already tied the mark of 19 consecutive wins set by the New Mexico regional star Peppers Pride and equaled by the great Zenyatta is a remarkable feat in itself. Since beginning his streak December 2, 2010, the chestnut gelding has averaged one start every 18 days as of October 31, almost unheard of in a day in which top runners seldom start more than once a month for any length of time. He has raced at seven different tracks and won over distances from five to nine furlongs. That he has held his form for so long under such a variety of conditions is a tribute both to his own constitution and to the acumen of trainer David Wells, who has clearly done an excellent job in maintaining the horse's physical and mental sharpness since taking him over in October 2010.
Most Thoroughbreds, however ordinary, can claim blue blood somewhere in their pedigrees, and in Rapid Redux's case, one doesn't have to go too far back. Bred by Fortress Pacific Equine, Rapid Redux is by 2003 Breeders' Cup Classic (gr. I) and 2004 Emirates Airline Dubai World Cup (UAE-I) winner Pleasantly Perfect, a son of 1981 champion 3-year-old male Pleasant Colony and the group I-winning Affirmed mare Regal State. Standing at Lane's End, Pleasantly Perfect has proven a reasonably useful sire so far, getting 103 winners and 10 stakes winners from 207 foals of racing age. His leading runner is 2010 Emirates Airline Breeders' Cup Filly and Mare Turf (gr. IT) winner Shared Account, and he is represented in 2011 by grade/group II winners Cozi Rosie and Silverside.
A big, angular, rawboned horse with an unfamiliar though solid South American female family, Pleasant Colony was a surprising success as a stallion, continuing the male line of his grandsire Ribot. His son Pleasant Tap, the champion older male of 1992, also proved a good sire, but at this point, the survival of the Pleasant Colony branch of Ribot appears to rest with Pleasantly Perfect and with Pleasant Tap's best son David Junior, a multiple divisional highweight in England who is now at stud in Japan. Another son of Pleasant Tap, multiple grade I winner Tiago, is now at stud in New York, where his first foals arrived this year.
While Rapid Redux has been a model of soundness and consistency, none of the mares in the first three generations of his female family even managed to win a race. His dam, the Storm Cat mare Thiscatsforcaryl, was unplaced in four starts but has produced some reasonably tough horses by modern standards. Her first foal, the 1997 Sky Classic filly This Cat's Curious, made 31 starts; her second, the 1998 Distant View colt Catbird Seat, ran 40 times. Her third foal, the 1999 Unbridled's Song colt Be Like Mike, made only 14 starts but won the listed West Virginia Governor's Handicap as a 4-year-old. Thiscatsforcaryl's next several foals accomplished little, but she is also the dam of grade III-placed Sacred Journey, a 2005 full brother to Be Like Mike.
Thiscatsforcaryl is a full sister to restricted stakes winner Cat Affair and is out of the Tom Rolfe mare Tesio's Love, who went unplaced in eight starts but is a half sister to 1991 Santa Ana Handicap (gr. IT) winner Annual Reunion (by Cresta Rider). Tesio's Love, in turn, is out of the Forli mare Love for Life, who could not hit the winner's circle in 11 tries but placed five times.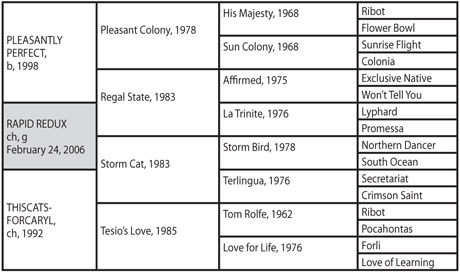 The dam of Love for Life, Love of Learning, managed to win one race from seven tries but must be considered a great disappointment given her pedigree and immediate family. By 1960 champion juvenile male Hail to Reason out of Cosmah, a stakes-winning half sister to Northern Dancer's dam Natalma, Love of Learning was a full sister to grade I winner and two-time leading sire Halo and a half sister to multiple champion Tosmah (by Tim Tam) and 1965 Fountain of Youth Stakes winner Maribeau (by Ribot). Notwithstanding opportunities with a collection of sires that included Dr. Fager, Mr. Prospector, Stage Door Johnny, and Secretariat, Love of Learning produced just five winners from 12 named foals.
Despite the weakness of his immediate female family, Rapid Redux boasts what is overall a solid pedigree with a strong accumulation of horses of racing class, including a 4x4 cross to the great Ribot, and he has clearly inherited at least a little ability. Nonetheless, his story points out the importance of a good match between horse and trainer as well as consistent placement at a level at which he can compete. When a horse has those elements working for him, he is in a position to make the most of whatever talent his heritage has bequeathed him.