by Tom Hall
William Woodward, Jock Whitney, Ogden Phipps, Warren Wright: Such names recall the days when Thoroughbreds were bred and raced by men who did so for the love of the horse and for the love for the sport. These pillars of racing spared no expense to gather gem-quality broodmares from which they bred their own stallions that would in turn sire their next generations of runners. But changing times often demand changing ways, and fewer and fewer of these solely breed-to-race operations play a role in the industry today. However, you can add the name Charles Fipke to that list of those who hold on to the traditions of the past. On Nov. 4, his persistence paid off as his homebred 4-year-old filly Perfect Shirl gave the Canadian prospector a paydirt of a different kind: a win in the Emirates Airline Breeders' Cup Filly & Mare Turf (gr. IT).
Perfect Shirl is a daughter of homebred champion Perfect Soul , an Irish-bred product of Fipke's search for excellence in the sport. In 1994 a chestnut daughter of Secretariat, Ball Chairman, had been cataloged in the Keeneland November sale. Her race record left a lot to be desired: two places from two starts at 3 and earnings of $6,152. But something about her caught Fipke's attention and the expert at finding diamonds in the rough acquired her for his growing broodmare band in foal to Dixieland Band. He reaped success as the Dixieland Band filly she foaled for Fipke, named Dimontina, was multiple stakes-placed in Canada. At the time Sadler's Wells was setting the world on fire in Europe and Fipke chose Ball Chairman to cross the waters to Ireland and be bred to the pride of Coolmore Stud. The first mating resulted in an unraced colt; the second breeding was Perfect Soul, who became the star of the Fipke stable.
Unraced until the age of 4 in 2002, Perfect Soul won his first three outings and the distance-loving turf specialist went off the boil, after placing second in the 12-furlong Niagara Breeders' Cup Handicap (Can-I) at Woodbine. Returning in 2003, Perfect Soul won the grade II King Edward Breeders' Cup Handicap at Woodbine and the Shadwell Keeneland Turf Mile Stakes (gr. IT), earning $856,195 for the year. Raced again at 6, he showed his fondness for Keeneland by taking the Maker's Mark Mile Stakes (gr. IIT) in which he set a course record of 1:33.54 for the distance. He retired to stud at Darby Dan Farm, having won seven races at distances ranging from seven to 11 furlongs.
Ball Chairman returned to Sadler's Wells five more times without the same success. The mating did produce four fillies for Fipke, two of which are members of Fipke's broodmare band in Kentucky. Ball Chairman produced her last two registered foals for Fipke in Ireland, fillies by Danehill Dancer and Galileo, one of which, Dance Secretary, is group III-placed, having finished third in the Derrinstown Stud One Thousand Guineas Trial in May.
Returning again to the Keeneland November sale in 2005, Fipke picked up the other half of the Perfect Shirl equation when he purchased for $485,000 the grade I stakes-winning mare Lady Shirl in foal to Theatrical as a prospective mate for Perfect Soul. A hickory mare, Lady Shirl had started 41 times from ages 2 through 7 and had won 18 of those starts at distances ranging from six to 10 furlongs. She performed well on dirt but when switched to turf she excelled as all of her stakes wins came on that surface.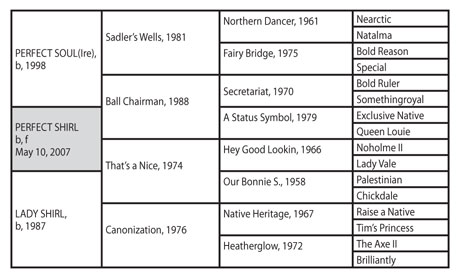 The larger chunk taken out of the Fipke account was in large part because Lady Shirl had just produced a grade I stakes winner as her Theatrical colt named Shakespeare had recently authored a grade I victory of his own in the Joe Hirsch Turf Classic Invitational Stakes at Belmont Park. As with the Fipke's purchase of Ball Chairman, the sale reaped immediate dividends as the full sister she was carrying, named Lady Shakespeare, became a grade II winner.
Perhaps with Lady Shirl, Fipke was also relying on the wisdom of the breed-to-race stables of the past. Lady Shirl's second dam Heatherglow had little to recommend her but pedigree. An unraced daughter of The Axe II out of the non-winning Hill Prince mare Brilliantly, Heatherglow descends from the blue hen of all blue hens in American pedigrees both in tail male and in tail female. The Axe II, who raced for Jock Whitney's Greentree Stable, is a third-generation descendant of the grand dame herself while the Phipps' Wheatley Stable-bred Brilliantly is a third-generation descendant of La Troienne's daughter Baby League.
Perhaps Fipke was aware of another rather successful mare bred on similar lines, having La Troienne and Baby League in the same spots as Heatherglow: Ogden Phipps' Numbered Account, who has made a bit of a name for herself in pedigree circles.
Perfect Soul is the sire of 13 stakes horses. He is scheduled to stand the 2012 season at Norse Ridge Farm near King City, Ontario, Canada, where his fee will be $7,500 Canadian funds.