In 1986, Kentucky-bred At Talaq won "the race that stops a nation," Australia's famed Foster's Melbourne Cup (Aus-I). Also the winner of the 1984 Grand Prix de Paris (Fr-I) and the 1986 LKS McKinnon Stakes (Aus-I), the son of Roberto eventually retired to stud Down Under, becoming a successful if somewhat underrated stallion before his premature death in 1995.
History may be about to repeat itself, for last year's Emirates Melbourne Cup winner, Kentucky-bred Americain , could well begin his stud career in Australia after the major autumn races. A try for a repeat Melbourne Cup win in 2011 fell short with a respectable fourth-place effort, but the grandson of Roberto has already proved himself one of the world's top stayers. His efforts in France during 2010 earned him titles as European champion stayer and French highweight older male in the 14 furlongs-plus category, and he also ran a respectable third in the 2010 Cathay Pacific Hong Kong Vase (HK-I).
Americain, who races for a partnership of the Ryan and Bamford families, was bred by Wertheimer et Frere, best known in the United States as the breeders and owners of the magnificent mare Goldikova. The Wertheimer family has been a force in European racing for decades, so it is surely no coincidence that Dynaformer was chosen as the mate for Americain's dam, America. Although Dynaformer was a multiple grade II winner on dirt, he is a son of 1972 Epsom Derby (Eng-I) winner Roberto and has turned out to be a sire of top-class turfers as well as accomplished dirt runners.
One of the few remaining top American sires with appeal in the European market, Dynaformer is also represented this year by dual European classic winner Blue Bunting, Toyota Blue Grass Stakes (gr. I) winner Brilliant Speed, and grade I-winning steeplechasers Tax Ruling and Mabou. He is one of the best sources of stamina among American sires, with his offspring sporting an average winning distance of 8.85 furlongs. To date, Dynaformer has sired 125 stakes winners from 1,217 foals of racing age according to The Jockey Club's records, with 57 of those stakes winners scoring at the graded/group level.
Dynaformer is an example of a highly successful breeding pattern for Darby Dan Farm, that of crossing Roberto to daughters of the full brothers Graustark and His Majesty from the family of Golden Trail. (Other representatives of this pattern include champion turf male Sunshine Forever and multiple grade I winner Brian's Time, a successful sire in Japan.) In Dynaformer's case, his dam is Andover Way, a grade I-winning daughter of His Majesty out of Golden Trail's daughter On the Trail (by Olympia). On the Trail also produced grade II winner and useful sire Darby Creek Road (by Roberto) and stakes winner Regal Road (by Graustark), third dam of 2001 Kentucky Derby (gr. I) winner Monarchos.
A daughter of 1991 European Horse of the Year and U.S. juvenile champion Arazi, America was a good 3-year-old in France, winning the Prix de Malleret (Fr-II) and the Prix Vanteaux (Fr-III). She is one of three stakes winners produced from the stakes-placed Green Dancer mare Green Rosy, the other two being English listed winner Rose Indien (by Crystal Glitters) and French group II winner Majorien (by Machiavellian). Green Rosy, in turn, is out of the Cornish Prince mare Round the Rosie, also the dam of 1982 Pucker Up Stakes (gr. IIIT) winner Rose Bouquet (by Full Out) and French listed stakes winner Big Sink Hope (by Green Dancer).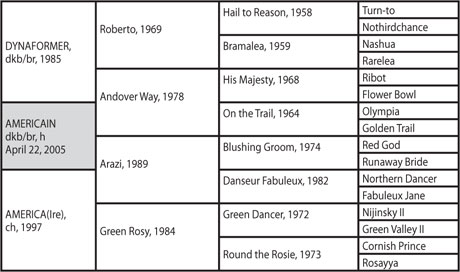 Americain's family descends from the 1916 Sunstar mare Sunstep, who was imported to the United States as a yearling. This is a family that has enjoyed significant success on both sides of the Atlantic, its earlier members including 1939 One Thousand Guineas and Epsom Oaks winner Galatea II (by Dark Legend); 1943 Selima Stakes winner Miss Keeneland, who shared highweight honors with Durazna among fillies on that year's Experimental Free Handicap; top English sprinter Fairy Flax; and major American stakes winners Gallant Sir, Sir Damion, and Reneged.
Can Americain equal or even improve on At Talaq's stud record? It's quite possible, though by no means certain. With Red Ransom dead and none of his sons having yet established themselves as their sire's equal (though Charge Forward and Domesday have both sired group I winners), Americain could certainly fill a niche for the Roberto sire line, and he might well appeal to horsemen seeking to infuse stamina in their stock without losing too much in the way of speed. Arazi, his broodmare sire, was a brilliant miler and the son of a still better miler in Blushing Groom (whose bloodline historically has combined well with that of Roberto). Green Dancer, sire of Americain's granddam Green Rosy, was another crack miler, though one that threw stamina as well as speed as a sire. And Cornish Prince, sire of Americain's great-granddam Round the Rosie, also brings some speed into the mix. It does not hurt that by all accounts Americain is quite a striking individual, as noted for his looks and charisma as for his talent.
For now, Americain's stud career remains a matter of speculation. After having regrouped from his Cup effort to capture the group II Zipping Sandown Classic in his most recent outing, his next likely target is the Hong Kong Vase in December. But if there is one thing that seems a virtual certainty, it is that this equine Americain will remain an expatriate. Given his liking for turf and distance, as well as his lack of success in his few North American races, the chances of Americain finding a home at a Kentucky stud farm seem about nil, which is something of a shame given that he is probably the best hope to succeed Dynaformer at stud. Nonetheless, he should get quite a fair chance to make a contribution to his breed wherever he does end up, and that is all that can reasonably be asked.
Recommended
: Dynaformer may be getting older but his offspring never lack in talent.
MarketWatch
reviews some of the Three Chimneys stallion's recent top-performing runners in
Dynaformer Dynasty
.