If we were to compile a list of recent "ones that got away"—horses that were exported before their merit became apparent—there is little doubt that Wild Rush would be near the top of that list.
However, back in September 2003, few would have expressed regret upon hearing the announcement Wild Rush had been sold to Japan. Wild Rush had been a high-class and versatile performer, earning $1,386,302 and scoring graded stakes victories from seven to nine furlongs, including the Carter and Metropolitan handicaps (both gr. I), and his first yearlings had been well-received at the sales. When his first crop reached the track, however, the momentum all but disappeared. None of Wild Rush's initial group of runners captured a black-type event at 2, and at that time that his sale was announced, when that crop was 3, only two of them—the fillies Fencelineneighbor and Friendofthefamily—had become stakes winners. Nor, at that stage, were many of Wild Rush's second crop juveniles showing much greater promise.
Actually, that that first crop never did achieve a tremendous amount, although Fencelineneighbour captured the San Gorgonio Handicap (gr. III) as a 5-year-old. Of course, once his departure was announced Wild Rush's second crop took off just about as quickly as the plane carrying him east, four stakes winners emerging in the following few weeks. Ultimately, that second crop produced no fewer than 13 stakes winners, including the three-time grade I winner Stellar Jayne; Hollywood Story, winner of the Hollywood Starlet Stakes and Vanity Invitational Handicap (both gr. I); Canadian champion 2-year-old and twice Canadian champion sprinter Judiths Wild Rush; Personal Rush, an earner of more than $2.4 million in Japan; and other graded winners Wimbledon, Just Rushing, Bank Audit, and Quintons Gold Rush. Wild Rush's third crop produced seven stakes winners, headed by Wild Desert, winner of the Queen's Plate, and multiple grade II winner Carmandia, and there were three more stakes winners, although none of them graded scorers, in his fourth crop. Wild Rush's fifth and final U.S. crop included only two stakes winners, but one of them was Dream Rush, winner of four graded stakes including the Darley Test Stakes and Prioress Stakes (both gr. I).
In Japan, Wild Rush has sired seven horses that have won races that qualify for black type by international cataloging standards, and by some way the best of these is Transcend. A member of the second crop sired by Wild Rush in Japan, Transcend didn't race until he was 3, and that year won four of eight starts, including the Leopard Stakes. Three of his outings came in group stakes, his best effort being a fourth in the nine-furlong Elm Stakes (Jpn-III) on his penultimate outing. Last year, Transcend made considerable strides through his campaign. Winner of the non-black-type Aldebaran Stakes in February, he was off the board in the Antares Stakes (Jpn-III), then took second in the Tokai TV Hai Tokai Stakes (Jpn-II) and the Nippon TV Hai. Solid as these efforts were, Transcend surpassed them by some margin on his final two outings, taking the Miyako Stakes (Jpn-III) by 1¼ lengths for his first group win, and then establishing a new track mark for 1,800 meters (about nine furlongs) at Hanshin to take the Japan Cup Dirt (Jpn-I).
Transcend has continued in the same vein this year. Successful in the 1,600-meter (approxiamately a mile) February Stakes (gr. I) on his reappearance in February, he went down by just ½ length to his compatriot, Victoire Pisa, in the Dubai World Cup Sponsored by Emirates Airline(UAE-I), with such well-known performers as Cape Blanco, Gio Pointi, Twice Over, Richard's Kid, Fly Down, Poet's Voice, and Buena Vista behind him. Given a break until October, Transcend returned with a win in the Mile Championship Nambu Hai, and then took second in the JBC Classic over 2,000 meters (equivalent to around 10 furlongs), a trip that, his bold effort in the Dubai World Cup notwithstanding, is probably beyond his best. Running the first weekend of December, Transcend dropped back to 1,800 meters and produced another excellent performance to captured his second straight Japan Cup Dirt by two lengths from longshot Wonder Acute, with the 2009 victor, Espoir City, in third.
Transcend's dam, Cinema Scope, is a four-time winner by the Irish-bred 1988 CIGA Prix de l'Arc de Triomphe (Fr-I) hero Tony Bin, a successful sire and broodmare sire in Japan. She is dam of five other winners, including the Japanese black-type scorer Cendrillon. A sister to the black type-placed Pulsebeat, Cinema Scope is out of Blue Hawaii. A daughter of the 1986 Hollywood Derby (gr. IT) victor Thrill Show, Blue Hawaii is a half sister to a talented runner in Sakura Sunny O, a two-time graded winner who also took third in the Satsuki Sho and Kikuka Sho (both Jpn-I) .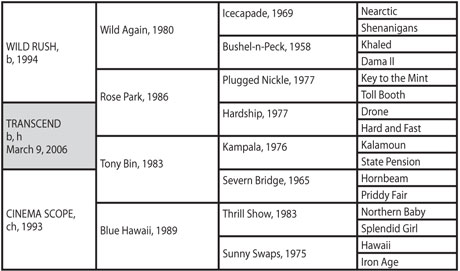 The family arrived in Japan with Transcend's third dam, Sunny Swaps, a daughter of Hawaii—a South African-born runner who earned honors as champion turf horse in the U.S.—and Iron Age, a sister to Swaps, a truly great racehorse who defeated Nashua for the 1955 renewal of the Kentucky Derby and was Horse of the Year in 1956.
Rated A++ by TrueNicks , Transcend is one of two graded stakes winners sired by Wild Rush out of Tony Bin mares, from only 14 starters bred on the cross. The Wild Rush/Tony Bin cross gives an accumulation of Nearco and Hyperion, the greatest runners produced by two of the most important breeders of the 20th century, Federico Tesio and Edward Stanley, the 17th Earl of Derby. Wild Rush is a great-grandson of Nearctic, who is by Nearco out of Hyperion mare, and his sire, Wild Again, is out of Bushel-n-Peck, who is in turn by Khaled, a son of Hyperion, out of a mare by Dante, a son of Nearco. Wild Rush's granddam is another Nearco/Hyperion cross.
Moving to the distaff side of Transcend's pedigree, we find that Tony Bin is the product of an extended Nearco/Hyperion cross, and his broodmare sire, Hornbeam, is by Hyperion out of a mare by a son of Nearco. The granddam of Transcend, Blue Hawaii, is by Thrill Show, who again is an extended Nearco/Hyperion cross, with his dam being a Hyperion/Nearco cross. Sunny Swaps, the third dam of Transcend, is yet another Nearco/Hyperion crosses, and as the sources are Dante and Khaled, she's bred on the reverse cross to Bushel-n-Peck, the dam of Wild Again. For good measure, Wild Again's third dam, Clovelly, is a close relative to Mehrali, who appears here as broodmare sire of Hawaii.
Although this is all somewhat hard to follow, the bottom line is that Wild Again and Blue Hawaii, the grandsire and granddam of Transcend, have similar backgrounds, to the degree that of the 32 ancestors in Wild Rush's fifth generation, 23 (72%) of them are also found in the pedigree of Blue Hawaii.