Sons of Gone West had a strong strike rate Jan. 21. In New Zealand, the 6-year-old mare Guiseppina—from a shuttle crop sired by Johar—blitzed 1,200 meters (a few yards short of six furlongs) in 1:06.94 to win the prestigious J & N Berkett Telegraph Handicap at Trentham in New Zealand. The same afternoon saw a pair of stakes winners for Proud Citizen, with Believe You Can capturing the Silverbulletday Stakes at Fair Grounds, a significant prep for major spring 3-year-old filly stakes, and the Chilean-foaled Vamo a Galupiar taking the Megahertz Stakes by 3¼ lengths. To cap the day off, Mr. Bowling, a member of the first crop of Istan—who stands alongside Proud Citizen at Airdrie Stud—captured the first leg of a trio of graded stakes that make up the Louisiana road to the Triple Crown, the Lecomte Stakes (gr. III).
The Lecomte was the third win in five starts for Mr. Bowling. He finished fourth in a six-furlong maiden special weight at Delaware Park on his debut, then returned to win a similar event by 2 ¾ lengths. Mr. Bowling became a stakes winner in his next start, taking the Dover Stakes by 7 ¼ lengths, and ended his first campaign with a third in the Iroquois Stakes (gr. III). The Lecomte marked his first start of 2012.
Mr. Bowling has already proved to be more precocious than his sire, Istan, who showed flashes of potential in his early career but didn't truly fulfill his promise until he was a 5-year-old. Istan's pedigree does not particularly point to late maturity, however. Istan's sire, Gone West, proved capable of getting early maturing horses, and his dam, Ronda, was also very accomplished at 2, when she took the listed Prix La Fleche. At 3, she captured the Prix de Sandringham (Fr-III) and the Greene King Falmouth Stakes (Eng-II). Gone West was among the first picks as a mate for Ronda, as the son of Mr. Prospector already proved successful over mares by Ronda's grandsire Storm Bird. The union also gave linebreeding to Somethingroyal through her sons Sir Gaylord and Secretariat, as well as to the Nasrullah/Princequillo cross through Secretariat and through Ronda's granddam, Memory Lane, a group-winning sister to the great racehorse and sire Mill Reef.
Istan was foward enough to score a decisive maiden victory at Chantilly on the first of the two starts he made at 2. At 3 he captured allowance races in France at six and seven furlongs and gained his first black type with a third in the Prix de Pontarme. He also made one start in the U.S. at that age, finishing fourth in the six-furlong City Zip Stakes at Monmouth Park. Istan was seen in public only twice at 4, beating the talented Wanderin Boy by three lengths in a one-mile allowance/optional claiming contest at Gulfstream Park, then finishing off the board in the Kenny Noe Jr. Handicap (gr. IIIT). Istan's fourth and final season proved to be not only the busiest of his career, but also the most lucrative. He captured five stakes from seven to 8½ furlongs, taking the Budweiser Challenger Stakes, Governor's Handicap (by 4½ lengths), Artax Handicap, the grade III Turfway Park Fall Championship Stakes (by 3½ lengths); and the Ack Ack Handicap, also grade III (by 8¾ lengths).
Mr. Bowling is out of the Irish Tower mare Goldilock's Bear, a winner of three races for $88,879 and dam of four previous winners, none of particular note. The second dam, Madam Bear, a daughter of the Lt. Stevens horse Dreadnought, was a more distinguished runner and producer. Successful in the Queen Breeders' Cup Stakes at Turfway Park, she was placed in five other stakes events, including a second in the Brown & Williamson Handicap and third in the Chicago Budweiser Breeders' Cup Handicap and Thoroughbred Club of America Stakes (both gr. III). Madam Bear's four winners included the Santa Margarita Invitational Handicap (gr. I) victress Tarlow, and she is also granddam of Yankee Fourtune, successful in the Hawthorne Derby (gr. IIIT), and of Go Go Shoot, a multiple listed winner of more than $400,000. Going back a couple more generatons, Goldilock's Bear's fourth dam is the Sailor mare Rose. She never produced a stakes winner, but is ancestress of a numerous stakes winners, including last year's Jockey Club Gold Cup (gr. I) captor Flat Out and Got Koko, successful in the 2002 La Brea Stakes (gr. I).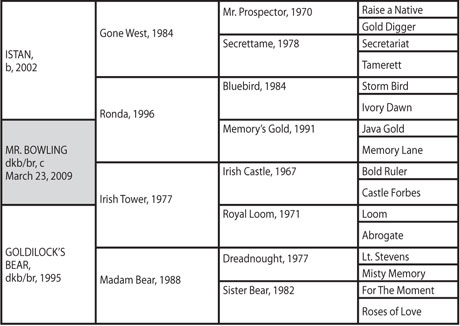 Mr. Bowling is one of two stakes winners from 19 starters bred on the cross of Gone West-line stallions over mares by Irish Tower, a son of Irish Castle. It's worth noting that Irish Castle is by Bold Ruler and his second dam, Longford, is by Menow, out of a mare by a son of Sir Gallahad III. Gone West's dam is by a son of Bold Ruler, out of a daughter of Tim Tam, who is by Tom Fool (by Menow out of a mare by Bull Dog, a brother to Sir Gallahad III). Tim Tam appears twice more in the dam of Istan, and she also carries Sir Ivor (whose granddam is closely related to Menow) and Nijinsky II (whose dam is a reverse cross—Bull Lea/Menow—to Tim Tam, and whose granddam, like Longford, has the Menow—Sir Gallahad III combination).