According to the American Heritage dictionary, "prospective" is an adjective meaning "likely to become a particular thing; expected to happen." That's a pretty good description of Prospective , as in "prospective classic horse." Making his seventh lifetime start March 10, John Oxley's colt stepped up to that category with a gritty win in the Tampa Bay Derby (gr. II).
Bred in Kentucky by Spendthrift Farm, Prospective is by Spendthrift's premier stallion, Malibu Moon . A son of A.P. Indy, Malibu Moon showed promise as a precocious juvenile, taking second in a late April maiden special weight at Hollywood Park and winning a five-furlong contest a month later at the same track in a smart :57.41. Injury forced an early retirement for the B. Wayne Hughes-owned colt, who began his stud career at Country Life Farm in Maryland at a modest $3,000 fee.
While questions about Malibu Moon's soundness were inevitable, there were none about his pedigree. His dam, the Mr. Prospector mare Macoumba, won the 1994 Prix Marcel Boussac—Criterium des Pouliches (Fr-I) as a juvenile and is a half sister to four other stakes winners including 1990 Prix de la Foret (Fr-I) winner Septieme Ciel (by Seattle Slew) and multiple turf grade III winner Maxigroom (by Blushing Groom). The siblings were produced from the Green Dancer mare Maximova, herself winner of the 1982 Prix de la Salamandre (Fr-I) and a half sister to French group winners Navratilovna and Vilikaia (both by Nureyev) and French listed stakes winner Moivouloirtoi (by Bering). Maximova and her siblings, in turn, were produced from the winning Swaps mare Baracala, a half sister to 1974 Two Thousand Guineas (Eng-I) winner and French champion miler Nonoalco (by Nearctic).
Generally speaking, Malibu Moon's family is noted for both precocity and miler speed; its one drawback was its lack of sire power, as neither Septieme Ciel nor Nonoalco lived up to expectations in the breeding shed. Malibu Moon, however, got off to a quick start, finishing sixth on the 2003 freshman sire list. Twelve of his first crop of 63 named foals won as juveniles, headed by Best Pal Stakes (gr. II) winner Perfect Moon, and, the crop eventually yielded an excellent 44 winners (72%) and seven stakes winners (11.5%).
The performance of his first runners earned Malibu Moon a ticket to Kentucky, and he stood at Castleton Lyons Farm from 2004 to 2007 before moving to Spendthrift. Unlike many another sire whose production tails off during the "bubble years" of the second through fourth seasons, Malibu Moon kept rolling right along. The seven stakes winners of his 2002 crop were headed by champion juvenile male Declan's Moon and grade I winner Malibu Mint, and the stallion got six stakes winners, including grade III winner Ah Day, from just 37 named foals in his third crop. The stallion's fourth crop of 46 named foals produced five stakes winners, with 2007 Delaware Oaks (gr. II) winner Moon Catcher leading the group.
Malibu Moon's 2005 crop was the first conceived from the better mares attracted by his strong first season, and he made the most of his opportunities: from 108 named foals, he sired 12 stakes winners including grade I winners Life At Ten and Ask the Moon; grade II winners Sweet August Moon, Luna Vega, and Raw Silk; and multiple III winner Rodman, who was also runner-up in the Metropolitan Handicap (gr. I) and took third in the Suburban Handicap (gr. II) in 2011. And the good ones have kept on coming. To date, from his first nine crops of racing age, Malibu Moon has sired 815 named foals, of which 459 (56%) have become winners and 59 (7.2%) stakes winners, including grade I winners Devil May Care, Malibu Prayer, Funny Moon, and Eden's Moon.
To date, Malibu Moon has been noted more as a sire of top fillies than colts, as his lone male grade I winner has been the gelded Declan's Moon. Prospective is the only one of his intact sons to win a grade II race, and only the third to win a graded stakes at any level (the others being the aforementioned Rodman and 2010 grade III Tampa Bay Derby winner Odysseus). As he was precocious enough to be a grade III winner at 2, his record makes him of interest as a potential replacement for his sire—though Malibu Moon, at 15, is not likely to retire to the life of a pensioner for some time yet.
Prospective is the first foal of the Awesome Again mare Spirited Away. Winner of the 2008 Truly Bound Handicap at the Fair Grounds, Spirited Away has an unusual pedigree as she is inbred 3x3 to the multiple stakes-winning and stakes-producing Olden Times mare Square Generation, great-granddam of Awesome Again and of Spirited Away's dam, Cape North. A daughter of 1987 champion older female North Sider (by Topsider) and 1986 champion juvenile mile Capote, Cape North showed nothing of either parent's talent on the track but is also the dam of stakes winner Fufty Too (by Speightstown), providing at least a small measure of redemption for North Sider (who threw just four winners from 12 foals despite being mated to an array of top-class sires) as a broodmare.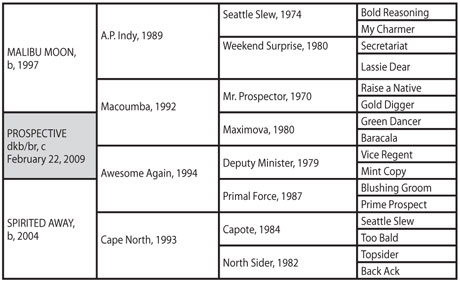 In addition to her 3x3 cross to Square Generation, Spirited Away is also inbred 4x4 to Northern Dancer and carries a cross of Mr. Prospector as well via his daughter Prime Prospect, second dam of Awesome Again. This is a combination that appears to do very well with Malibu Moon (see Alan Porter's TrueNicks blog of June 28, 2010, Moon Still on the Rise), who is, of course, out of a Mr. Prospector mare and carries a cross of Northern Dancer in the fifth generation of his pedigree. Prospective, thus, carries crosses of Mr. Prospector 3x5 and Northern Dancer 6x5x5 and for good measure is inbred 3x4 to Seattle Slew through A.P. Indy and Capote, giving him a pedigree loaded with multiple strains of three top commercial lines of the past two decades. Whether this will be enough to make him a worthy successor to Malibu Moon in the breeding shed is anyone's guess, but it certainly isn't hurting him on the road to the Triple Crown.