Normally, when a horse with a pedigree background like Secret Circle wins a classic trial, he would go into the notebook as one of those relatively rare items in modern U.S. dirt racing: a 3-year-old whose background indicates he is likely to move forward over the 10 furlongs of the Kentucky Derby Presented by Yum! Brands (gr. I).
To date, however, Secret Circle's career suggests that his pedigree might be at variance with his natural aptitude. In fact, that he owned speed and precocity was already clear by this time last year. A $17,000 RNA at the 2010 Keeneland September yearling sale, Secret Circle then realized $165,000 at the 2011 OBS March selected sale of 2-year-olds in training after clocking a 10.1-second furlong in the breeze-up show.
That same speed was apparent when Secret Circle made his debut in a 5½-furlong maiden race at Del Mar in July last year. In front from the off, he scored by 7¼ lengths under a hand ride. He returned to action at Santa Anita to take the six-furlong Jack Goodman Stakes by 5¼ lengths, clocking 1:08.27. The Sentient Jet Breeders' Cup Juvenile Sprint saw Secret Circle blast through fractions of :20.96 and :44.55 before gutting out a length victory over Shumoos.
Secret Circle's first race of 2012, the one-mile Sham Stakes (gr. III), suggests that he might be reaching the limits of his stamina, as he was run down close home by Out of Bounds after leading in the stretch. On Feb. 20, however, in the second division of the Southwest Stakes (gr. III) at Oaklawn Park, he turned stalker himself and wore down a game Scatman to win by a half length. Trying a sixteenth of a mile further March 17 in the Rebel Stakes (gr. II), Secret Circle produced another gritty effort to score by three-fourths of a length from the on-rushing Optimizer , but closed in :26 1/5 and :06 4/5, running the slowest Beyer speed figure of his career.
Although the Rebel Stakes may have hinted at stamina limitations—a distinct possibility given the speed that Secret Circle has shown to date—there are no suggestions of such deficiencies in his pedigree. Secret Circle is the first stakes winner from the first three crops sired by Eddington , who has previously been more notable for solid numbers of starters and winners than as a source of class.
As a racehorse, Eddington was far less precocious than his most notable son, running just once at 2. He was very smart at 3 when he won the Calder Derby (gr. IIIT) and placed in the Preakness, Travers, and Wood Memorial stakes (all gr. I), but better at 4 when he captured the Gulfstream Park Handicap (gr. II) in a new track-record and the Pimlico Special (gr. I). Eddington had plenty of stamina in his pedigree, too, as he was by Unbridled—winner of a Kentucky Derby and Breeders' Cup Classic (gr. I)—out of a mare by Chief's Crown, who was a champion at 2 but also took the Travers and hit the board in all three legs of the Triple Crown at 3. For good measure, Eddington's second dam is by Sir Ivor, winner of the Epsom Derby at 1½ miles.
Secret Circle is the second foal and second winner for his dam, Ragtime Hope. The first, Eddington Limit, a gelded brother to Secret Circle, doesn't have his sibling's talent, but has also scored both his victories in sprints (a 5½-furlong maiden special weight at Woodbine on his debut last year and a six-furlong claiming event at the same track last November). Ragtime Hope, a daughter of Dixieland Band—frequently an influence for speed—did win the Catcharisingstar Stakes at five furlongs, but she also took the 8½-furlong Noble Robyn Stakes and was fourth in the nine-furlong Calder Oaks.
Ragtime Hope is half sister to Really Polish, a Polish Numbers filly whose credits included the Dogwood Stakes (gr. III) at 8½ furlongs and a rallying third in the Kentucky Oaks (gr. I). Their dam, Good 'n Smart (by Smarten, a graded winner at 10 furlongs and graded-placed at 1½ miles), is a sister to Chesire Kitten, successful the Suwannee River Handicap (gr. III) at 8½ furlongs. Secret Circle's fourth dam, R. Thomasina, does have connections to a couple of very fast horses, as she is granddam of Rise Jim, two-time winner of the Tom Fool Stakes (one gr. II, one gr. III), and is a sister to R. Thomas, whose premier victory came in the Vosburgh Handicap. The family goes back to Lea Lark, ancestress of Leallah, Miswaki, Southern Halo, Lacovia, Tobougg, Jump Start, and Singletary, to name but a few standouts from the family.
However, we can also note that three of Secret Circle's four great-grandsires were major stakes winners at 10 furlongs and placed in top-class events at 1½ miles. The fourth, Fappiano, is remembered for his speed, but he, too, was a graded stakes winner over nine furlongs.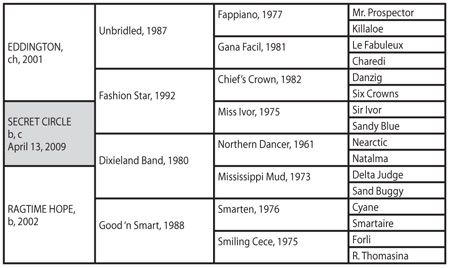 Secret Circle is a product of the cross of sons of Unbridled out of mares by Dixieland Band. This hasn't been a high-frequency stakes producing cross—four stakes winners from 62 starters are in line with what one would expect given the overall class of all the sires and dams involved—but it has produced quality, the quartet of black-type scorers being Secret Circle, grade I winner Cotton Blossom, the tragic Kentucky Derby runner-up Eight Belles, and graded-winning Sindy With an S.
Interestingly, the TrueNicks Enhanced report also shows that the horses bred on the cross have an average winning distance shorter than their average distance raced, demonstrating that the nick is not exactly a stamina influence. Overall, trying to guess at the distance capacity of the modern North American Thoroughbred is a hazardous occupation, particularly when dealing with a group of horses that have yet to reach maturity (which means that the faster types often still hold a developmental edge), but our hunch is that Secret Circle will ultimately develop into a sprinter/miler type.