Race to the Wire
by Ray Paulick
Date Posted: 12/10/2002 10:07:20 AM
Last Updated: 12/10/2002 10:44:14 AM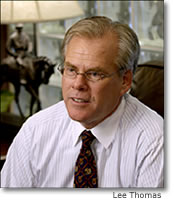 Ray Paulick
Editor-in-Chief


Trainer Robert Frankel's quest for the single-season earnings record, set by D. Wayne Lukas in 1988, isn't the only money chase worth following in the final few weeks of the 2002 racing year. During the last two months, the battle between Elusive Quality and Distorted Humor to be leading freshman sire in North America has been interesting, to say the least. There is a very good chance this race will not be decided on the racetrack, but in a hearing room of the Jockey Club of England next month. In early August, Elusive Quality, a son of Gone West who stands at Sheikh Maktoum's Gainsborough Farm near Versailles, Ky., overtook Swiss Yodeler to grab the first-crop sire lead. Swiss Yodeler, by Eastern Echo, stands at Pepper Oaks Farm in California and was a major surprise to many people who handicapped the freshman sires earlier this year. Lurking closely behind Elusive Quality throughout the summer and fall was Distorted Humor, a son of Forty Niner standing at WinStar Farm near Versailles. On Dec. 7, Distorted Humor overtook Elusive Quality for the first time when his son, Crackup, earned $150,000 for winning the NTRA Great State Challenge Juvenile Stakes at Sam Houston Race Park in Texas. This week's sire list (page 7154) shows Distorted Humor holding a $50,913 lead over Elusive Quality. Daily updates are available at www.bloodhorse.com. That lead would grow to nearly $125,000 if Elusive Quality's chief earner, Elusive City, is disqualified from a pair of July victories in England because of a positive test for the active ingredient in the ulcer medication GastroGard, a treatment that is commonly used in the United States. The Jockey Club of England has reported a positive test for the prohibited substance but has not officially disqualified Elusive City from his maiden win at Lingfield or his triumph in the Gerrard Investment Management Richmond Stakes (Eng-II) at Goodwood. A hearing on the positive tests will not be conducted until Jan. 9. A total of $74,005 currently credited to Elusive Quality is at stake. Meanwhile, a third freshman sire, Awesome Again, has entered the picture, principally due to the late-season success of Daniel Borislow's juvenile colt Toccet. Awesome Again, a son of Deputy Minister standing at Adena Springs near Midway, Ky., is $278,308 behind Distorted Humor in earnings, but Toccet is expected to contest the $200,000 Hollywood Futurity (gr. I) Dec. 21, the same weekend Delta Downs will be handing out $750,000 in slot machine-enriched purses in a pair of races for 2-year-olds. No matter who the eventual freshman winner is, the hope here is the difference in progeny earnings will be more than the disputed $74,005 currently on Elusive Quality's ledger. Morphine Positives
The Elusive City matter isn't the only drug testing concern facing England's Jockey Club. In a joint statement with the Irish Turf Club on Dec. 6, officials said they were "gravely concerned that in recent days over 20 samples in Ireland and Britain have screened positive for morphine." The statement went on to say that eight of the samples to date have been confirmed as positive. Because split sample testing at an independent laboratory has not been completed, details of the positives have not been announced. But the Jockey Club described the presence of the drug as "contamination" and said it "appears to have arisen from feed." Tests have yet to detect what specific feed product may have led to the findings, a Jockey Club spokesman said Dec. 9. In the U.S., attorneys for several horsemen, including the aforementioned Frankel and three-time Eclipse Award winner Bob Baffert, have fought morphine charges on the same grounds that England's regulatory board said caused positive tests there and in Ireland.It's possible North America's leading first-crop sire will be determined in a hearing room in England



Copyright © 2015 The Blood-Horse, Inc. All Rights Reserved.