In April 7's Illinois Derby (gr. III), Skeedattle Stables' Done Talking joined the parade of longshot winners of preps for the 2012 Kentucky Derby Presented by Yum! Brands (gr. I). With $300,000 in graded earnings from this one race, he is now virtually guaranteed a starting spot in the Derby should his owners so desire. But whether this is the best and most profitable course for him may be another question. Bred by Skeedattle Associates (the breeding side of Done Talking's ownership), the colt is a son of Broken Vow , who has proved one of Unbridled's better sons at stud. Produced from the Nijinsky II mare Wedding Vow, a winning full or half sister to four stakes winners, Broken Vow proved a consistent runner just below the top level, winning nine of his 14 starts and placing in four more. His biggest win was in the 2001 Philip H. Iselin Handicap (gr. II), in which he defeated multiple grade I winner Sir Bear.
Broken Vow has spent his entire stud career at Pin Oak Stud and has done well without ever reaching the top rank. From the 694 named foals in his first seven crops of racing age, he has sired 412 winners (59%) and 43 stakes winners (6.2%). His stakes winners are headed by the North American grade I-winning females Unbridled Belle, Cotton Blossom, and 2011 Eclipse Award finalist Sassy Image, who earned two grade I wins in the female sprinter division. Broken Vow is also the sire of Panamanian champion 3-year-old filly Broken Wedding.
As Sassy Image indicates, even though Broken Vow was bred to stay classic distances, not all of his progeny care for distances beyond eight or nine furlongs; in fact, the average winning distance for his runners is 7.19 furlongs, suggesting that even his better runners tend to prefer intermediate distances. This was also the range preferred by Done Talking's dam Dixie Talking, who won the 2004 Maryland Juvenile Filly Championship Stakes over 8½ furlongs against state-bred company but scored her biggest win in the 2005 Cicada Stakes (gr. III) over seven furlongs at Aqueduct.
Also bred and raced by Skeedattle, Dixie Talking's juvenile stakes tally made her the 100th stakes winner for her sire Dixieland Band, who is also the broodmare sire of leading Kentucky Derby candidate Secret Circle as well as Kentucky Derby winners Monarchos (2001) and Street Sense (2007). Winner of the 1983 Pennsylvania Derby (gr. II) and 1984 Massachusetts Handicap (gr. II) during his own racing days, Dixieland Band was best at nine furlongs but sired horses ranging in distance aptitude from European champion stayer Drum Taps (a two-time winner of the Ascot Gold Cup, Eng-I) to Check the Band, a highweighted sprinter in Ireland. To date, Dixieland Band has sired 117 stakes winners, which may not be his final total as his last foals are 3-year-olds of 2012 (he was pensioned in December 2008 and died in 2010). The son of Northern Dancer was also the leading broodmare sire of 2004 and is currently fifth on the 2012 list.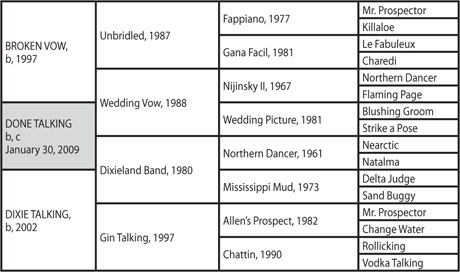 Dixie Talking is a daughter of Gin Talking, Maryland's 2000 Horse of the Year after winning that year's Anne Arundel Stakes (gr. III) and two other stakes. She was sired by the good regional sire Allen's Prospect, a son of Mr. Prospector out of Change Water (by Swaps) and so a half brother to grade I winner and 1994 Broodmare of the Year Fall Aspen (by Pretense). The sire of 69 stakes winners including 1996 Malibu Stakes (gr. I) winner King of the Heap, Allen's Prospect was humanely destroyed in 2003.
Gin Talking was the best runner produced by Chattin, who was sired by another Maryland stalwart in Rollicking. Sired by Rambunctious (a paternal great-grandson of the great English sire Hyperion), Rollicking was one of five stakes winners produced from the Martins Rullah mare Martinetta. At stud, he proved admirably consistent, getting 329 winners, 38 of them stakes winners, from 427 named foals. A winning full sister to multiple stakes winner Rollodka, Chattin is out of the stakes-placed Hagley mare Vodka Talking.
Done Talking's pedigree is quite solid from top to bottom, and there is reason to believe that he can go 10 furlongs. The question is how fast, as a closing eighth-mile in about 13 seconds off a woefully slow pace is not reassuring when one considers the likely competition for the Kentucky Derby. As a one-run closer in what is likely to be a crowded field, he also faces the possibility of traffic jams created by tiring runners in the stretch. Still, he has now earned the right to take his shot at the roses, and stranger things have happened under the shadow of the twin spires.