In the lore of Celtic fairies, the dullahan was a grim specter reminiscent of Washington Irving's "Headless Horseman"— a human form in black, carrying his own head under his arm, and usually mounted on a black horse. To see the dullahan was bad luck; to be called by name by the dullahan was to die.
Fortunately, the equine Dullahan has not brought any such ill fortune to owner Donegal Racing; quite the opposite, in fact. With his impressive victory April 14 in the Toyota Blue Grass Stakes (gr. I), the big chestnut is now the only likely starter for the Kentucky Derby Presented by Yum! Brands (gr. I) with two grade I wins, having won the Dixiana Breeders' Futurity (gr. I) last fall. The fact that both of Dullahan's big efforts were on Keeneland's Polytrack will give some people pause—even more so, the fact that these are the only wins in his career—but he is likely to go into the Derby as one of the favorites nonetheless.
Bred by Phil Needham, Judy Needham, and Bena Halecky, Dullahan is a member of the fourth crop of multiple grade II winner Even the Score , who stands at Millennium Farms near Lexington. From those first four crops, totaling 243 named foals, Even the Score has so far sired 148 winners, a very respectable 61%. Ten (4.1%) have won stakes thus far, and Dullahan is one of two multiple grade I winners for his sire; the other is Take the Points, winner of the 2009 Secretariat Stakes and Jamaica Handicap (both gr. IT).
Though a son of Unbridled's Song, Even the Score is a maternal grandson of Rahy, a horse he appears to resemble in body type if not size, and this may account for his having gotten a couple of high-class turf/synthetic stakes winners as his best runners to date. His dam Ashtabula was one of Rahy's 93 stakes winners, taking down the listed Las Madrinas Handicap at Fairplex as a 4-year-old in 1995. Her major score was on dirt, but Rahy was one of those horses who could get champions on either dirt or turf. His best North American runners were 2001 champion turf male (and European Horse of the Year) Fantastic Light and 1995 champion 3-year-old filly Serena's Song.
Although Dullahan is 0-for-3 at Churchill Downs, those seeking Derby credentials for him need look no further than his half brother Mine That Bird (by Birdstone ), winner of the 2009 Run for the Roses. The two are out of the unraced Smart Strike mare Mining My Own, also the dam of the six-time winner Brother Bird (by Yonaguska).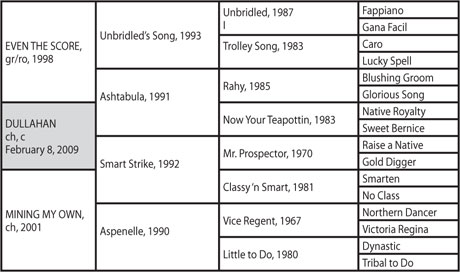 Smart Strike was no stranger to classic pedigrees even before Mine That Bird came along. His son Curlin won the 2007 Preakness Stakes (gr. I) and placed in the other two Triple Crown events on his way to the first of his two Horse of the Year titles. Still going strong at the age of 20, the two-time leading stallion is the sire of last year's juvenile filly champion My Miss Aurelia and 2012 graded stakes winners Smart Bid and Hit It Rich. Smart Strike is also the broodmare sire of 27 stakes winners so far, including 2011 Canadian champion 3year-old filly Inglorious, 2009 Queen's Plate winner Eye of the Leopard , 2010 Emirates Airline Breeders' Cup Filly and Mare Turf (gr. IT) winner Shared Account, and 2011 Hollywood Gold Cup Handicap (gr. I) winner First Dude .
A half sister to listed stakes winner Golden Sunray (by Crafty Prospector), Mining My Own is out of 1993 Canadian Oaks runner-up Aspenelle, a daughter of the great Canadian sire Vice Regent out of the stakes-winning Dynastic mare Little to Do. Little to Do, in turn, is out of the winning Restless Native mare Tribal To Do, also the dam of restricted stakes winner Crafty (by Crafty Prospector). The female line traces back to Kildeer, a good stakes winner and broodmare in her day but best known to students of pedigree as the fourth dam of the great champion and weight carrier Discovery. Kildeer is also the ancestress of 1983 champion older female Ambassador of Luck, 1978 Canadian champion older female Dianne's Lady, and 1985 Canadian Broodmare of the Year No Class, whose progeny and direct descendants include champions Sky Classic, Grey Classic, Regal Classic, Classy 'n Smart, Dance Smartly, and Dancethruthedawn, as well as Smart Strike.
Should Dullahan win the Kentucky Derby, it will be the first time that two sons of the same mare have won the great race and only the third time that an American mare has produced two winners of the same Triple Crown event: the others were Leisure, dam of Preakness Stakes winners Royal Tourist (1908) and Holiday (1914), and Better Than Honour, dam of Belmont Stakes winners Jazil (2006) and Rags to Riches (2007). If Dullahan can get the job done, it will reflect great credit indeed on Mining My Own, who will have produced her classic winners to covers by stallions of substantially less standing than Seeking the Gold, sire of Jazil, and A.P. Indy, sire of Rags to Riches. But even if Dullahan proves to be merely an exceptionally talented "horse for a course," Mining My Own already has accomplished more than most broodmares do in a lifetime. And, at only 11 years old, she may still have more good ones in the pipeline.