From an owner's point of view, there is no better time for a 3-year-old to make rapid improvement than when the spring classics are on the line. That's what happened June 3 for Robert S. Evans when his filly Irish Mission went from maiden winner to classic winner in the Woodbine Oaks—Presented by Budweiser, the first race of Canada's Triple Tiara series.
A May 20 foal, Irish Mission can be excused for needing some time to find her best stride. Not only was she a late foal, but she is a big one—nearly 17 hands, according to Canadian Horse Racing Hall of Fame trainer Mark Frostad, who knows a thing or two about training for the Canadian classics, having won the Woodbine Oaks three times previously as well as four editions of Canada's premier classic, the Queen's Plate. She came into the Woodbine Oaks having won only her previous start, a turf maiden special weight at Keeneland, from seven lifetime starts. But she is clearly headed in the right direction.
Appropriately, Irish Mission harks back to the bloodlines of Canada's greatest breeder, E. P. Taylor, on both sides of her pedigree. Her sire, two-time leading American sire Giant's Causeway (by Storm Cat), is a grandson of 1980 English and Irish champion 2-year-old male Storm Bird, whose pedigree interweaves many of the best horses from Taylor's breeding program at Windfields Farm. Not only were his sire Northern Dancer and his paternal grandsire Nearctic bred and raced by Taylor (who also stood both), but so was his dam South Ocean; his maternal grandsire, 1959 Canadian Triple Crown winner New Providence; and his maternal granddam Shining Sun. In addition, Taylor raced and stood the sire of New Providence, Bull Page, and stood the sire of Shining Sun, Chop Chop, during the latter part of his stud career.
On the distaff side, the Taylor influence crops up again through Vice Regent, sire of Irish Mission's maternal granddam Hangin On a Star. A full brother to Northern Dancer's first champion, 1968 Canadian champion juvenile male and Horse of the Year Viceregal, Vice Regent was too unsound to duplicate his brother's success on the track but was a far better stallion. A 13-time leader of the Canadian sire list, he sired 105 stakes winners and founded a branch of the Northern Dancer sire line extending through Deputy Minister (a champion on the track and at stud) and his son Silver Deputy to the latter's son Posse, the U.S. leading freshman sire of 2007. Like Storm Bird, Vice Regent was a product of Taylor breeding on both sides of his pedigree, as Taylor bred his dam Victoria Regina; stood her sire, the imported horse Menetrier; bred Victoria Regina's dam Victoriana; and bred, raced, and stood Victoriana's sire Windfields.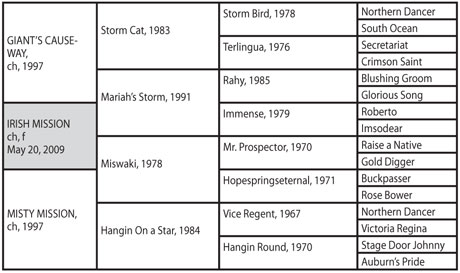 The last of four stakes winners produced from the Stage Door Johnny mare Hangin Round, Hangin On a Star was good enough to win the 1987 Breeders' Stakes (the third leg of the Canadian Triple Crown) from males before retiring to the paddocks. She produced 10 named foals, among them 1993 Canadian champion juvenile male Comet Shine (by Fappiano), 2000 Wonder Where Stakes winner Misty Mission (by Miswaki), and multiple grade II-placed Sky Colony (by Pleasant Colony). All three were bred and raced by Sam-Son Farm. which also bred Irish Mission but sold the filly for $375,000 at the 2010 Fasig-Tipton Saratoga select yearling sale.
Irish Mission is the 104th Northern Hemisphere stakes winner for Giant's Causeway and the 164th Northern Hemisphere stakes winner as a maternal grandsire for Miswaki. One of the more important broodmare sires among the sons of Mr. Prospector, Miswaki is best known as the sire of Urban Sea, whose eight stakes winners include the top European sire Galileo (by Sadler's Wells) and 2009 European Horse of the Year Sea The Stars (by Cape Cross).
Between her performance in the Woodbine Oaks and her pedigree, it seems likely that Irish Mission will stay as far as North American horses are asked to run these days, and she already has proven herself on both Polytrack and turf. This leads to a dilemma for her connections: to point her toward a sweep of the Triple Tiara, or to take a more ambitious tack and take on males in the Queen's Plate. Even more ambitiously, depending on how her connections rate her form on Polytrack versus her form on grass, she could be pointed to Woodbine's major turf stakes of the summer and fall, taking on older females, older males, or both. Those may be tough choices to make, and much will depend on how the filly comes out of her Woodbine Oaks effort. But, as Evans and Frostad would probably both agree, these are nice dilemmas to have.