In 1964 Northern Dancer captured the Kentucky Derby —in a then-record time—and Preakness Stakes to set up a bid for the Triple Crown. In a Belmont Stakes contested at Aqueduct Racetrack while Belmont Park was undergoing renovation, Northern Dancer challenged for the lead at the head of the stretch but faded to third as Quadrangle defeated Roman Brother. He ran just once more, capturing Canada's premier classic, the Queen's Plate, before a tendon injury ended his career.
It wasn't long, however, before Northern Dancer appeared as sire of a Triple Crown winner, albeit an English one, in Nijinsky II. A member of Northern Dancer's second crop, Nijinsky II, became the only horse since Bahram in 1935 to achieve that feat. As an aside, we can note that the undefeated Camelot, a great-grandson of Northern Dancer, has a chance at the English Triple Crown this year, having already won the QIPCO Two Thousand Guineas and Investec Epsom Derby (both Eng-I).
Northern Dancer went on to sire other Epsom Derby winners The Minstrel (out of a half sister to Nijinsky II) and Secreto, and several other European classic winners, including El Gran Senor, Shareef Dancer, Sadler's Wells, Northern Trick, and Lomond. But he was never represented by a winner of one of the U.S. Triple Crown events, in part, one suspects, because so many of his best offspring went to Europe.
Northern Dancer's unfinished business with the Belmont Stakes (gr. I) would have to wait until 1986, when his grandson Danzig Connection became the first Northern Dancer-line horse to take the third jewel in the Crown. (The same year, Nijinsky II's son Ferdinand had become the first Northern Dancer-line horse to take the Kentucky Derby (gr. I) although he was preceded for a win in a Triple Crown event by Gate Dancer, hero of the 1984 renewal of the grade I Preakness Stakes.) The year after Danzig Connection's Belmont victory, Bet Twice (a grandson of Nijinsky II), spoiled Alysheba's Triple Crown bid with a stunning 14-length triumph. Since then, Go and Go, Tabasco Cat, and Touch Gold (foiling a Triple Crown bid by Silver Charm) have also become Northern Dancer line Belmont Stakes winners.
Leading up to the 2012 classics, many speculated that another Northern Dancer-line colt, Union Rags , could be the horse to end the long wait for a 12th winner of the U.S. Triple Crown. Union Rags certainly shaped like a coming superstar in the first three starts of his career, including a 7¼-length victory in the Three Chimneys Saratoga Special Stakes (gr. II), and a 5¼-length score in the Champagne Stakes (gr. I) as a 2-year-old. A short-priced favorite for the Grey Goose Breeders' Cup Juvenile (gr. I), the Dixie Union son appeared certain to catch the front-running Hansen when he moved up to challenge in the stretch but swerved his chance away, losing both the race—by a head—and what had looked a near-certain Eclipse award as champion 2-year-old.
This year Union Rags kicked off his classic campaign with an impressive score in the Fountain of Youth Stakes (gr. II), but only finished third in the Florida Derby (gr. I), having been trapped inside by a rival for much of the trip. Second favorite for the Kentucky Derby, Union Rags was squeezed back at the start and was still back in 17th after six furlongs. Swinging to the outside in the stretch, he made good late progress, but at the wire was still back in seventh, 7½ lengths in arrears of I'll Have Another.
Having skipped the Preakness Stakes, and in the absence of I'll Have Another , Union Rags was made second favorite for the Belmont. This time he escaped from a compromising position to sneak through on the rail and deny by a neck a brave attempt by Paynter to lead from tape-to-wire.
With due acknowledgement to Dullahan—a two-time grade I winner, but not on the dirt—Union Rags was arguably the best credentialed of the Belmont contenders. The big question, as it so often is with the modern U.S. Thoroughbred—was of distance. The answer could be seen as Northern Dancer's two channels of influence in Union Rags' pedigree.
Union Rags is a male-line descendent of Northern Dancer. His grandsire Dixieland Band closed his stud career as the last top-class son of Northern Dancer available to U.S. breeders, retiring from service at the end of the 2008 breeding season. As a runner, Dixieland Band won the Pennsylvania Derby and Massachusetts Handicap (both gr. II), both at nine furlongs, but finished unplaced behind Caveat in his Belmont Stakes bid. Although his European runners included Drum Taps, twice winner of the 2½-mile Ascot Gold Cup (Eng-I), and the French classic victress Egyptband, in the U.S., Dixieland Band has not been regarded as an influence for stamina.
Union Rags' sire Dixie Union, who was euthanized July 14, 2010, at the age of 13, due to a deteriorating neurologic problem, was Dixieland Band's best U.S. runner and his most notable stallion son. He was a graded winner over six, 6½, and eight furlongs at 2. At 3, he did stretch out to nine furlongs to capture the Haskell Invitational (gr. I), but after finishing fourth over the 10 furlongs of the Travers Stakes (gr. I), dropped back to seven furlongs to win the Malibu Stakes (gr. I). As a stallion, his influence has tended toward the speedier end of the spectrum, although Gone Astray , Justwhistledixie, and Dixie City were graded winners at nine furlongs, and Grasshopper ran Street Sense (out of a Dixieland Band mare) to a half-length in the Travers Stakes (gr. I). In general terms, though, Dixie Union was not the first horse one would look to as a potential sire of a Belmont Stakes winner.
Union Rags' male line is not the only source of Northern Dancer in the pedigree, however. Union Rags' second dam Terpshichorist is a daughter of Nijinsky II and the English One Thousand Guineas heroine Glad Rags II (by the stamina influence High Hat). Terpsichorist was first of two notable runners produced by the Nijinsky II–Glad Rags II mating. The second was Gorytus, who looked like a coming superstar when on his first two starts he won the listed Acomb Stakes by seven lengths (while breaking the juvenile course record) and the Laurent Perrier Champagne Stakes (Eng-II). Long odds-on to confirm his standing in the Dewhurst Stakes (Eng-I), Gorytus trailed in more than 30 lengths behind winner Diesis. He raced on at 3 in England and at 4 in the U.S. but never showed a shadow of his earlier form, and frequently gave the impression that he was giving somewhat less than his best.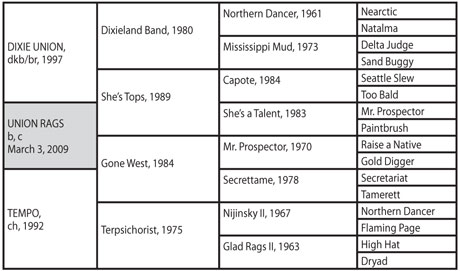 Terpsichorist was long-winded and excelled on the grass. Successful in the Sheepshead Bay Handicap (gr. IIT) and Long Island Handicap (gr. IIIT), she set a turf course record for 11 furlongs in the Rutgers Handicap at the Meadowlands. For good measure, Terpsichorist is also closely related to Snuggle (by Nijinsky II out of a daughter of Glad Rags II), the dam of 1993 Belmont winner Colonial Affair.
Union Rags' dam Tempo is a daughter of Gone West. Although that son of Mr. Prospector was best at around a mile and is primarily an influence for speed, he could get a distance runner from a mare with stamina in the background. Examples include 2000 Belmont Stakes captor Commendable, 2003 John Deere Breeders' Cup Turf (gr. I) dead-heater Johar, and Lassigny, who took the Rothmans Ltd. International Stakes (Can-IT).
As a runner, Tempo scored both her victories over six furlongs. Prior to Union Rags her most notable runner was his full brother Geefour, whose four wins were at six and 6½ furlongs, and who was stakes-placed at 5½ furlongs. Looking at Dixie Union, Tempo, and Geefour, the temptation on pedigree was to dismiss Union Rags from classic consideration. Still, his running style and the presence of Terpsichorist did leave a nagging suspicion that it might be unwise to do so. A final clue was consideration of Union Rags' physique. He is a sizeable individual, very different than the more compact and "typical" Northern Dancer type. He is, however, very reminiscent of Nijinsky II: a tall, rangy horse who was arguably resembled Northern Dancer less than any other of that horse's best sons. The result of the Belmont Stakes would argue that the Nijinsky II/Terpsichorist influence has carried the day in the case of Union Rags, and it illustrates vividly how the shuffle of genetic factors can create radically different individuals from the same mating.