In 1991 French and American champion juvenile male and European Horse of the Year Arazi displayed the most stunning turn of foot ever seen in the Breeders' Cup Juvenile (gr. I), sweeping by Bertrando to win going away. On the final day of June this year, Arazi's 6-year-old grandson Jeranimo showed a flash of the same magic, coming from last to first to score his first grade I win in the Shoemaker Mile. In doing so, the B. J. Wright color bearer scorched off his final furlong in the neighborhood of 11.2 seconds, a nice closing kick by anyone's standards and one that just may have earned him a chance to continue his grandsire's line at stud.
Bred in Florida by Brylynn Farm, Jeranimo is a son of Arazi's best son Congaree .
A grade I winner at ages 3, 4, and 5 whose top-level victories came over distances of seven, eight, nine, and 10 furlongs, Congaree won 12 of 25 lifetime starts and was rated the second best older male of 2003 behind Horse of the Year Mineshaft . He was also an Eclipse finalist in the sprint category that year, highlighting his versatility.
Those credentials were good enough to secure Congaree a place at stud at Adena Springs' Kentucky operation despite a less than fashionable pedigree. While Arazi himself was a beautifully bred horse, being by the excellent sire Blushing Groom from the top-class family of Dinner Partner (which also produced 1987 English and French champion sprinter Ajdal and the tough and consistent 1971 Santa Anita Derby winner Jim French), he proved a disappointing stallion and was sent to Switzerland in 2003 after stints in Kentucky, England, and Japan. His highweighted half brother Noverre (by Blushing Groom's good son Rahy) was likewise disappointing; although he did sire a few top-class individuals, among them 2009 Prix du Jockey Club (Fr-I) winner Le Havre and 2010 Preis der Diana-Deutches Stuten-Derby (Ger-I) winner Enora, he ended his stud career in India, where he died earlier this year.
Mari's Sheba, the dam of Congaree, was grade I-placed on the track, but has produced only two other winners from six named foals of racing age. (A yearling colt by Distorted Humor is her only other produce.) She is by the Northern Dancer horse Mari's Book out of English-bred Sheba Little (a winner by Known Fact), also the dam of 1992 Austrian Derby winner Rubico (by Big Spruce). Sheba Little, in turn, was produced from the French stakes-winning Bold Lad mare Come Back, whose dam Long Look (by Ribot) won the 1965 Epsom Oaks. This is a family that has produced some very good racehorses in its various branches, among them champion fillies War Plumage and Sensational, but has not been particularly strong as a source of sires.
Given such a background and a relatively modest pool of mates (his Comparable Index is 1.51, not bad but hardly top-drawer), Congaree has probably done about as well as can be expected, with 117 winners (42%) and 11 stakes winners (3.9%) so far from 279 foals of racing age. As has been the case with other moderately successful stallions that were top-flight racehorses, he has gotten a few very good offspring despite his inconsistency; his best beside Jeranimo are Irish champion 3-year-old filly Maoineach and 2011 Hollywood Starlet Stakes (gr. I) winner Killer Graces. Congaree currently stands at Highcliff Farm in New York.
Jeranimo is out of the stakes-winning mare Jera, whose sire Jeblar (by Alydar) was a fairly useful regional sire in Florida. Jera's dam, the winning Reviewer mare Mavera, also produced Frisson (by Fappiano), the granddam of multiple grade I winner and sire First Samurai and of 2011 Remsen Stakes (gr. II) winner O'Prado Again.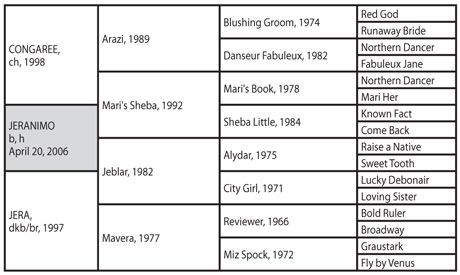 Mavera was one of only three foals produced by Miz Spock, a Graustark half sister to multiple grade III winner North of Venus (by Northern Dancer). The siblings were produced from multiple stakes winner Fly By Venus (by 1953 Kentucky Derby winner Dark Star), whose half sister Green Dolphin (by the good sprinter and speed sire Johns Joy) is the great-granddam of two-time champion sprinter Housebuster. Again, this is a family that has produced some good runners but is not particularly distinguished for sire power.
Thanks to his victory in the Shoemaker, Jeranimo now has a guaranteed slot in the Breeders' Cup Mile (gr. IT), which will be run at Santa Anita—literally home turf to Jeranimo, who won the Oak Tree Mile Stakes (gr. IIT) and was third in the Frank E. Kilroe Mile Stakes (gr. IT) at that track in 2011. Jeranimo also won the 2010 San Gabriel Stakes (gr. IIT) and Strub Stakes (gr. IIA) at the Arcadia oval. Just as he was in the Shoemaker, Jeranimo will probably be an outsider in the Breeders' Cup Mile, assuming he makes it to the starting post. But if he can get the jump on his rivals with the kind of closing run he displayed in the Shoemaker, anything is possible. And he has already done enough to ensure a chance at stud somewhere, giving the male line of Blushing Groom through Arazi a fighting chance at survival.