On the same weekend that Darley announced the retirement of Holy Bull from stud duty, his grandson Mucho Macho Man paid due tribute with a stunning victory in the Suburban Handicap (gr. II). A Florida-bred by Dr. Fager's close relative Great Above, Holy Bull is a representative of the Himyar branch of the oldest native American sire line, that going back to Eclipse (an English Derby winner imported in 1859, himself a fourth-generation descendent of the great founding father Eclipse foaled in 1764).
A winner of 13 of his 16 starts, Holy Bull was a truly great performer. He has undefeated in four starts at 2, including a victory over that year's champion 2-year-old, Dehere, in the Futurity Stakes (gr. I). He didn't fire when favored for the Kentucky Derby (gr. I), but earned honors as champion 3-year-old and Horse of the Year, scoring grade I wins in the Florida Derby, Metropolitan Handicap, Haskell Invitational Handicap, Travers Stakes, and Woodward Stakes as a sophomore.
Holy Bull was never a dominant sire, but he did better than many outstanding runners with somewhat uncommercial pedigrees, getting 45 stakes winners to date, including champion 2-year-old colt Macho Uno , Kentucky Derby (gr. I) captor Giacomo, and other grade I winners Flashy Bull, Confessional, Bishop Court Hill, and Pohave. The most talented of his offspring, Macho Uno, was also one of the best bred of the Holy Bulls, as his dam, the Blushing Groom mare Primal Force, also produced Awesome Again (who had a major scorer in the handicap ranks when Game On Dude took the grade I Hollywood Gold Cup on the same day as Mucho Macho Man's Suburban).
Winner of three of his four starts at 2, Macho Uno earned championship honors by defeating Point Given and Street Cry in the Breeders' Cup Juvenile (gr. I). Thereafter his career was hampered by injury and he made only 10 more starts over the next two seasons, although he did show that he'd retained plenty of ability with wins in the Pennsylvania Derby (gr. II) at 3 and Massachusetts Handicap (gr. II) at 4.
Macho Uno started his stud career in Florida but moved to Kentucky for 2008 (meaning his first Kentucky crop is now 3). To date he has 14 stakes winners from his Florida–sired crops and they include Macho Again, winner of the Stephen Foster Handicap (gr. I) and an earner of more than $1.8 million; Wicked Style, who gained a victory at the highest level in the Lane's End Breeders' Futurity (gr. I); Harlem Rocker, winner of the Canadian classic Prince of Wales Stakes and the Withers Stakes (gr. II). Macho Uno already has three stakes winners, including the 2012 Hollywood Oaks (gr. II) winner Potesta, from his first Kentucky crop.
Although he wasn't foaled until June 15, Mucho Macho Man came to hand early enough to establish himself as a classic contender, a four-length maiden win at Monmouth in September being followed by seconds to To Honor and Serve in both the Nashua and Remsen Stakes (both gr. II). Last spring, Mucho Macho Man earned his way into the Kentucky Derby Presented by Yum! Brands (gr. I), with a win in the Risen Star Stakes (gr. II) and a close third in the Louisiana Derby (gr. II). After an excellent third in the Derby itself, Mucho Macho Man ran as if in need of a break when sixth in the Preakness Stakes (gr. I)—admittedly after a rough trip—and seventh the Belmont Stakes (gr. I).
Put away for five months, Mucho Macho Man returned to prep for his 4-year-old campaign with an easy win in a Aqueduct allowance contest. His first start of 2012 saw him account for Ron the Greek and Turbo Compressor in the Florida Sunshine Millions Classic, a victory he followed up by a two-lengths win over Tackleberry and Jackson Bend in the Gulfstream Park Handicap (gr. II). Mucho Macho Man didn't really fire when third as favorite in the Alysheba Stakes (gr. II). However, he put that performance well behind him in the Suburban, cruising to a 2½-length score and running the nine furlongs in a very fast 1:46.58 without ever being asked a serious question.

Mucho Macho Man is the best runner to represent his immediate family for some time. His dam Ponche de Leona is a daughter of the Two Punch stallion Ponche. A horse who, if memory serves us well, stood at least 17 hands, Ponche took time to reach his best, and won three sprint stakes as a 6-year-old, breaking a track record for seven furlongs in one of those outings. Ponche de Leona was one of a handful of stakes winners sired by Ponche, earning black type with a win in the Anoakia Stakes at 2. Although she was speedy and precocious—she broke her maiden at 4½ furlongs—we should also note that Ponche de Leona won an allowance at Santa Anita over nine furlongs at 5.
Ponche de Leona represented a major upgrading over the recent achievements of the family, as no other black-type winners emerged under either Mucho Macho Man's second or third dams (respectively by Nonparrell, a good Canadian 2-year-old son of Hoist the Flag, and by Proudest Roman). Fourth dam Gal Sal was a stakes winner from a notable family. She was a half sister to the Del Mar Oaks heroine House of Cards, from whom descends such notables as Yonaguska, Halo Homewrecker, Honor the Hero, Cat's At Home, Prenup, Dream Empress, Guided Tour, Tap Day, Euphony, King's Mate, Possible Mate, and Jacksboro. Gal Sal's granddam Sunny Dale is a sister to Sunny Vale, from whom descends Dynaformer, Brian's Time, Sunshine Forever, Monarchos, Andover Way, Offlee Wild, and Darby Creek Road, to name but a few.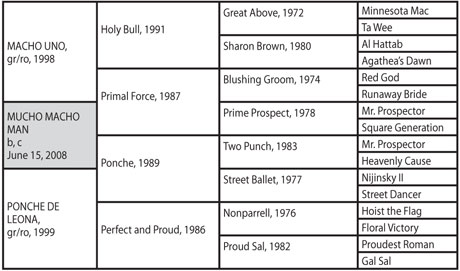 Holy Bull was generally disappointing with mares from the Mr. Prospector line, but Mucho Macho Man (TrueNicks A++) is one of two stakes winners by sons of Holy Bull out of mares descending from Mr. Prospector through Two Punch. It might be significant that Two Punch is out of champion Heavenly Cause, whose sire Grey Dawn II is also sire of the second dam of Holy Bull (and in addition has strong pedigree ties to The Axe II, the other grandsire of Holy Bull's dam).
Another point worth noting is that Mucho Macho Man's fifth dam Carolwood is by champion Swaps, a son of Khaled. An Aga Khan-bred son of Hyperion, Khaled is closely related to Aimee, the granddam of Blushing Groom, who appears as Macho Uno's broodmare sire. The Khaled strain is, admittedly, coming in at a generational distance that, if considered from the standpoint of Mendelian inheritance, renders its potential impact as neglible. But if we look at the pedigrees of Macho Uno's best runners we see that Khaled is in the dams of four of his seven graded winners (57%) and 11 of his 17 stakes winners (65%)—and we're fairly sure that Khaled isn't in 64% or even 57% of the U.S. broodmare population.

Also read: Mucho Macho Man, Mucho Magnifico, a pedigree analysis of the colt as he prepared for the 2011 Triple Crown season; and On the Fate of the Holy Bull Male Line, a recent MarketWatch Blog post about the precarious Plaudit branch of Himyar's stallion line.