Stallion Tax Exemption in Ireland is Threatened
by Mark Popham
Date Posted: 11/18/2002 3:09:26 PM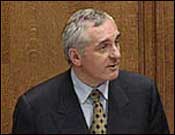 Irish prime minister Bertie Ahern.


Ireland's thriving bloodstock industry would be dealt a huge blow if attempts to remove the tax-free status of fees earned by stallions standing in the country were successful.The tax exemption was introduced in 1969 by the former Taoiseach (prime minister), Charles Haughey, who was finance minister at the time. It has enabled the Irish bloodstock industry to develop strongly and enjoy unparalleled prosperity, especially for the major players like Coolmore, which is widely regarded as the world's leading stud operator.The current Taoiseach, Bertie Ahern, revealed that the tax-free status of stallion fees is to be looked at ahead of Irish budget day Dec. 4 as part of a wide-ranging review of fiscal policy. The review comes after continual criticism from opposition politicians that wealthy stallion owners are getting even richer at a time when Ireland has a substantial budget deficit and increased borrowings, with public services being cut.Irish Labour Party leader Pat Rabbitte asked recently: "Why should an incentive considered necessary for a fledgling industry back in the 1960s be continued when such huge profits are being made?"Rabbitte called the exemption scandalous, and claimed that it costs 100 million euros a year. References to the stallion-fee exemption have been featured in two of his most recent statements. Stallion owners are seen as an easy target by the opposition Labour Party.If the income from stallion fees was taxed, Ireland would inevitably lose its competitive advantage and stallions could be moved to other countries around the world. The Irish Thoroughbred Breeders' Association issued a strong statement Nov. 18 in defense of the tax concession.The association claims the United States is the premium breeding market, and stud fees are 50% higher there than those achievable in Ireland. Without the Irish tax incentive, business considerations would dictate that many Irish-based stallions would move to the U.S."Broodmares will follow the stallions, and within five years, bloodstock breeding will be as moribund as in (Great Britain) or France...Without the tax exemption and the edge it gives the Irish industry, there is no reason that the Irish Thoroughbred breeding industry will not regress to the cottage industry it once was."The ITBA pointed out:--Only stallions fees are exempt from tax, all other sections of the Irish bloodstock industry are taxed, and income earned by Irish stallions based overseas is also subject to Irish tax.--The stallion exemption is the only tax concession received by the bloodstock industry in Ireland, which has much smaller domestic market than the other main breeding countries such as the U.S., Australia, and Japan, which also support their bloodstock industries.--The stallion exemption has been crucial to the development of the Irish bloodstock industry.--Total turnover from the sale of Irish nominations is probably less than 100 million euros, not the 300 to 400 million euros suggested elsewhere.
--The Irish bloodstock industry employs 25,000 people, with 5,200 fully dependent on breeding. Half of those jobs would be at risk.--Before 1969, successful Irish racehorses were sold to America. They now remain in Ireland, which in turn has attracted owners of broodmares to locate and invest. In 2001, there were 15,500 broodmares in Ireland, more than double the 1984 figure.--Ireland exports 85% of yearlings each year, which produces 140 million in taxable euros.--No single Irish stud operation owns more than 15% of the total number of stallions.Said Brian Kavanagh, chief executive of Horse Racing Ireland: "I think everybody agrees that the tax exemption on stallion fees has been an outstanding success. Ireland is a world leader in racing and bloodstock."As a result of the exemption, a large number of foreign investors have bought land in Ireland and their bloodstock here. They have access to the best stallions in the world, and that gives rise to employment."Of Coolmore's decision to base the record-breaking Rock of Gibraltar in Ireland for his stud career, Kavanagh said: "There was a very clear decision to be made with Rock Of Gibraltar: Would he stand in Ireland or America? It was decided that he should stand in Ireland, and that brings consequent benefits."If these horses stand outside Ireland, the mares move to that location, and so do the stud farms."



Copyright © 2015 The Blood-Horse, Inc. All Rights Reserved.