In Roald Dahl's novel Charlie and the Chocolate Factory, candymaker Willy Wonka hides five Golden Tickets in the wrappers of his chocolate bars, each ticket constituting a pass to his mysterious candy factory and a lifetime supply of chocolate. For the young hero, Charlie Bucket, the Golden Ticket turns out to be even more: After passing the varied tests of character set up by the eccentric Wonka, Charlie finds himself made Wonka's apprentice and heir, going from a life of poverty to one of unimaginable wealth and creativity.

Montana-based Magic City Thoroughbreds cashed in a Golden Ticket of its own Aug. 25 when its colt of that name dead-heated with favored Alpha for the historic Travers Stakes (gr. I). If the equine Golden Ticket did not make his owners' fortune, he certainly contributed to it with his $400,000 share of the Travers purse—and by going from maiden winner to grade I hero, he also opened up the possibility of further earnings as a potential stallion.

Bred by WinStar Farm, Golden Ticket is a son of 2004 champion sprinter Speightstown , who has been having a good year in 2012. Currently third on the general sire list, the WinStar stallion is represented by 15 individual stakes winners so far this year including upset Alfred G. Vanderbilt Handicap (gr. I) winner Poseidon's Warrior , multiple Canadian grade III winner Essence Hit Man, and Winning Colors Stakes (gr. III) winner Island Bound. While Speightstown did not stand his first season at stud until age 7, he has been making up for lost time; from his first four crops, the stallion has 272 winners (69%) and 37 stakes winners (9.42%) from 393 named foals. He has also proven more versatile than many people expected; although the bulk of his runners have been sprinters and milers, Golden Ticket is his second grade I winner at the American classic distance of 10 furlongs, following 2010 Jockey Club Gold Cup (gr. I) winner Haynesfield.

Speightstown is a son of Gone West, one of the many good stallions sired by Mr. Prospector. A lesser light in a vintage crop headed by Alysheba, Bet Twice, Gulch, and Java Gold, Gone West was nonetheless good enough to win the 1987 Dwyer Stakes (gr. I) and two grade II races before retiring to stud. There, his beautiful pedigree (produced from the stakes-winning Secretariat mare Secrettame, from the family of successful sires Known Fact and Tentam) and excellent conformation helped propel him to the head of the class. The sire of 98 stakes winners at the time of his death in 2009, Gone West reached the century mark on Jan. 13, when his son Treble Jig won the Jebal Ali Stakes Sponsored by Shadwell in Dubai. His final foals are 2-year-olds of this year, and he is represented by sire sons Elusive Quality, Istan, and Proud Citizen, among others.

A maternal grandson of another top sire in Storm Cat, Speightstown is out of 1995 Canadian champion juvenile filly Silken Cat, whose dam Silken Doll (a half sister to grade I winner Turk Passer, by Turkoman) is a stakes-winning daughter of Chieftain. While Chieftain is not much remembered now, he was one of the better sprinter-milers among Bold Ruler's sons. He was also a good stallion with 43 stakes winners to his credit from 491 foals, including 1977 champion older mare Cascapedia, Handicap Triple Crown winner Fit to Fight, multiple grade I winner Lucky Lucky Lucky, and Imsodear, dam of 1975 champion juvenile filly Dearly Precious and third dam of Giant's Causeway.

Golden Ticket undoubtedly draws some of his stamina from his broodmare sire Deputy Minister, also the broodmare sire of Belmont Stakes (gr. I) winners Rags to Riches, Jazil, and Sarava; United Nations Stakes (gr. IT) winner Request for Parole, and two-time Horse of the Year Curlin . The dam of Golden Ticket, Business Plan, showed no such talent on the track but was well bred, being out of grade III winner Good Mood (by 1983 champion juvenile male Devil's Bag). Good Mood was, in turn, one of three graded stakes winners produced from Mine Only, who is also the granddam of 1998 Ashland Stakes (gr. I) winner Well Chosen (by Deputy Minister) and 1996 Cherry Hill Mile Stakes (gr. III) winner In Contention (by Devil's Bag) through her non-winning Secretariat filly Chosen Lady.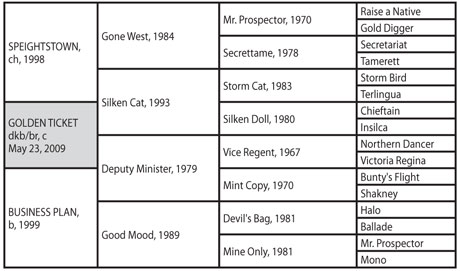 A daughter of Mr. Prospector, Mine Only won only once from eight tries but is a full or half sister to three stakes winners produced from Mono, by Better Self. Mono, in turn, is out of Sin Igual, a full sister to 1946 Triple Crown winner Assault and a direct descendant of the immortal Man o' War's full sister Masda. If this last sounds familiar, it should: This is also the female family of 2011 Travers hero Stay Thirsty , who descends from Sin Igual's full sister Equal Venture.

This year's renewal of the Travers was weakened by early retirements and illness among the division's notables, and both Alpha and Golden Ticket will have to step up their games to be considered major contenders in a 3-year-old division still led by the now-retired I'll Have Another . Nonetheless, Golden Ticket now has a much-sought grade I win on his resume, virtually guaranteeing that he will get a chance at stud somewhere. Where that chance will come will depend on the class and consistency he is able to show during the remainder of his racing career.