Bargain-basement youngsters that have made good are an old and popular story in horse racing, giving even modestly funded owners hope they may find a good one among the overlooked offerings at a sale. With his win in the Del Mar Futurity (gr. I), Rolling Fog has just added another chapter to that tale. A $7,500 yearling at the 2011 Ocala Breeders' Sales winter mixed event, the colt is now a grade I winner with earnings of $222,000. Even considering that current owner Arnold Zetcher paid $62,000 for the colt at the 2012 OBS April 2-year-olds in training sale, that's still a pretty good return on an investment.

Bred in Florida by British Mist Racing and Breeding, Rolling Fog is the third grade I winner for 2003 Riva Ridge Breeders' Cup Stakes (gr. II) winner Posse, the leading freshman sire of 2007. Also the sire of 2007 Canadian champion juvenile male and 2009 U.S. champion sprinter Kodiak Kowboy and of multiple grade I winner and 2011 Eclipse finalist Caleb's Posse , Posse is the leading son of Silver Deputy at stud with 16 stakes winners to his credit. He currently stands at Vinery New York at Sugar Maple for an advertised fee of $10,000.

Posse has had quite an uneven career so far in terms of quality, as nine of his stakes winners (including Kodiak Kowboy and graded winners No Advantage and Lantana Mob) were from his first crop; Caleb's Posse is the only stakes winner from his fourth crop, and Rolling Fog is the first to emerge from his sixth. He is consistent about getting winners, though; of his 423 foals aged 3 and over, 267 (63%) have found the winner's circle, and 87 (21%) of them broke through as juveniles.

Rolling Fog is the third winner and first stakes winner from seven foals of racing age out of Fog Dance, a daughter of Unbridled's Song. Out of the Lyphard mare Misty Dancer, Fog Dance is a half sister to restricted stakes winner Quiet Dance (by Quiet American), dam of 2005 Horse of the Year Saint Liam, 2011 Hill 'n' Dale Molly Pitcher Stakes (gr. II) winner Quiet Giant (by Giant's Causeway ), 2004 Bay Meadows Derby (gr. IIIT) winner Congressionalhonor (by Forestry), and stakes winner Dance Quietly (by A.P. Indy).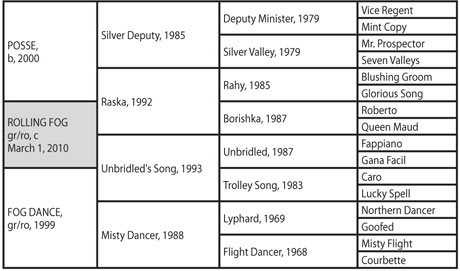 Fog Dance and Quiet Dance are from a branch of the family of the great Gallorette developed by the late Edward Evans. The champion handicap mare of 1946, Gallorette won 21 of her 72 starts and placed another 33 times while facing such male stalwarts as Armed, Assault, Stymie, Polynesian, Lucky Draw, First Fiddle, and Rico Monte. That record earned her induction into the National Museum of Racing Hall of Fame in 1962.

Evans got involved with Gallorette's family via Flight Dancer, a stakes-placed daughter of Misty Flight out of Gallorette's daughter Courbette and so a half sister to 1967 Jockey Club Cup winner Dancing Moss (by Ballymoss), the leading Argentine sire of 1973. A daughter of Native Dancer, Courbette was not as talented as her dam but proved more precocious, winning the Waterford Testimonial Stakes as a juvenile in Ireland. Misty Flight was a somewhat similar case to Courbette; although the winner of the Remsen Stakes as a juvenile, more was expected of him as a son of the top stayer and sire Princequillo out of the fabulous broodmare Grey Flight, a stakes winner herself and dam of nine stakes winners all told. Helped by his superb pedigree, he sired 19 stakes winners but appears in pedigrees today mostly through Flight Dancer.

From Flight Dancer, Evans bred three important fillies: Misty Dancer, Misty Gallore (by Halo), and Minstrella (by The Minstrel). The former waited until age 4 to find her best form; that year, she won all five graded stakes races of her career, including the 1980 Hempstead Handicap (gr. II), and was second in three grade I events. She produced only six living foals but made her mark with Silver Ghost, a Mr. Prospector colt who became a good sire despite failing to win a stakes race. Minstrella, on the other hand, was a first-rate juvenile, earning championship honors for her age and gender in Ireland by winning the 1986 Moyglare Stud Stakes (Ire-I) against fillies and the Heinz 57 Phoenix Stakes (Ire-I) against males. She failed to train on after adding the Tattersalls Cheveley Park Stakes (Eng-I) as a juvenile but as a broodmare produced 1998 Shuvee Handicap (gr. II) winner Colonial Minstrel (by Pleasant Colony), 1994 Chicago Budweiser Breeders' Cup Handicap (gr. III) winner Minidar (by Alydar), and multiple listed stakes winner Unrestrained (by Unbridled), all bred by Evans, who also co-bred Silver Ghost. Other graded stakes winners Evans bred from this family are A Little Warm (by Stormin Fever—Minidar), winner of the 2010 Jim Dandy Stakes (gr. II) before being exported to Uruguay for stud duty; and Mini Sermon (Pulpit—Ministorm, by Storm Cat—Minidar), winner of the 2007 Top Flight Handicap (gr. II).

Much like their sire, most of Posse's progeny have been at their best at a mile or less, and most of the better runners sired by Rolling Fog's broodmare sire Unbridled's Song have scored their major wins at eight or nine furlongs, though he has sired Suburban Handicap (gr. I) winner Political Force. That would suggest that Rolling Fog is likeliest to be a miler, but he cannot be counted out yet for longer distances. With the classic influence Lyphard as the sire of his second dam and a family as solid as Gallorette's behind him, he would seem to have a good chance of being able to handle at least nine furlongs as he matures. He should have that opportunity as a 3-year-old, and it's likely he won't run again until his sophomore season. With his Del Mar Futurity win, Rolling Fog had earned a guaranteed berth in the Grey Goose Breeders' Cup Juvenile (gr. I), but trainer Bob Baffert indicated in mid-September that bucked shins will keep the gray or roan colt from the November event at Santa Anita.