(Since this article was written, a fourth son of Dynaformer, Nicanor, another full brother to Barbaro, was retired to Shamrock Farm in Maryland.)
Dynaformer's death in April left a unique void in the American stallion market. One of the few unquestioned sources of stamina among U.S.-based sires, he was also one of the few with strong appeal to European buyers. Yet he lacks a clear successor in the United States; with the exception of the ill-fated Kentucky Derby Presented by Yum! Brands (gr. I) winner Barbaro and the late Shadwell Turf Mile Stakes (gr. IT) winner Purim, who died in January after siring just four crops, most of his best entire sons raced abroad.
Nor was Dynaformer's proclivity for siring late-maturing stock with a taste for grass and distance the kind of thing to make his sons popular with North American breeders. At the opening of the 2012 Northern Hemisphere breeding season, only 16 sons of Dynaformer were listed as being at stud in North America, and none really had the combination of racing quality and pedigree to draw decent mare support.

That may be about to change. While no retirement announcement has been made regarding the Phipps Stable's multiple grade I winner Point of Entry (see Point of Entry Could Be Dynaformer's Heir), who at this point seems more likely to continue racing in 2013, three other Dynaformer sons will enter the breeding shed next year. Two, Americain and Lentenor , will stand their first seasons at historic Calumet Farm; the third, Brilliant Speed, will stand at Three Chimneys as a hoped-for replacement for his sire.

Of the three, Americain is by far the most accomplished. Winner of the Emirates Melbourne Cup (Aus-I) in 2010, he was named European champion stayer that year based on the form he had shown in France in winning three races (including the Darley Prix Kergorlay, Fr-II) at about 15 furlongs. Americain was named champion stayer in Australia in 2011 and also repeated as French highweight older male in the 14 furlong-plus category that year.

Americain's only win at less than 12 furlongs came in his maiden race, a seven-furlong juvenile event at Chantilly. Nonetheless, he was not simply a long-winded grinder. He had the ability to quicken well at the end of a long race, and in the 2010 Centrebet.com Geelong Cup (Aus-III)—his prep for the Melbourne Cup—he demonstrated surprising agility for a horse of his size and stride to get up and win after being blocked and hampered repeatedly during the final three furlongs. That kind of athleticism is valuable in any racehorse regardless of the distance contested.

Americain's pedigree also does not suggest the pure plodder (see Americain International). His dam America, a daughter of the brilliant Arazi, stayed 12 furlongs well but was a group winner in France at about nine furlongs, and his granddam Green Rosy was sired by Green Dancer, winner of the 1975 Poule d'Essai des Poulains (Fr-I). To be sure, Americain probably will need help from his mates in getting horses quick enough to succeed at the shorter distances common in American racing, but there is no shortage of that type of mare in the U.S. breeding pool. The trick for his managers will be to obtain mares for him that have the needed strong quarters and power to generate speed without being too blocky or short-legged to be a good overall match for him in type.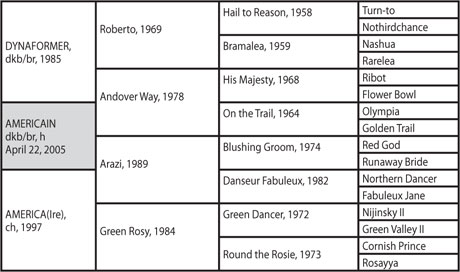 Brilliant Speed is more of an enigma. While he is the winner of the 2011 Toyota Blue Grass Stakes (gr. I) and Saranac Stakes (gr. IIIT), he has only three wins in 21 lifetime starts. Nonetheless, he flashed some real ability in the Blue Grass, running his final three furlongs in the neighborhood of :35 3/5. In the one-mile Dania Beach Stakes at Gulfstream Park, he put in another sharp finishing move, running his final quarter in about :23 2/5 to miss by a nose. He also had enough versatility to be grade I-placed on dirt, running third in the Belmont Stakes.

Brilliant Speed was produced from the unraced Gone West mare Speed Succeeds, also the dam of 2011 Remsen Stakes (gr. II) runner-up Souper Speedy . A $1.45 million yearling purchase at the 2002 Keeneland September sale, Speed Succeeds is out of multiple listed stakes winner Daijin (by Deputy Minister), a full or half sister to four other stakes winners including 1989 Canadian Triple Crown winner With Approval (by Caro) and 1997 Belmont Stakes (gr. I) winner Touch Gold (by Deputy Minister). This is a family that in its recent production has tilted more toward middle-distance stamina than speed, but Daijin was quick enough to run third in the 1995 Test Stakes (gr. I) over seven furlongs, and her dam Passing Mood (by Buckpasser) was a stakes-winning juvenile. Like Americain, Brilliant Speed probably will need mates quicker than he to be an effective sire for North American racing.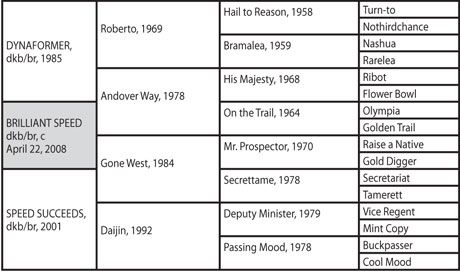 Lentenor was less accomplished on the track but will draw his share of interest as a full brother to Barbaro. Produced from La Ville Rouge, a daughter of the quick Mr. Prospector horse Carson City, he was more of a miler type than the other two, winning the 8 1/2-furlong Kitten's Joy Stakes on turf at Colonial Downs and setting a course record of 1:40.95 for about 8 1/2 furlongs at Tampa Bay Downs. He also showed respectable form on dirt when running fourth behind Ice Box in the 2010 Florida Derby (gr. I).

Second in the Tempted Stakes (gr. III) as a juvenile, La Ville Rouge placed in three graded events at 4, two of them on turf. A full sister to multiple listed stakes winner Lucky Lavender Gal and a half sister to 1991 California Derby (gr. III) winner Green Alligator, she is out of the King's Bishop mare La Reine Rouge, a full sister to grade III winner La Reine Elaine and herself winner of the Toddler Stakes as a juvenile. This is a family that, if not quite as strong as those of either Brilliant Speed or Americain, has shown a bit more speed and precocity.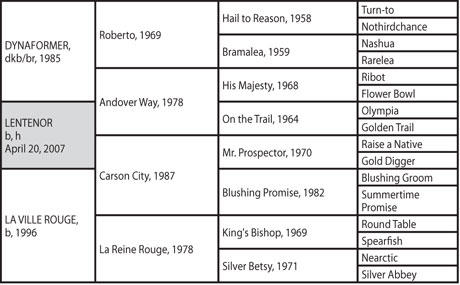 None of these horses is guaranteed the kind of success at stud their sire enjoyed—but, then, Dynaformer himself was an unlikely success story, rising from an unheralded grade II winner with an initial advertised stud fee of $5,000 to the top echelons of American breeding. It is to be hoped that one of his sons can beat the odds and continue his legacy.

See also: Classic Hopes in Calumet's Renewal