(Originally from the January 5, 2013 issue of The Blood-Horse)

Over the last seven years 16 different horses by the great sire Galileo out of mares by the great sire and broodmare sire Danehill have won black-type races, six of them classic winners or champions. The convergence of bloodlines that overwhelming success represents may in fact be the principal—if not the only—impediment to the stud career of the best representative of that cross, the mighty Frankel.

Frankel retires to stud this year at Khalid Abdullah's Banstead Manor Stud in Newmarket as the undefeated winner of 14 races and owning the reputation as the greatest horse to race in England in the contemporary era. As an all-time great racehorse, the chances of Frankel's being a complete failure in his second career are virtually nil. Among the great horses of the 20th century who earned anything like that kind of acclaim during their racing careers, even America's Citation and England's Brigadier Gerard, both widely regarded as failures at stud, sired classic winners.

Whether Frankel can become a truly epochal sire to compare with the undefeated Italians Nearco and Ribot hinges on just how well his pedigree meshes with the pedigrees of the best racemares and broodmares of his era.

Frankel's sire, Galileo, has led the English sire list three out of the last four years, and will surely do so again. Galileo's sire Sadler's Wells broke just about every record for a European stallion, leading the sire list a record 13 consecutive years, and 14 out of 15. Sadler's Wells was deposed as leading sire in 2005 by Danehill, sire of Frankel's stakes-winning dam, Kind.

Sadler's Wells took over as leading broodmare sire in England in 2005 and topped that list for the next six years until supplanted by Danehill in 2012.

Since few breeders like to inbreed 3x3 or closer, Frankel's pedigree effectively eliminates daughters or granddaughters of the three best sires of the last 20 years in Europe, Galileo, Sadler's Wells, and Danehill, as potential mates. That turns out to be quite a substantial proportion of the potential pool of high-class racemares and well-related fillies that breeders might consider spending £150,000 on for a nomination to Frankel.

For example, over the last five years in England, Ireland, and France, 71 different fillies have won at least one of the 22 group I races in those three countries restricted to females (not including fillies such as Danedream who beat colts in open group Is). Of those 71, 28—almost 40%—are either by Galileo or carry Sadler's Wells or Danehill in the first two generations. In other words mating almost 40% of the best fillies in Europe over the last five racing seasons with Frankel would create 3x3 inbreeding or closer, a degree of incestuousness most breeders try to avoid.

Although the Juddmonte management will almost certainly prefer top racemares over less talented runners for Frankel's book, the issue goes deeper. In his incredibly prolific stud career, Sadler's Wells, Frankel's paternal grandsire, sired 1,147 fillies, including 123 black-type winners. Obviously many of those are dead or otherwise out of service, but there are perhaps several hundred Sadler's Wells mares 10 years old or younger that would be eagerly accepted in almost any other stallion's book.

Similarly, Danehill sired 651 fillies, including 83 black-type winners, in the Northern Hemisphere alone, which are unlikely to appear in Frankel's book. Likewise, top fillies by sons of Sadler's Wells and Danehill such as Montjeu, Danehill Dancer, Dansili, or out of mares by Sadler's Wells or Danehill would produce what is usually considered excessive inbreeding.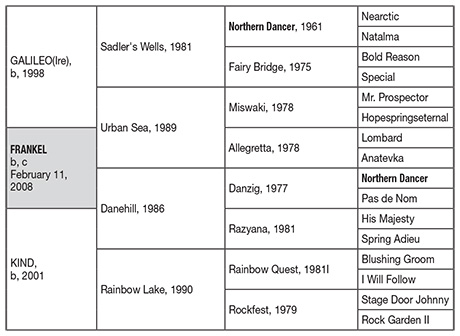 Since Frankel is the product of a cross between the two most powerful current forces in the English Stud Book, he will be largely deprived of the benefits of those bloodlines in forging his own stud career.

That does not mean that his book will be bereft of quality mares or quality bloodlines. Indeed, Abdullah owns three of the 43 female European group I winners of the last five years who would not produce excessively close inbreeding (Announce, Midday, Special Duty) when mated with Frankel. It would be surprising if one or more of those names do not appear in his first book. One can hardly imagine a more interesting prospect 31⁄2 years hence than the 2-year-old debut of the offspring of Frankel and Juddmonte's champion Midday, by Oasis Dream.