(Originally from the January 12, 2013 issue of The Blood-Horse)
One of the surprise stallion developments of 2012 is Spring At Last, who finished second behind Henrythenavigator on the year-end first-crop sire rankings. Because he was unraced at 2 and didn't win a stakes until he was 4, Spring At Last might not be expected to get early developers, but he's a son of Silver Deputy, after all.

From the first crop of Deputy Minister, Silver Deputy was undefeated in two starts at 2, and after Awesome Again , is the most-accomplished son of his sire at stud. Silver Deputy's progeny demonstrated his own precocious speed, although a few stretched out including champion Silverbulletday, Canadian champion Archers Bay, and Crown Attorney. Silver Deputy's son Posse locked in the leading first-crop sire title in 2007.

Spring At Last's dam Winter's Gone, was bred to stay all day, being by Dynaformer out of a mare by Graustark. Winter's Gone also produced the good fillies, Sharp Lisa, a grade I winner by Dixieland Band, and Sharp Susan, a grade II winner by Touch Gold (also a son of Deputy Minister). She has emulated her mother, Stark Winter, as a top producer, and one reason may be her unique inbreeding. Dynaformer was by Roberto out of a mare by His Majesty; and Stark Winter was by Graustark, a full brother to His Majesty, so Winter's Gone is 4x3 to the brothers' parents Ribot and Flower Bowl. Thoughtfully inbred animals can become valuable breeding stock, and Winter's Gone is a prime 
example.

As Spring At Last is by a dominant sprinter and out of a mare bred to stay all day, this mix of aptitudes might account for his versatility. He won from six to nine furlongs on dirt, turf, and synthetic surfaces. His breakthrough came at 4, when winning the Etisalat Godolphin Mile (UAE-II), after seconds in the Malibu Stakes (gr. I) and Strub Stakes (gr. II). Laid off after his victory in Dubai, Spring At Last came back to win one of two more races at 5, including the nine-furlong Donn Handicap (gr. I), before retiring to stud at WinStar Farm in 2009.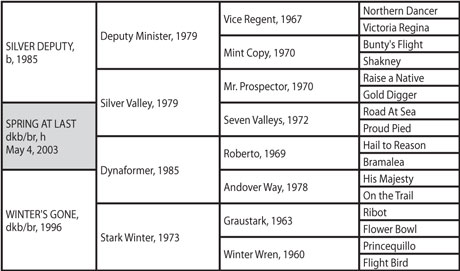 His first crop has generated four stakes winners so far, all fillies. The first was A Lover's Question, winner of the Jamestown Stakes, over turf at Colonial Downs. Out of Kelly's Question, by Mr. Greeley, A Lover's Question is bred on the reverse cross as Mr. Greeley's top runner El Corredor (out of Silvery Swan, by Silver Deputy). She is inbred 4x4 to Mr. Prospector through Silver Deputy's dam, Silver Valley, and Mr. Greeley's grandsire Gone West.

Spring At Last's Spring Venture won the Natalma Stakes (Can-IIT) over the turf at Woodbine, and later the Mazarine Stakes (Can-IIIT) on the same course. Her dam is Zahwah, by Rahy out of Funistrada, by Fappiano. She's bred similarly to Posse, by Silver Deputy out of a Rahy mare. Like A Lover's Question, Spring Venture is inbred 4x4 to Mr. Prospector, through Silver Valley and Fappiano.

Another Spring At Last filly, Spring in the Air, was second in the Natalma and won her next start, the Darley Alcibiades Stakes (gr. I), over the Polytrack surface at Keeneland. She's out of Unbridled Run, by Unbridled out of Royal Run by Wavering Monarch, and is also 4x4 to Mr. Prospector. Like Spring Venture, her dam has that second cross through Fappiano.

Spring At Last's fourth stakes winner is Seaneen Girl, winner of the Golden Rod Stakes (gr. II) on the dirt at Churchill. Her dam, Afternoon Krystal, is by Afternoon Deelites out of Win Right Now by Waquoit. Unlike the other three, she's not doubled up on Mr. Prospector, but has inbreeding of another sort.

Seaneen Girl's granddam, Win Right Now, by Waquoit out of Chalice of Silver by Graustark, is inbred 4x2 to Graustark, also the sire of Waquoit's second dam. This picks up on the pattern in Spring At Last, whose dam is inbred to Graustark and his brother His Majesty, so Seaneen Girl has four crosses of Ribot and Flower Bowl in seven generations.

It's too early to say what bloodlines Spring At Last will work best with, but his early stakes winners are out of mares by Unbridled, Rahy, Afternoon Deelites, and Mr. Greeley, a pretty diverse set of broodmare sires. Three of these stakes winners are inbred to Mr. Prospector, two through Fappiano. The fourth continues the linebreeding already found in Spring At Last's dam, with the brothers His Majesty and Graustark.

It will be interesting to see how Spring At Last's first crop matures and if he comes up with some classic runners, given his dam's staying pedigree.