While 2012 juvenile champion male Shanghai Bobby proved himself both game and consistent in his undefeated 2-year-old campaign, he did not exactly stamp himself as invulnerable, lasting to win the Grey Goose Breeders' Cup Juvenile (gr. I) by just a head over maiden winner He's Had Enough , while posting a slow final five-sixteenths. That did not bode well for facing an opponent with better finishing speed later on, and Shanghai Bobby ran into just such a horse Jan. 26 in his 3-year-old debut, the Holy Bull Stakes (gr. III). Getting a fine stalking trip on the outside, Itsmyluckyday rolled by Shanghai Bobby in the stretch to win the Holy Bull by two lengths. Not only was the final time of 1:41.81 a new track record for Gulfstream Park, but the final five-sixteenths went in :31.12, better than two seconds faster than the comparable fraction in the Breeders' Cup Juvenile.

In fairness to Shanghai Bobby, the colt came home well after being pressed every step of the way and was giving away a bit in seasoning to Itsmyluckyday, a sharp winner of the one-mile Gulfstream Park Derby on Jan. 1. But with back-to-back impressive performances under his belt, Itsmyluckyday looks like a colt with a good future ahead of him, which has to make owners Trilogy Stable and Laurie Plesa (wife of the colt's trainer, Eddie Plesa Jr.) very happy.

Bred in Kentucky by Liberation Farm & Brandywine Farm, Itsmyluckyday is by the late Lawyer Ron, the champion older male of 2007. A son of 1996 Canadian champion sprinter Langfuhr (by Danzig) out of the Lord Avie mare Donation, Lawyer Ron earned his title with a consistent 4-year-old campaign that saw him out of the money only once in eight starts. His biggest victories were both at Saratoga, where he won the Whitney Handicap and Woodward Stakes (both gr. I) back to back, setting a new track record for nine furlongs in the former. He followed up those performances by finishing a neck behind eventual Horse of the Year Curlin in the Jockey Club Gold Cup (gr. I).

Retired after an unplaced performance in the slop of the 2007 Breeders' Cup Classic Powered by Dodge (gr. I), Lawyer Ron stood just two seasons at Stonewall Farm Stallions near Versailles, Ky, before being euthanized due to complications of colic. During that time, he sired 146 named foals, of which 56 have won and eight have won stakes to date. Those statistics should improve, given that his second and final crop are only 3-year-olds of 2013. His best other than Itsmyluckyday have been Drill , winner of the 2011 Del Mar Futurity (gr. I), and Stealcase, winner of the 2012 Ontario Derby (Can-III).

On the distaff side, Itsmyluckyday traces to the highly inbred Dorothy Gray, who was sired by Hamburg (a son of Lady Reel, a half sister to the great runner and sire Domino) out of Domino's full sister Mannie Himyar. Dorothy Gray was, thus, inbred 3x2 to Domino's dam Mannie Gray. She was also linebred 5x5x6x6x4x5x5 to Lexington.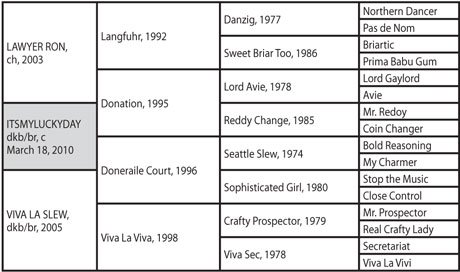 Dorothy Gray produced the 1919 Adirondack Handicap winner Grayssian (by Hessian), but neither she nor her daughters produced anything else of stakes caliber. After two generations of outcrosses to imported sires, Dorothy Gray's granddaughter Mirthful (by North Star III) was bred to the Domino-line stallion Bunting, whose second dam was sired by Hamburg. The result was Miss Bunting, a multiple stakes winner and better broodmare whose three stakes winners included the back-to-back Futurity Stakes winners Occupation (1942) and Occupy (1943).

All of Miss Bunting's stakes winners were sired by Bull Dog, whose sire Teddy had crossed fruitfully with Domino blood via his daughter La Troienne. Bull Dog was also the sire of Miss Bunting's winning daughter Draeh. While she produced the stakes winner Nevada P. J. (by Prince John), Draeh made a more significant contribution to the breed via her daughter Happy Go Fleet (by Count Fleet), dam of the good racer and sire Fleet Nasrullah. Perhaps not coincidentally, Happy Go Fleet added an extra strain of Domino's family to the buildup passed through her dam via Count Fleet's maternal grandsire Haste, a grandson of Domino's speedy full sister Correction.

Draego, who was closely related to Happy Go Fleet as she was by Count Fleet's full brother Count Speed out of Draeh, proved a solid allowance-class runner but spent most of her broodmare career being mated to indifferent stallions. The results were predictable, but she did produce one good runner, multiple grade III winner Viva La Vivi, to the cover of 1954 Arlington Futurity winner Royal Note, a horse linebred 6x6x5 to Domino.

As with most of the good runners produced from her female line, Viva La Vivi's stock in trade was speed, and this proved predominant when she produced her daughter Viva Sec to the cover of Secretariat. A multiple stakes winner over sprint distances, Viva Sec also placed in two grade III events before a rather frustrating broodmare career in which she produced five stakes-placed runners from her first six named foals without ever throwing a stakes winner. Her unraced daughter Viva La Viva (by Crafty Prospector) has fared better in the paddocks, producing the stakes-winning More Than Ready mare Ready to Live and multiple Mexican stakes winner Medaglia d'Orizaba (by Medaglia d'Oro) as well as stakes-placed Viva La Slew (by Doneraile Court), dam of Itsmyluckyday.

Like many other colts on this year's Triple Crown trail, Itsmyluckyday has a pedigree that is ambiguous at best as to his prospects for getting classic distances. While his sire, Lawyer Ron, stayed well enough to give Curlin a real battle in the 10-furlong Jockey Club Gold Cup, he was a free-running sort who was probably better at nine furlongs than 10. As already noted, the female line of Itsmyluckyday leans toward speed rather than stamina, and this may or may not have been helped by the cross to the Seattle Slew horse Doneraile Court. While Doneraile Court's pedigree certainly suggested the ability to stay at least intermediate if not classic distances, both of his graded stakes wins were at a mile. The sire of Viva La Viva, Crafty Prospector, actually stayed better than many realize, missing by just a neck to the excellent staying filly Christmas Past in the 10-furlong Gulfstream Park Handicap (gr. I), but was known mostly as a sire of sprinters and milers. Secretariat stayed very well, of course, but the career of his daughter Viva Sec does not suggest that his stamina got passed on.

In fact, Itsmyluckyday appears to be very much his father's son: a horse with a high cruising speed that he can maintain nicely once in his rhythm. But unless he has his sire's stamina and perhaps a bit more, his ability to get longer distances than those he already has conquered may depend heavily on the trip he gets—and racing luck on the Triple Crown trail is not always kind.