(Originally from the January 26, 2013 issue of The Blood-Horse)
by Ann Peters
The gritty grey filly Mizdirection won last November's Breeders' Cup Turf Sprint (gr. IT), and she put in another remarkably game performance to win again in her comeback Jan. 6 in the Monrovia Handicap (gr. IIT) over the same 61⁄2-furlong downhill turf course at Santa Anita.
Mizdirection's pedigree doesn't tell us exactly where her courage comes from, but it speaks volumes about her class and speed. She's by Mizzen Mast out of Deceptive, by Clever Trick. This cross suggests a real blend of aptitudes as Mizzen Mast is best known for his later maturing, middle-distance runners; and Clever Trick for precocious sprinter-milers. Mizdirection's first stakes win was going a mile on the grass in the Sandy Blue Handicap in 2011, but she seems at her finest going shorter, so perhaps her Clever Trick genes are proving a little more dominant.
There seem to be some ancestors that maintain their strong character over the generations, and Clever Trick is one of these. He was a big, powerful, dark bay or brown horse built on the round, muscular lines of a professional sprinter, and was a very successful sire of 71 stakes winners including grade II winners Anet, Tricky Creek (broodmare sire of 2012 champion juvenile filly Beholder), and Phone Trick. His daughters have produced grade I winners Came Home, Camp Victory, Noble's Promise , Nothing to Lose, Roamin Rachel, Traitor, Victor's Cry, Yes It's True, and Mizdirection. Clever Trick appears in the pedigrees of recent stars Lookin At Lucky (champion male at 2 and 3) and Zensational, and in the dams of the 2012 freshman sires Into Mischief and Ready's Image .
Clever Trick was unique in that he was free of Mr. Prospector, Northern Dancer, Hail to Reason, and Bold Ruler, but he had ancestors with hooks into most of those same pedigrees. His sire, Icecapade, was bred on the same Nearctic/Native Dancer cross as Northern Dancer. His dam's sire, Better Bee, was bred on a similar Reigh Count/Haste cross as 1943 Triple Crown winner Count Fleet. His second dam was a daughter of Djeddah, who is also found in Never Bend and Mr. Leader, and has ties to Damascus, Raja Baba, and A.P. Indy. Wherever you find Djeddah and his sire Djebel, you usually have brilliant speed.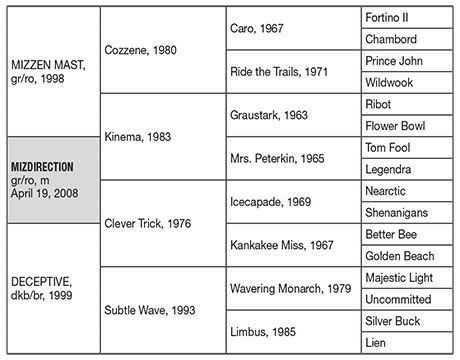 There's more to Mizdirection's pedigree than Clever Trick, obviously. She was bred by Joseph J. Perrotta, who also bred Deceptive and her granddam, the stakes winner Subtle Wave, by Wavering Monarch. Both Clever Trick and Wavering Monarch stood at Glencrest Farm near Midway, Ky., where Mizdirection was foaled. Subtle Wave's dam, Limbus, was a 1985 daughter of Silver Buck, making this family a work in progress for Perrotta for almost a quarter of a century.
Deceptive's first foal was a Sea of Secrets filly named Hurricane Bernie, winner of the Canterbury Park Lassie Stakes at 2 in 2007. This is probably why, when Mizdirection sold at the Keeneland September yearling sale in 2009, she brought $85,000, the top price for a Mizzen Mast yearling that year against his 2009 average of $18,350.
Juddmonte Farms' Mizzen Mast was a versatile horse, winning in France and the U.S., on both turf and dirt, from seven to nine furlongs. He is the sire of 29 stakes winners to date, including 10 graded, five grade I, which makes his $15,000 stud fee look like a real bargain. At the time Perrotta sent Deceptive to him in 2007, Mizzen Mast was standing his fifth season and was still a question mark, but since then, he's been represented by runners such as Mast Track(Hollywood Gold Cup Stakes, gr. I, etc.), Midships (Charles Whittingham Memorial Handicap, gr. IT, etc.), Ultimate Eagle (Hollywood Derby, gr. IT, etc.), Jibboom (Lexus Raven Run Stakes, gr. II, etc.) and Madeo (Del Mar Derby, gr. IIT, etc.).
To add to the luster, two of his offspring won Breeders' Cup races in November: Mizdirection and the 2-year-old filly Flotilla.
For some time, Mizzen Mast was in a frustrating position as a proven sire but not a strong commercial sire, although the market is finally paying attention. In 2012 his yearlings averaged a healthier $50,238.
Like Clever Trick's, Mizzen Mast's pedigree is an outcross, being by Cozzene out of a Graustark mare, second dam by Tom Fool, which also makes it sort of an old pedigree for the times. Also like Clever Trick's, his pedigree has interesting hooks, with crosses of Prince John, Ribot, and Tom Fool among others. It's worth noting that much of what we're saying now about Mizzen Mast was said about Dynaformer before he shot off to stallion fame.
A key to Mizdirection's pedigree might be how her granddam, Subtle Wave, works with both Clever Trick and Mizzen Mast, pulling those layers together. Because she was by Wavering Monarch out of a Silver Buck mare, she was inbred 3x3 to Buckpasser. Buckpasser was by Tom Fool, also the sire of Mizzen Mast's second dam, Mrs. Peterkin, and Tom Fool is 4x6x6 in Mizdirection's mating. Wavering Monarch was by Majestic Light, whose dam was by Ribot, found in Mizzen Mast's dam Kinema who is by Graustark, by Ribot, who is 4x6 in Mizdirection.
To add to the mix, Subtle Wave's granddam, the stakes mare Lien, was by Never Bend out of a mare by Damascus, both with ties to Clever Trick. Never Bend was out of a Djeddah mare, and Damascus' dam was by My Babu, by Djeddah's sire Djebel. There's a lot of concentrated speed on this bottom line that works its way out to Deceptive, a multiple stakes producer, and her brilliant daughter Mizdirection.