Hall of Fame trainer John Nerud has seen a lot of changes since his birth Feb. 9, 1913. He also has been the instrument of a few, most notably the rise of the Florida breeding industry. As the trainer and general manager for William McKnight's Tartan Farms, Nerud managed at least part of the racing or breeding careers of several important sires, as well as breeding and racing two more in his own right. As if that were not enough, Nerud was also largely responsible for developing the families of Aspidistra and Cequillo, two notable modern foundation mares.

Nerud's impact actually began before his Florida days, as he was the conditioner of Belmont Stakes winner Gallant Man for Ralph Lowe. While the British-bred colt was never an official champion, he was one of the best of a vintage crop that included 1957 Horse of the Year Bold Ruler and 1958 Horse of the Year Round Table. He also proved a good sire, getting 51 stakes winners from 498 foals including multiple champion filly Gallant Bloom and the very capable sprinter and sire Gallant Romeo.

Nerud's success with Gallant Man brought him to the attention of 3M Company chairman William McKnight, who was in the process of establishing Tartan Farms. For Tartan, Nerud acquired 1959 champion sprinter Intentionally as a stallion prospect, training the horse to two good stakes wins at Hialeah in early 1962 before retiring him. His judgment was vindicated as Intentionally sired 20 stakes winners from 189 foals before his premature death at age 14. To add icing to the cake, Intentionally's best son, In Reality (bred by Frances A. Genter, whose breeding operations had a long and profitable association with Tartan Farms), also stood at Tartan and became a highly successful sire, eventually tallying 81 stakes winners from 563 foals and passing down the Man o' War male line to his sons Relaunch, Valid Appeal, and Known Fact.

Intentionally also played a role in the saga of Tartan's foundation mare Aspidistra, but not before Nerud had sent her to visit Rough'n Tumble at nearby Ocala Stud. The result was Dr. Fager, the pinnacle of Nerud's training career and one of the greatest American racehorses of the 20th century. The only horse ever to win four American championship titles in a single season, Dr. Fager became the only Tartan-based stallion to lead the American sire list, which he did posthumously in 1977. The Jockey Club credits Dr. Fager with 35 stakes winners from 265 foals, including Tartan-bred champion sprinter Dr. Patches.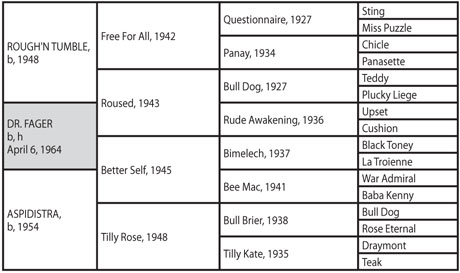 Cequillo, a daughter of Princequillo, had been acquired by McKnight as a yearling in 1957. Though she showed nothing as a racer, under Nerud's management she produced 20 foals for Tartan, including four stakes winners. She also threw Expectancy, dam of Dr. Patches; Grand Splendor, who produced Gonfalon, dam of grade I winner Ogygian and granddam of grade I winner Honour and Glory; and Quiet Charm, whose Dr. Fager filly Demure produced the grade I winner and good sire Quiet American.

Yet another Tartan-bred (along with Ogygian), Quiet American actually descends from Nerud-planned matings on both sides of his pedigree, as his sire Fappiano was another result of Nerud's breeding acumen. Nerud acquired Cequillo's stakes-winning daughter Grand Splendor and bred her to Dr. Fager, getting a nice allowance filly in Killaloe. She, in turn, was sent to Mr. Prospector and dropped Fappiano for Nerud in 1977. If Fappiano wasn't quite the reincarnation of Dr. Fager—a horse he was held to resemble—he still was good enough to carry Nerud's silks to victory in the 1981 Metropolitan Handicap (gr. I). Fappiano had to be humanely destroyed after breaking a leg in 1990, but not before siring 48 stakes winners (11% of his named foals). The best was 1990 Horse of the Year Unbridled, the last champion bred by Tartan Farms and an important sire in his own right.

Unbridled traces back in tail-female to Aspidistra, whose importance did not end with Dr. Fager. Two years after Dr. Fager's birth, Aspidistra produced a muscular, attractive dark bay filly to the cover of Intentionally. Unlike Dr. Fager, Ta Wee could not stay; seven furlongs was her limit. But within that limit she could fly, and carry just about anything short of a baby elephant while doing it. A two-time champion sprinter, Ta Wee lived to produce five named foals for Tartan, four of them stakes winners. The best of the bunch was Paumonok Handicap (gr. III) winner Great Above, a horse closely related to Dr. Fager as his sire was another Tartan-bred son of Rough'n Tumble, Minnesota Mac. Great Above proved a good regional sire in Florida with 39 stakes winners to his credit, but his chief importance to the breed is as the sire of 1994 Horse of the Year Holy Bull, who continued the male line of 1898 Kentucky Derby winner Plaudit for another generation. Great Above also sired Big Dreams, dam of two-time champion sprinter Housebuster.

Charedi, the granddam of Unbridled, was the product of another mating with Nerud's stamp all over it, as she was by Intentionally's son In Reality out of Aspidistra's daughter Magic (by Buckpasser). Along with Gana Facil (by Le Fabuleux), the dam of Unbridled and his grade I-winning full brother Cahill Road, Charedi also produced the useful sprinter and Florida sire Pentelicus to the cover of Fappiano who stood at Tartan until his removal to Kentucky following the 1987 breeding season.

Nerud showed that his magic was not limited to Tartan Farms and its bloodlines when he became the breeder of Cozzene. The last of four stakes winners produced by Nerud's mare Ride the Trails (by Prince John), Cozzene was sired by French champion older male Caro. Trained by Nerud's son Jan, the handsome gray took some time finding his best stride but finally hit the big time at age 5, winning the Breeders' Cup Mile (gr. IT) and with it a title as champion turf horse. Cozzene also became a good sire, getting 92 stakes winners from 998 foals.

Space does not permit listing all of Nerud's other accomplishments to date, and he may not be done yet. But as trainer, breeder, and visionary, he already has done more than enough to ensure himself a lasting legacy in Thoroughbred history.