It's unusual when a turf horse gets recognition beyond his favorite surface, so for Wise Dan to be voted champion turf male of 2012, champion older male, and Horse of the Year shows how dominating the big red gelding really is. Only four other horses have pulled off this triple play: Round Table in 1958, Fort Marcy in 1970 (although he shared the titles for Horse of the Year with Personality and older male with Nodouble), and John Henry in 1981. Secretariat was Horse of the Year, turf horse, and 3-year-old male in 1973.

Wise Dan, a homebred for Morton Fink, is sired by Wiseman's Ferry out of Lisa Danielle, by Wolf Power. An outcross at four generations, his closest duplicated ancestors are Secretariat 5x3 (through Terlingua and Askmysecretary), and, coincidentally or not, Round Table 5x4 (through La Mesa and Flirting Around). His pedigree has that modern mix of strains from all over the world.

Wise Dan is a lengthy, muscular chestnut reminiscent of Wiseman's Ferry and grandsire Hennessy. Bred by Overbrook Farm and by the iconic sire Storm Cat, Hennessy was just behind division leaders Maria's Mon and Unbridled's Song at 2, but he never raced at 3. Retired to Ashford Stud, Hennessy proved himself one of Storm Cat's best stallion sons. Predominately a sire of speed, his best runners included the international juvenile champion Johannesburg, Stanjames.com English One Thousand Guineas (Eng-I) and Poule d'Essai des Pouliches (French One Thousand Guineas, Fr-I) winner Special Duty, the brilliant Madcap Escapade, and Canadian champion and 2011 Queen's Plate-winning filly, Inglorious. Although he died in 2007 at the age of 14, Hennessy left a strong legacy. In 2012, three of the Breeders' Cup winners traced to him in male line: Beholder, by Henny Hughes (Grey Goose Juvenile Fillies); Trinniberg , by Teuflesberg , a son of Johannesburg (Xpressbet Sprint); and Wise Dan (Mile).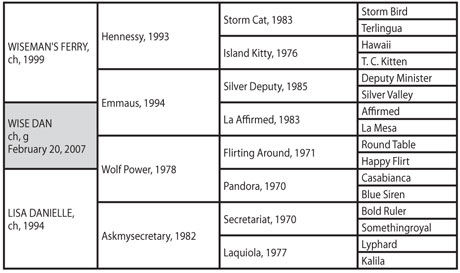 Hennessy's dam, Island Kitty, was by Hawaii, a South African superstar and American champion turf horse in 1969 trained by the legendary Mack Miller. Based at Claiborne Farm, Hawaii sired 1980 Epsom Derby (Eng-I) winner Henbit and the good colt Hawaiian Sound, and while none of his sons bred on, Hawaii's daughters pop up in some really good runners. Sailaway was the second dam of 1992 Kentucky Derby (gr. I) winner Lil E. Tee, and third dam of Horse of the Year Ghostzapper and City Zip. Qualique became the second dam of Afleet Alex . Grade I-placed Island Kitty produced two good sires, graded stakes winners Shy Tom, a dominant stallion in Argentina, and Hennessy.

Wiseman's Ferry was from Hennessy's second crop, foaled in 1999, out of the unraced Emmaus by another precocious, speedy horse, Silver Deputy. The Hennessy colt's good looks brought $775,000 as a weanling, buoyed by the success of his relatives Caress and Bernstein, both by Storm Cat out of Emmaus' dam La Affirmed and both grade/group winners on the turf. Caress had a good Pulpit colt in the pipeline, a year behind Wiseman's Ferry, the grade I dirt winner Sky Mesa (sire of 26 stakes winners).

Wiseman's Ferry's third dam, La Mesa, by Round Table, produced the champion filly Outstandingly and was out of a half sister to Buckpasser.

Wiseman's Ferry's stock declined as a yearling, having been a $625,000 RNA at the Keeneland July select yearling sale, and he brought just $300,000 at the September sale from Coolmore. Sent to Ireland, he placed in group stakes at 2, and then was purchased by partners Fink, Lee Sacks, and Swifty Farms to race in the U.S. Wiseman's Ferry won the West Virginia Derby (gr. III) and Lone Star Derby (gr. III) before an ankle injury forced his retirement. He stood two seasons at Vinery New York, then two seasons at Castleton Lyons in Kentucky, before moving to Dana Point Farm in Pennsylvania, where he'll stand for $5,000 in 2013.

In Wiseman's Ferry's first season in Kentucky in 2006, Fink sent him his good mare Lisa Danielle, already the dam of stakes winner Our Royal Dancer, by Roy. The Successful Appeal foal at her side would grow up to be the grade II-winning Successful Dan. Fink had purchased Lisa Danielle as a yearling for $29,000, a good price then for a daughter of Wolf Power.
Here we have an interesting intersection of bloodlines, because Wolf Power, like Hawaii, was one of the best runners ever produced in South Africa, and a brilliant sprinter/miler. He was by American-bred Flirting Around, a group I sprinter in Europe and a son of Round Table, bringing in that second cross on top of Wiseman's Ferry's third dam, La Mesa.

Wolf Power stood most of his career at Gainesway Farm and was a moderately successful stallion with 44 stakes winners, earning a reputation as a sire of tough sprinters and turf runners. He is proving to be a good sire of broodmares, his daughters producing the likes of Wise Dan and his half brother Successful Dan, and Milwaukee Brew .

Lisa Danielle's dam was the unraced Askmysecretary, by Secretariat, making his second appearance in Wise Dan's pedigree, on top of Storm Cat's mother, Terlingua. Secretariat is 5x3 in this mating, and his dam, Somethingroyal, was a daughter of Princequillo, who also sired Round Table. This weaves a total of four lines of Princequillo into Wise Dan's pedigree.

Wise Dan's third dam is the French-bred Laquiola, by Lyphard, one of three sons of Northern Dancer (5x6x5) in the pedigree, on top of Storm Cat's sire Storm Bird, and Silver Deputy's grandsire Vice Regent.

Laquiola was a half sister to 1973 Prix du Jockey Club (French Derby, Fr-I) winner Roi Lear, and her dam, Kalila, was a half sister to Val de Loir and Valoris II, so Wise Dan traces back to some pretty classic material.

Let's hope Mr. Fink gets to save a half sister for more fun down the road.